Culling through the forty features viewed at both the Sundance and Slamdance Film Festivals last week has been as much fun as watching them in the first place. Here is a spoiler-free account of some the fest's best to bookmark in your calendar for the upcoming year. Read part one here. 
Allotting some of my precious "Sundance movie going time" to make the hop-skip-and-a-jump up Main Street to attend rivaling venue Slamdance, has been immensely important since its inception in 1995. Slamdance's commitment to "emerging artists and low-budget independent cinema" was born out of the inevitable missteps made by the ever-growing Sundance Institute. Every year I am rewarded with a truly remarkable debut that Sundance passed on, such as Christopher Nolan's Following (1998), Bong Joon-ho's Barking Dogs Never Bite (2000), Jared Hess's Peluca (2003), the nine-minute short film that inspired Napoleon Dynamite, and Ben Zeitlin's Egg (2004)—a thesis project which led to creation of Beasts of the Southern Wild (2012)—Marilyn Agrelo's crowd-cheering Mad Hot Ballroom (2005), and Oren Peli's low budget phenomenon Paranormal Activity (2008).
To my absolute astonishment, I can easily say that this year's 2020 festival delivered the most moving amount of films of any previous year. Returning again and again to program after program, I found the rough edges, bold moments, and surprising personalities that I often find lacking from many of Sundance's US Premiere and US Dramatic categories. (Thankfully Sundance re-invented their "Spectrum" category in the late 2000s and conceived the "NEXT" program, which provides a showcase for what the festival calls "pure, bold works distinguished by an innovative, forward-thinking approach to story-telling." Or in other words, the Slamdance Film Festival. 😉
Keep the following spoiler-free list of films in a special place, so that you won't miss the chance to support one of these legitimately uncut gems when it screens in your region film festival or streaming somewhere online.
Murmur (Canada)
Heather Young's exquisite neo-realistic debut feature rightfully won the Grand Jury Prize for "Best Narrative Feature" this year by quietly following the life of an extremely lonely middle-aged mother who, upon giving up alcohol, has found solace in incessantly vaping and adopting abandoned cats and dogs from the animal shelter. Animal lovers will squeal with delight at each heartbreaking animal that Donna (pricelessly portrayed by lead actor Shan MacDonald) saves from the shelter and yet, you may need to confront why these humane acts feel so therapeutic to one's own psyche? Writer/director Heather Young and cinematographer Jeffery Wheaton have designed an aesthetically hypnotic portrait of contemporary isolation (suffocatingly shot in Academy ratio as 1.37:1) that will seep into your most nurturing chambers and perhaps leave you as rattled as the film's meandering homo sapien. Premiering at the 2019 Toronto International Film Festival, where it won the FiPRESCi Discovery Prize and now conquering Slamdance, Murmur is that "little (Canadian) film that could" leave an impact on you for years to come.
Film About a Father Who (USA)
Experimental filmmaking legend Lynne Sachs kicked off Slamdance on opening night with an emotionally striking feature exploring the complexities of her narcissistically charming father. Using 8mm, 16mm, videotape, and digital footage, and shot over 35 years (from 1984 to 2019), her perennial process of documenting "bon vivant and pioneering Utah businessman" Ira Sachs Sr. will undoubtedly hit quite a nerve with anyone who's grown up with an egotistically captivating fountainhead for a father. But Sachs isn't just airing her family's dirty laundry here—including interviews with Lynne's younger brother, iconic indie filmmaker Ira Sachs: see The Delta (1997), Forty Shades of Blue (2005), Keep the Lights On (2012), and Love Is Strange (2014). This unique and epic familial expedition masterfully employs an experimental inventiveness that swims through a myriad harrowing home movies captured within more than a few fascinating formats, and diverse decades. Sachs, referencing the title of Yvonne Rainer's landmark feminist feature Film About a Woman Who (1974), practices what Rainer was preaching—and in turn has constructed one of the most powerfully pertinent documentaries of recent years.
Jasper Mall (USA)
The 1980s are having another nostalgic renaissance due to directors Bradford Thomason & Brett Whitcomb. But rather than grabbing at the lowest hanging fruit, these two cannibalistic, humanoid, underground dwellers have dug out yet another infinitely sentimental subject from last century's most reviled decade… shopping malls. Making impassioned films for over a dozen years now, by way of Frederick Wiseman's cinéma vérité style, which utilizes choice editing and a meandering camera as opposed to narration or scripted docudrama, Thomason and Whitcomb tackle the tail end of shopping mall culture with Jasper Mall, supposedly spending a year of their lives capturing a dying Alabama shopping center. Showcasing its long time Southern (and auspiciously Australian) tenants, patrons, and unassuming historical architecture, this sincere ode to the death of shopping malls will spin your cynical convictions in any (and every) which way is possible.
Note: No documentary at Sundance came even close to affecting me as much as this defining piece of ephemera and so while you keep your eyes glued for the release of Jasper Mall, spend some time online catching up on each of their previous excursions, beginning with the now cult classic The Rock-afire Explosion (2008), which explores the complicated history of both Showbiz Pizza Places and Chuck E. Cheese joints (including where all the animatronic rock band figures have ended up). Follow this with the feature documentary (that inspired the Netflix TV hit) GLOW: The Story of the Gorgeous Ladies of Wrestling (2012) and their invaluable observational look at four teenagers in County Fair, Texas (2015). Most recently, their feature length showcase on electronic music pioneer Suzanne Ciani entitled A Life in Waves (2017), is for many, an absolute epiphany as it uncovers her mastery of the Buchla synthesizer and the endless amount of special sound effects that affected people in the 1970s and 80s.
Thunderbolt in Mine Eye (USA)
This incessantly captivating and uncomfortably relatable look at high school in the 2010s is most definitely made for more than just "mere youths." Much like Bo Burnham's Eighth Grade (2018) and Diablo Cody & Jason Reitman's Juno (2007), sibling directors Sarah & Zachary Ray Sherman allow their teen warriors to be both more sophisticated and sympathetically shortsighted than a Hollywood studio allows minors to be. Both Anjini Taneja Azhar and Quinn Liebling play fresh and empathetic archetypes rarely showcased as leading characters, constantly countering gender expectations and even pushing the bounds of high school sexual frankness to a such a degree that a couple of Slamdance audience members gasped out loud. With the Duplass Brothers producing this ultra low budget gem, do whatever it takes to see this Portland-based treasure.
The Wind. A Documentary Thriller (Poland)
Michal Bielawski's eerie exploration of what is referred to as 'Halny Wind' (a type of hot, turbulent and unpredictable wind found in the Polish mountains) needs to be seen to be believed. It contains absolutely terrifying real-world 'Halny' footage affecting the actual inhabitants of the small Polish town of Zakopane, who withstand not only the environmental phenomenon each season, but the internal mood shifts that the wind brings upon them. All of this is reason enough to seek-out this unclassifiable gem, but director Bielawski has countless other cinematic ingredients in store for any audience member, adventurous enough to brave out the transcendental storm laid in front of them. I'm still feeling the after effects of this utterly unique cinéma vérité achievement.
Many of the short films this year were just as memorable as the features beginning with Joanna Vasquez Arong's haunting To Calm the Pig Inside (Philippines). This 19-minute poetic account of the aftermath of Yolanda, the super-typhoon that hit the Philippines, was absolutely devastating to watch. Shot in gorgeous black and white and complete with Chris Marker-esque freeze frames and powerful narration, the film was awarded this year's Documentary Short Grand Jury Prize.
Two films that were awarded Honorable Mentions in the same category were both just as meaningful to me: The first, Danski Tang's 7-minute Umbilical (USA/China) combines an extremely personal interview with her mother about growing up in an abusive house with some truly unforgettable surrealist animation. Do whatever it takes to find this mini-masterstroke made within the experimental department of CalArts.
The other, My Favourite Food is Indian Tacos, my Favourite Drink is Iced Tea and my Favourite Thing is Drumming (Canada) is one of my favorite films in all of Park City this year. Made by 12-year-old Anishinaabe filmmaker Derius Matchewan, this mesmerizing 4-minute meditation showcases some absolutely shimmering super-impositions with modest help by the Wapikoni Mobile Team and cinematographer Nicolas Lachapelle.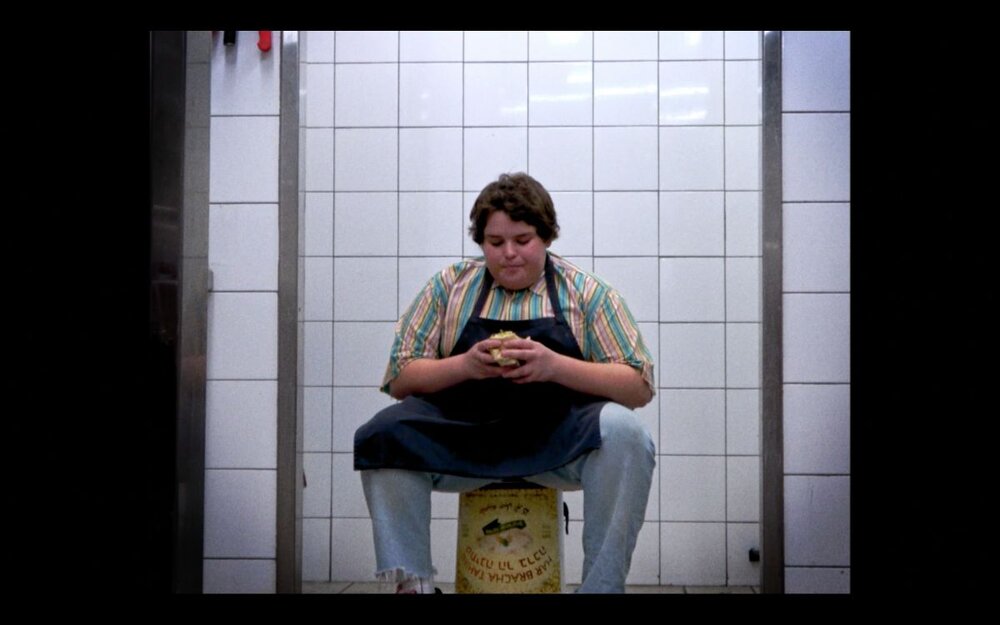 Not winning an award, but equally as notable was Omri Dekel-Kadosh's Pitalev (Israel), an 11-minute narrative that has more real life drama in it than most feature films. 17-year-old Shay Litman plays an unstoppably hilarious fry chef who (based on his soundcloud hiphop files) seems to be much like his real self. Working at his family's pita stand, he is asked out on his first date. The improvisational immediacy that filmmaker Omri Dekel-Kadosh allows his actors to bring to the table makes for one of my memorable experiences in Park City. Here's to making a feature length film with the exact same inspired spontaneity and hopefully the entire extraordinary cast.