Picture in your mind's eye a bug-eyed, enigma-faced kitten at peace, chilling in its home, it's cheek tufts spreading wantonly. I hate to do this to you, but now imagine the face of the president of the United States. Not your president, sure, but picture him. How do you feel now? How did you feel when you pictured the cat?
That chaotic bad feeling that I assume gripped your soul upon envisioning the nominal leader of the free world must happen constantly, given the amount that our media focuses on the person occupying the Oval Office. 
But for the last four years, I've been getting the kitten and you've been getting that guy. Let me present my favorite plug-in of all time; Make America Kittens Again, which swaps out photos of the current resident of the White House for small bundles of fur.
"It just softens the blow a little when reading (almost always) terrible news," Tom Royal, Make Kittens Great Again's creator tells 48 Hills. Shortly after the 2016 United States presidential elections, Royal was asked to tweak the Nigel Farage-blocking UKitten and far-right UK Independence Party politician-efacing Kitten Block plug-ins (Boris Johnson has since been added to Kitten Block) that he had previously created. The new version would seek to wipe visual traces of the US Cheeto in chief from its users' internet.
Royal has long been employing kitten images to better our internet health. Before the politician-replacing plug-ins, he built a simple site called Tea and Kittens that offers a smorgasbord of images of small cats. But the main point of Royal's work is visual diversion, not kitten worship (don't tell his 12 year old Russian Blue, Hunter). In fact, Royal considered other stopgaps for the 45 problem.
"I did toy with replacing all the images of Trump with a photo of a blobfish instead," Royal recalled. "But it's surprisingly hard to find good photos of blobfish online that are free to use, and to be honest the effect when presented with a whole page of them wasn't great."
Make America Kittens Again, quite unsurprisingly if you ask me, turned out to be a viral hit. In early 2017, there were over 80,000 people using the plug-in to shift their browser's aesthetics. That number is now down to 45,000, though Royal guessed that the coming elections may spur an uptick in users hoping to MAKA. I hope that figure soars.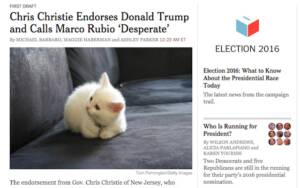 The Trump angle is frankly unavoidable, but I am often disturbed when I call home (I live in Mexico) and a loved one cannot seem to keep his name out of their mouth. Yes, the man is exacerbating the world's most heinous qualities and poses a serious threat to our continued well-being. But this regurgitation of his talking points—even in a derogatory way—can cause serious harm to one's ability to recognize the resistance when it comes knocking.
For example: a loved one in the United States sent me holiday greetings over Juneteenth weekend, "now that the president has made it 'famous.'"
Indeed, Freedom Day had popped up in the man's rhetoric, particularly when he announced, then changed, the date of the rally that he had originally planned on Juneteenth. But Trump wasn't the only one putting a special emphasis on the holiday during this most crucial moment for racial justice.
Trump's Kpop stan-foiled fete was far from the only even to take place on Juneteenth this year. US activists organized a nationwide day of action that saw Black Lives Matters rallies take place across the country. Led by its first Black president Trent Willis, the powerful International Longshore and Warehouse Union orchestrated eight hour shutdowns of all 29 ports on the West Coast. It was the union's first daylong stoppage since one in May 2008 held in protest of the Iraq War.
The Oakland shutdown alone was attended by more people than Trump's rally in Tulsa—and featured Angela Davis as a speaker to boot. I can't find a single national news article that provides coverage of the event! In comparison, US media was awash in Tulsa rally schadenfreude. 
At the very least, MAKA makes me conscious of the general ubiquity of Trump images on my internet. But subbing out one image for another, obviously, is not a whole solution when it comes to cognitively arming ourselves against a rising tide of fascism, physical and structural violence against Black people, and myriad other problems facing us. After all, your kitten images will still sit gamely atop an article about the man's misdeeds.
Even better would be to curate your internet, stocking your RSS with independent media sources that don't ignore people's movements in favor of top-down propaganda cannons like the members of the Trump administration. Plus there's the obvious and obligatory moves; donating to organizations whose change-making efforts you have researched, talking to your loved ones about hard topics, protesting, registering to vote, and taking care of oneself (because we can't have you losing steam halfway through The Revolution.) 
Even MAKA's creator acknowledges that his blessed plug-in has its limits. Primarily, Royal is concerned about the plug-in's inability to alter the images that are shown to you on Facebook.
"I think the place that people who can code things might be able to make a difference is in diving into things like the Facebook Ad Library API to see—and report—exactly what messages are being shown to people there," he said.
But while we look for IRL solutions to the glutinous, grasping political leaders accelerating the world's decay, kittens can't hurt. 
"I occasionally receive emails from users who say that the plugin has helped because they find seeing Trump genuinely upsetting or triggering," said Royal. "It's good to know that it can sometimes be genuinely useful beyond just raising a smile."