This weekend's new streaming releases are dominated by two major literary adaptations, both of which would have looked great on the big screen … but oh well. Though otherwise entirely different, The Painted Bird and Dirt Music are alike in widescreen visual sweep, even if one offers the stark poetry of various B&W wartime purgatories, while the other displays scenic splendors of Western Australia. These panoramas are so lovely that you might be tempted to look into travel options there—for a later date, of course.
It's not entirely surprising that The Painted Bird should have (from its debut at the Venice Film Festival last year) turned out to be one of the major awards-bait features of 2020, as the source material always seemed a natural for screen adaptation. More surprising is the fact that it simply took this long, given that Jerzy Kosinski's novel was published in 1965, and something of an international sensation from the start. No doubt prior attempts had been made; it seems strange that the author's friend and fellow expat Pole Roman Polanski never tried. (Perhaps he didn't want to offend Poland, which found the book so scurrilous it banned its publication until 1989.)
But then, it's very strange that apart from 1979's Oscar-winning Being There, nothing by Kosinski was ever filmed, despite his being one of the leading literary celebrities of his time. He was a talk-show regular, appearing on Johnny Carson's Tonight Show fourteen times; he even acted (and well) in Warren Beatty's historical epic Reds. His books were bestsellers that would not have resisted adaptation. But he was also a highly problematic authorial figure, both in life and after his suicide death in 1992 at age 57. That legacy remains tainted by credible accusations of plagiarism, ghostwriting by others, and fabrication—he was slow to deny that Bird was thinly veiled autobiography, which status of course lent him a tragic grandeur. Yet people who knew his circumstances as a child said he was safe and well-cared for during World War II, far from suffering his frequently homeless young protagonist's gamut of horrors.
Nonetheless, the book remains a classic, since as literature—detached from all questions of accuracy and even authorship—it endures as a kind of parable of 20th-century atrocities, simultaneously brutal and surreal. Underlining its grotesque qualities, Kosinski reportedly wanted either Fellini or Bunuel to direct the film version. Instead, the rights ultimately fell to Vaclav Marhoul, a relatively little-known Czech actor, producer, and former studio chief whose only prior directorial features were loose adaptations of Stephen Crane and Raymond Chandler.
Though the movie wasn't at all shot in or funded through Poland, Marhoul still isn't taking any chances: This is the first feature whose dialogue is primarily in Interslavic, the conglomerate language (also recently known as Slovianski) designed to facilitate communication between nationalities. In this case, however, it serves to remove the sting of regional specificity. Because nearly everyone in The Painted Bird, but particularly its peasantry, is hideously bigoted and inhumane—hence its queasy regard in Poland, where the story is implicitly set.
The boy who narrates that book is a child farmed out to an elderly woman in the countryside during wartime, presumably because his parents fear he'd be in worse danger with them. While it's unclear whether he actually is Jewish (or a "Gypsy"), he's taken as such by villagers, who view him with overt, superstitious hostility. When the old woman dies, he'd alone, often living outside when not passed from hand to (mostly abusive) hand. Invariably used as free labor, his temporary keepers include a faith healer, a family of millers, German soldiers, Russian soldiers, a Catholic priest, a pederastic distiller, and so forth.
On rare occasions he's treated with kindness. But more often he's subject or witness to viciousness that ranges from routine beatings to the wholesale slaughter of prisoners escaping a concentration camp-bound train. Such is the violent chaos of war that not until this nearly three-hour saga has reached the 2.5 hour point does anyone think to put our protagonist in an orphanage. And by then, while somehow his body has survived, his psyche may be beyond repair.
Marhoul and his veteran cinematographer Vladimir Smutny (of the Oscar-winning Kolya) begin things with a stripped-down poeticism reminiscent of Bela Tarr, so the bleak becomes beautiful. But that aesthetic pleasure provides limited solace during scenes of almost unimaginable cruelty, even if the most squirm-inducing incidents of sadism, child rape etc. are not portrayed explicitly. Amidst a primarily Czech cast, such "names" as Harvey Keitel, Barry Pepper, Julian Sands, Stellan Skarsgard, and Udo Kier surface, no doubt for financing reasons. All do good work, integrating themselves into the fabric of the film without attracting the kind of "guest star" attention that frequently unbalances such enterprises.
The Painted Bird is undeniably impressive, artful and powerful. At first exposure it doesn't seem quite in the league of the recently re-released Soviet classic Come and See, or the handful of other true cinematic masterpieces regarding war from a child's perspective. But it's a significant achievement, as well as one that may be too tough for some viewers to take.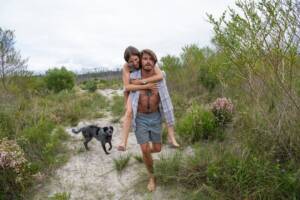 A contrastingly easy watch is Dirt Music, based on the 2002 novel by Tim Winton, who's been one of Australia's leading novelists for nearly four decades. Unlike Kosinski, he's also been frequently adapted, for stage, television and even opera as well as movie screens. The 2017 feature Breath might be the finest surfing-related drama ever filmed.
This latest translation is more problematic, though it may also be more crowd-pleasing. It's essentially a love triangle centered on Georgie (Kelly Macdonald), a nurse who's become the de facto second wife to widowed coastal fishing tycoon Jim (David Wenham) and stepmother to his sons. Their relationship is a bit rocky, leaving her easily distracted by Lu (Garrett Hedlund), a hunky younger ex-musician and fisherman whose hauls—and eventual affair with Georgie—put him on a collision course with Jim.
All these characters have tragic family backstories revealed in flashbacks, and shorn of Winton's graceful prose, it all gets pretty sudsy. Melodramatic contrivance escalates towards the kind of race-to-the-rescue climax that's meant to leave you breathless with suspense, but instead is safe as milk, because you just know it's going to end in a clinch.
I haven't much liked director Gregor Johnson's prior films (which included the 2003 Ned Kelly with Heath Ledger), but he's a competent craftsman. This is a very handsome film that takes full advantage of the land- and seascapes it's set on. Still, the chemistry isn't there between actors whose characters aren't all that appealing (Georgie in particular seems more selfish than "free spirit"), and there's a semi-musical aspect (involving songs performed by cast members Hedlund, Julia Stone, and George Mason) whose faux-rootsiness didn't do much for me. But then I'll admit to being ambivalent about Tim Winton in general—having read several novels that left no major lasting impression—so his fans are more likely to find themselves predisposed towards Dirt Music's fairly faithful transcription.
Other new arrivals this Friday are all in the realm of documentary. Several are opening at Roxie Virtual Cinema: Elizabeth Coffman and Mark Bosco's Flannery profiles the too-short life and works of the great Southern writer of the grotesque; Cheryl Haines' Ai Weiwei: Yours Truly chronicles the dissident Chinese artist's exhibit on Alcatraz focusing on global prisoners of conscience, created when he himself was under government house arrest; Cara Jones' Blessed Child dissects her upbringing by parents in the thrall of Rev. Sun Myung Moon's famously cultish Unification Church.
Elsewhere, BAMPFA is offering (in addition to Ai Weiwei) Brett Story's The Hottest August, a contemporary "city symphony" that takes the pulse of New Yorkers amidst the record humidity and political unrest of mid-2017. On a related note, Decade of Fire (new on VOD) scrutinizes the 1970s wave of decay and destruction that ousted an estimated quarter million from their homes in the multiethnic South Bronx, while city officials (including fire departments) largely sat on their hands.