The race for D7 supervisor took some interesting turns this week with Democratic candidate Joel Engardio paying for a place on Republican Stephen Martin-Pinto's mailer and Mayor London Breed adding an endorsement of Myrna Melgar.
Breed has already endorsed Engardio, who is running one of the most conservative campaigns for supervisor, even from that district, that we've seen from a credible candidate in years.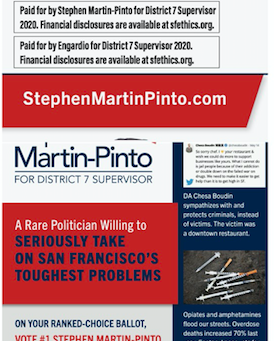 Engardio is all about "clean streets, less crime, and better services." He supports neighborhood schools (which means, in San Francisco, segregated schools.) He wants to see big cuts in the city budget.
Martin-Pinto says he will have "zero tolerance for crime, drug-markets, needles, fesces and litter." He wants to "slash fees, regulation and taxes" and hire more cops.
Engardio apparently thinks that the GOP voters who like that approach will vote for him as a second choice.
Engardio told me:
"Let me start first by saying that I'm a proud Democrat, I worked to advance civil rights at the ACLU, I served on the leadership committee for the SF Democratic Party, and I wholeheartedly support Biden/Kamala.
As you know, campaign finance rules clearly state that you have to pay for any communication that features you, or you risk triggering an independent expenditure. Stephen Martin-Pinto chose to feature me on a mailer, so I paid my share of the mailer. … Stephen has been an active member of our neighborhood. He's been the president of the Sunnyside Neighborhood Association. We disagree on a lot of things as members of different political parties, but I think it's important to work with other people in your neighborhood."
So there you go: A "proud Democrat" paying to help put out a right-wing Republican mailer.
Melgar, who has some significant progressive support, just announced that Breed is also backing her:
"I've had the distinct privilege of working with Mayor Breed as President of the San Francisco Planning Commission, and I am so honored to have her support in my campaign for Supervisor."
Melgar was not a Breed appointee; she was put on the commission by the Board of Supes. But it's clear that the mayor at this point is looking to defeat Vilaska Nguyen at all costs, and while she initially favored Engardio, she is willing to see Melgar elected.
Breed has been lashing out at the progressive majority on the board, and the endorsement suggests that the mayor believes Melgar will not be as direct a challenge to her agenda as Nguyen would be.
But Breed, like many recent San Francisco mayors, doesn't seem to have a lot of influence over voter decisions. She opposed Prop. C and the voters approved it. She worked hard to get Vallie Brown elected supe in D5, and the voters went with Dean Preston.
Not sure how much difference this is going to make – except that polling I've heard about suggests that Engardio has a slight lead, with Melgar and Nguyen essentially tied a few points behind. If Melgar and Nguyen share each other's second-place votes, that could put one of them on top.
And Breed would rather have Engardio than Nugyen.