Listen, I don't need to remind any of us that the past nine months have felt like a drag queen tween trapped in the Deep South—wig all awkwardly teased and no dang runway to slay. I'm so done! I want Zoom and Twitch to go back to being methamphetamine side effects, and "cash apps" a little something you slip inside the cute waiter's cummerbund to meet you out back by the dumpster later. Call me old-fashioned. Call me ridiculous. But I want the glorious nightlife mess we all work so hard to make together popped back out of the coronavirogenic freezer and served up hot, sweaty, and afterhours. (And then I want us to make it better.)
That'll all depend on whether any of our precious independent nightlife venues make it through this crisis to throw open their doors to our frothing revelry. While many clubs have found unique ways to do something during this dancefloor shutdown—online shows like the Great Northern's Club Closed and the Stud's Drag Alive, various DJ-driven fundraisers, and even some speakers facing the street on occasion—the industry has been ravaged, left without even 1/10th of the attention that restaurants, gyms, and retail have received from the government.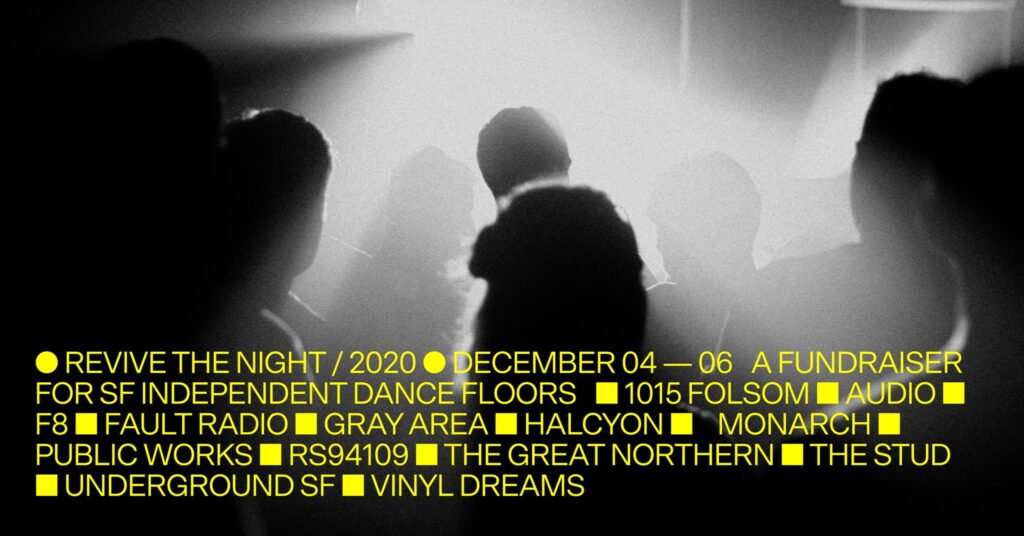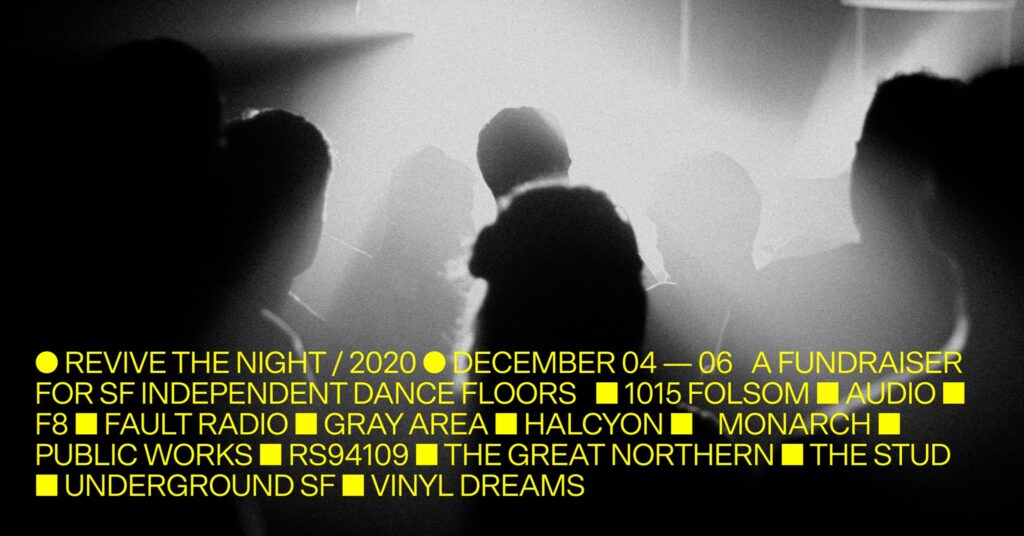 Part of this is because, like the arts, nightlife is still regarded as less essential than those industries, despite generating billions of dollars of revenue, employing thousands, and drawing millions of visitors from around the world. (Yes, I'm like a broken record on this.) And while many are using this party break to re-envision local nightlife as something that can return to fulfill its promise of equity, love, and freedom, venue owners are still on the hook for rent, inventory, and taxes.
It sucks. So hurray, we're about to go from barely any nightlife to a whole helluva lot, at least virtually, as a coalition of fabulous organizers and venues bands together for a gonzo three-day fundraising festival called Revive the Night (Fri/4-Sun/6).
The premise is simple. Each venue involved—1015 Folsom, F8, Audio, Gray Area, Halcyon, Monarch, Public Works, The Great Northern, The Stud, Underground SF, and record store Vinyl Dreams—gets a slot of time to showcase their vibe and star players. And the lineup is already blowing me away, with dozens of DJs and musicians slated to perform. Mark Farina, Dâm Funk, Jazz Mafia, Christian Martin, Carrie On Disco, Sepehr, Solar + Mozhgan, Sappho, 2020 Best DJ La Frida, and so many more. And of course there's a pre-party and several afterparties, as is only right and just.
Some great people are involved behind the scenes, including the folks behind Fault Radio, where it all goes down. I spoke to one of the prime movers, Bailey Greenwood of local nightlife talent agency Liaison Artists about who's all putting this together and what they hope to achieve. PS the merch is so snackable, grab some!
48 HILLS Tell me a little about yourself and the team behind this. There's a lot going on!
BAILEY GREENWOOD I've lived in SF for the last 12 years, and have worked in music the last 10. The last seven years as a booking agent at Liaison Artists. Music has been my main connection to SF, it's what welcomed me with open arms when I first arrived here and what has allowed me to stay here since. So many of these venues I've spent years in and I can't imagine the city without these spaces that have always made this place feel like home. That's the biggest reason why I'm fighting for them to survive.
Other team members include Dor Wand, the co-founder of Fault Radio—Fault Radio has been such a crucial part of the dance music community during the pandemic, still allowing local artists to connect to their scene and bringing their music into our homes while we're locked indoors. My partner Cassidy Martin (aka CM-4), a music producer and founder of Outpost records and Outpost parties. Melissa Yeung, worked as the house manager at 1015 Folsom for the last eight years as well as an event producer for APE. Regan Parrish (aka Femmelectric), a DJ and event producer who has been streaming consistently at f8 throughout the pandemic to help them raise funds to keep their lights on. Jimmy B (co founder of WERD) a weekly sunday party that has been happening at Monarch the last 13 years. Joe Fromer cofounder of Make It Funky who have been throwing events in the city for the last seven years. And last but certainly not least Manny Alferez who is co owner of Monarch and The Great Northern!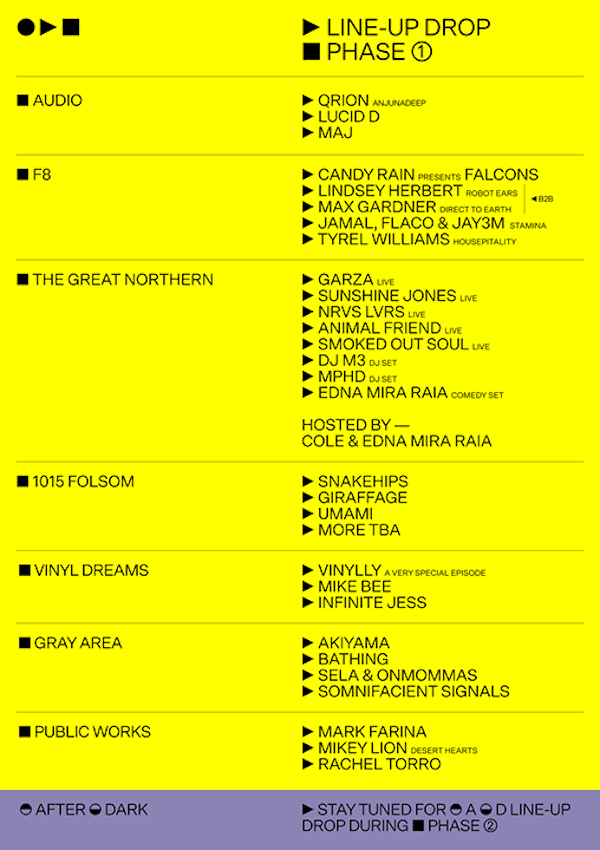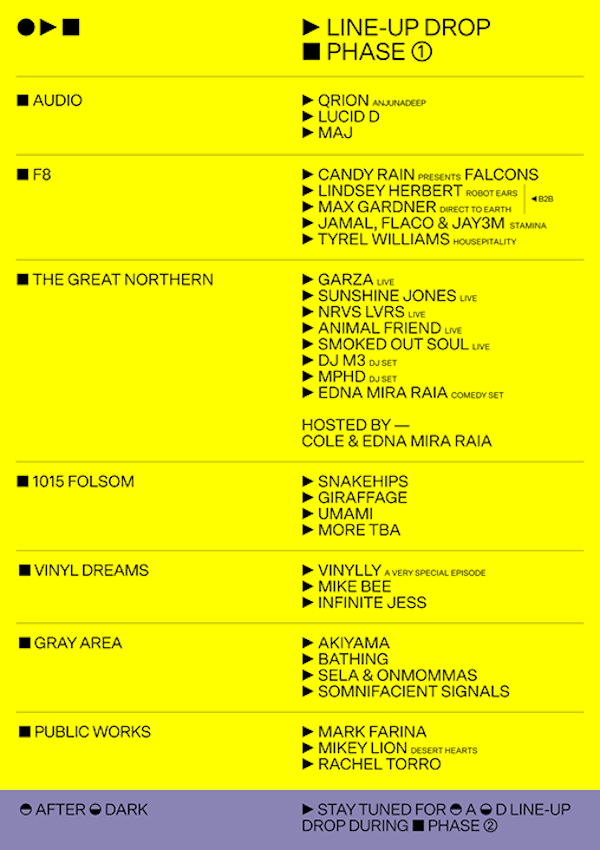 48H How did the idea/inspiration come to you and what happened from there?
BG The idea began with a Facebook post I put up in June reaching out to my community seeing if people were interested in have a bi-weekly "meeting of the minds." It really started as a way to bring everyone back together after not seeing each other for so long. I've been so used to seeing a lot of these people every weekend out at shows, and three months later I was feeling really isolated. The meetings consisted of just catching up mostly and expressing our concerns happening in the city in relation to the music and entertainment industry. We were constantly talking about the initiatives happening on a national level with Save Our Stages and NIVA and I kept thinking, Why isn't anything like this happening on a local level in SF? One of the most expensive cities in the world and these venues are just sitting and waiting for any sort of miracle at this point.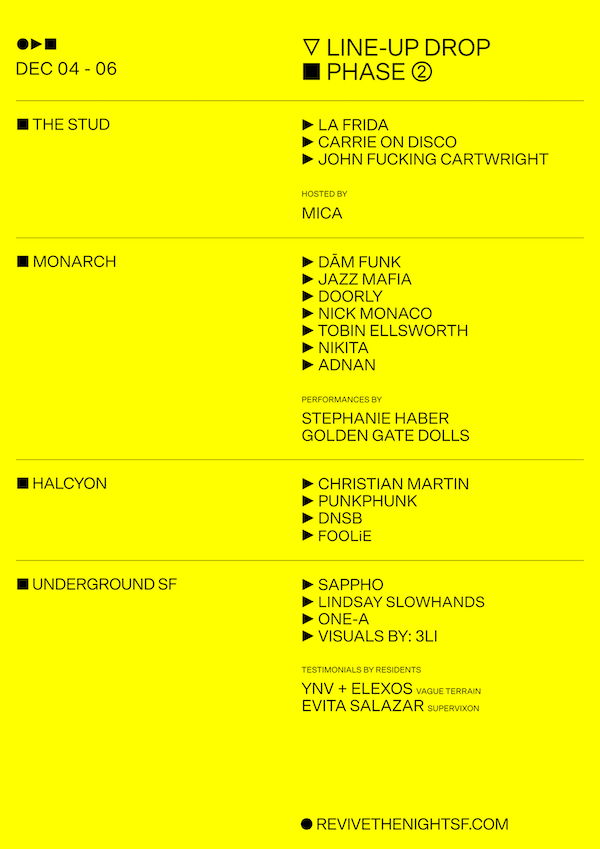 48H Was it difficult to wrangle so many different venues and wonderful artists on board?
BG Something that has been really surprising through this experience is how everything has really come together so well. I was very surprised to hear all the venues agreed to be part of this without question and work together to support this cause. It's really amazing to see these venues who in the "real world" are often competing in the market work as one to save each other. It's really special to see and makes me very hopeful for what this could mean for the future of our scene when we are able to be together in these spaces again. All of the artists you see on this line up were all willing to step forward for this cause as well, they understand the importance of what independent music venues do for our city and how they help build the blocks for their careers as well as others.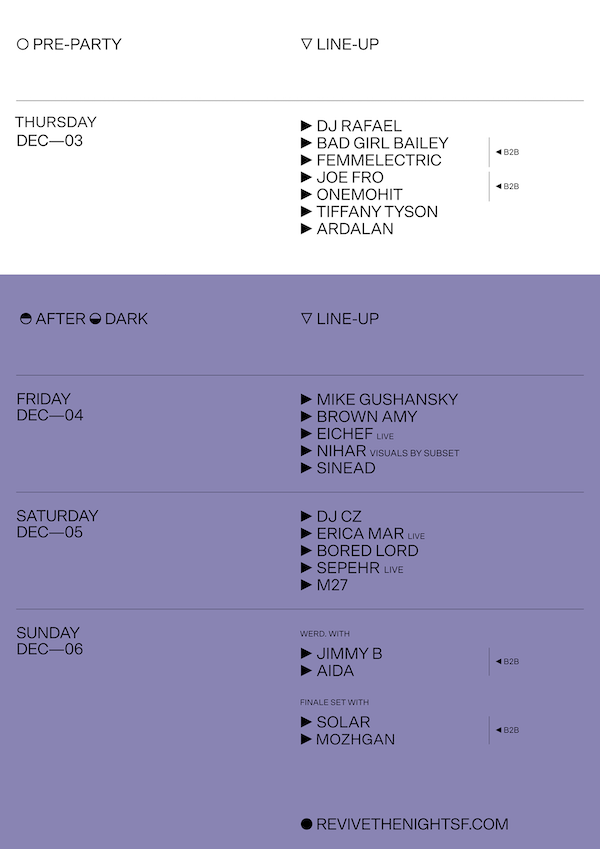 48H This is such a fantastic step towards relieving what has been an exhausting year for so many venues and DJs, do you hope that this kind of event and campaign continues?
BG I don't know what the future is for Revive the Night after this first event. If it's successful and really helps these venues then of course we'd love to do it again 🙂 We're setting out goals high and pushing to get the word out as much as possible! We'll cross that bridge when we come to it. More importantly we hope that this event raises awareness for the struggles that these venues and the music industry in general are facing. I hope that this sets the tone for other cities in the US to do the same for their venues, and eventually catches the attention of people in our government who can step in and ensure these places will still be there for us when the time has come. But SF's scene and our venues are worth fighting for, they have given us so much over the years, it's time for us to help them.
REVIVE THE NIGHT takes place online Fri/4-Sun/6. More info at the www.revivethenightsf.com site and Revive the Night Facebook page.