Shortly after it was announced that she was hospitalized with cancer a couple weeks ago, cabaret chanteuse, hostess, gogo-dancer, and uniquely San Franciscan character Bambi Lake died age 70. A member of the legendary Cockettes-adjacent Angels of Light theater troupe in the 1970s, Lake lived ever since as an out-loud, provocative, disruptive, controversial, trailblazing, infuriating, incandescent underground icon. Tributes on social media poured forth from other SF luminaries. Here, writer Josh Rotter remembers her.
As its title suggests, Bambi Lake's most well-known song "The Golden Age of Hustlers" was already pure nostalgia by the time she penned it in 1989.
But the late performer's wistful track—detailing her pivotal period prostituting on Polk Street in the previous decade, searching for the ever-elusive "Great Dark Man"—also proved an unwitting portent of her final years.
"Sticks and stones can break my bones/But names will never hurt me," Lake, who died of cancer on November 4, once sang in a hauntingly beautiful voice that was both plaintiff and resilient. "The queens and the hustlers of the red light zones/ Never did desert me."
By the time I first met Bambi Lake in 2000, the trailblazing transgender icon had been both vilified and abandoned by so many friends and acquaintances. At best, in many eyes, she was a cabaret chanteuse who had squandered her immense talents and opportunities, never living up to her potential.
She had performed for David Bowie in his late '70s Berlin era, been invited to open for a slew of touring punk-rock acts like The Stranglers, had taken the stage both solo and in groups like VS, and co-authored The Unsinkable Bambi Lake with writer and Dog Eared Books manager Alvin Orloff in 1996. Henry Rollins, who wrote the intro to her autobiography, was a huge fan of her poetry. But with every step forward, Lake seemed to take two back.
At worst, she was a social pariah, who had managed to self-sabotage any hopes of career longevity and get herself 86ed from myriad gay bars in San Francisco because of her infamous temper, exacerbated by substance misuse.
Almost everyone familiar with her legend has heard the "Bombi" story, in which the singer was arrested for calling in an explosive threat to a Rolling Stones after party in the late '90s after being denied admission. Or was it Oasis? The stories keep changing.
But the Bambi Lake I remember—part Marlene Dietrich, part Courtney Love—with her wavy shoulder-length blonde hair, slip dress, fur coat, and jewelry—walking down Market Street toward our first encounter—was a bombshell in appearance only.
She was exactly the type of person that I had moved to freewheeling San Francisco to meet. She was larger than life, brave, creative, and lived her life on her own terms—all of which I could tell at first sight. Even the admonition from the friend I was with to avoid her—"Be careful. She's trouble"—fell on deaf ears. She had me at "hello."
Over the next 18 years, I looked forward to these regular run-ins to the dismay of my friends.
Sometimes we caught up on the street for 45 minutes. Lake was never shy about regaling me (and everyone) with old stories from her golden age. I loved hearing about all the many famous people she had met or dated. What was true and what wasn't was never clear, but it was all colorful enough to keep me engaged.
Other times, Lake—who went on to release an album, My Glamourous Life as a Broadway Hostess, in 2005 and appear in director Silas Howard's 2014 documentary Sticks and Stones about her storied life—spent the evening with me drinking and dancing.
On one memorable night, we go-go danced at 440 Castro (formerly known as Daddy's) until closing time. I was so caught up in her beauty and energy that I kissed her on the lips and stuck my tongue down her throat. When I dished the details to a mutual friend the following morning, her response was disheartening: "How could you kiss that petri dish?"
I asked another friend, who often berated Lake, who was by then regularly homeless, why he had had such harsh feelings toward her. His response was a mixture of disgust and awe.
"As a bartender, she always asks me for free drinks, or if she sees me on the street, for money to go get a drink," he said. "One time, I responded: 'Bitch, I paid for those tits,' but no one has ever slain me the way she did with her comeback. She said, 'That's OK, you probably can't afford the few dollars anyway.'"
The last time I ran into Bambi Lake was a couple of years ago. Dressed down, she spoke to me at length about finally being housed after years of instability, quitting alcohol and drugs, having her breasts redone, the potentiality of getting back on stage again, and the pain of both being invisible and noticed in the new San Francisco.
Her appearance, hardened by a life of disappointments, alcohol and drug misuse, and homelessness was apparent, and the sycophants, who seemed to circle around her every time she was in the spotlight with a new show or project, had all disappeared. She was rarely recognized as being the inimitable Bambi Lake anymore.
What's even worse is that she was forced to walk the streets again, not as a prostitute nor because she couldn't afford the bus fare, but because on public transportation, she said she regularly suffered the indignity of being called a "faggot" by her fellow passengers.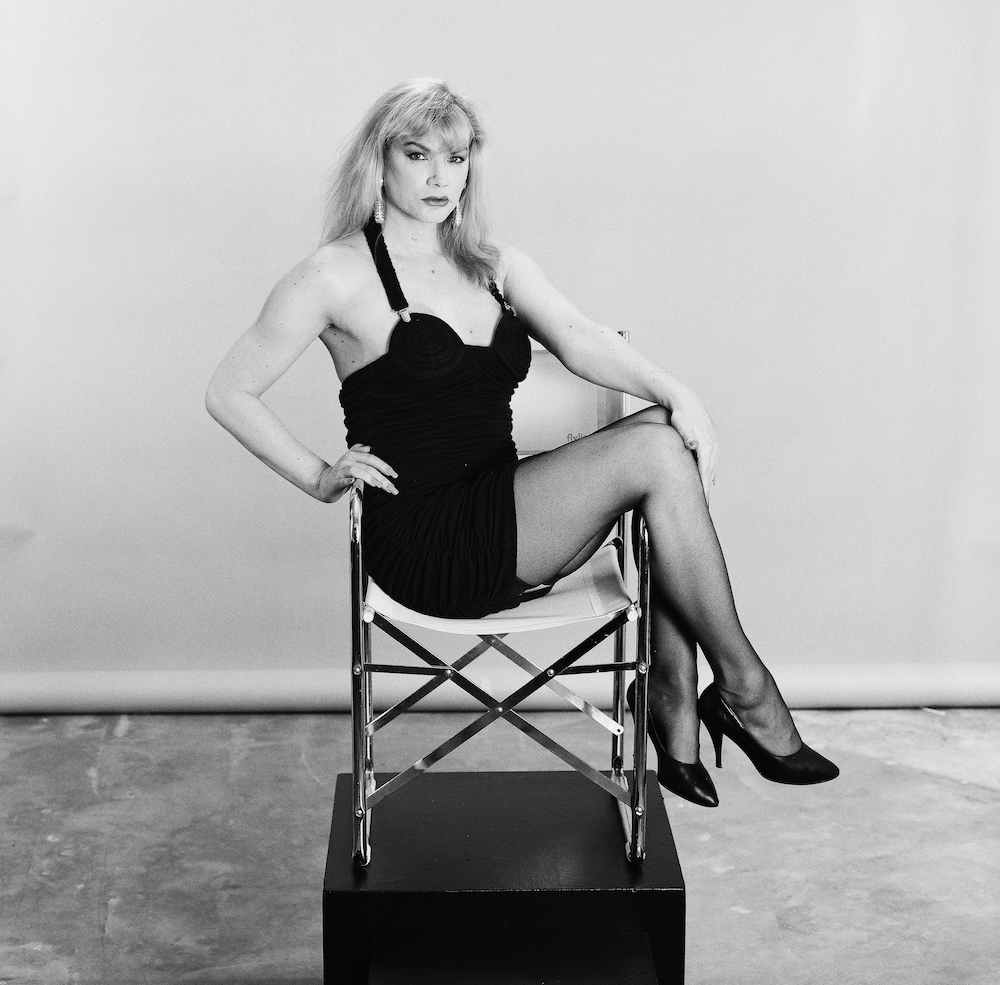 She gave me her new number to stay in touch and my biggest regret is not using it. I am also plagued with remorse for missing her final performances at Oasis, PianoFight, and at Victoria Theatre in the Dan Karkoska-produced Cockettes Are Golden: A 50th Anniversary Celebration, earlier this year.
When Lake, as with the "golden girls and boys" she sang about, "like chimney sweepers [came] to dust," seemingly everyone who ever knew her came out of the woodwork to post tributes on social media. The expressed sentiments about the polarizing figure were, as expected, a mix of phatic, fawning, and bitchy.
But I'll always remember her, beyond the fame and notoriety, as a living, breathing human being with plenty of wit, fire, and pluck.
Going forward, every time I walk down Market Street in my wig, leopard print coat, and vintage Jackie O-style sunglasses, I will try to feel prouder of who I am and hold my head up just a little bit higher in her honor.