On a cloudy Sunday afternoon in Union Square, still bedecked in Christmas decorations, 30 people gathered to share a singular message: The Board of Supervisors' emergency ordinance meant to delay the closure of the city's Shelter In Place hotels will not be enough to keep people off the streets.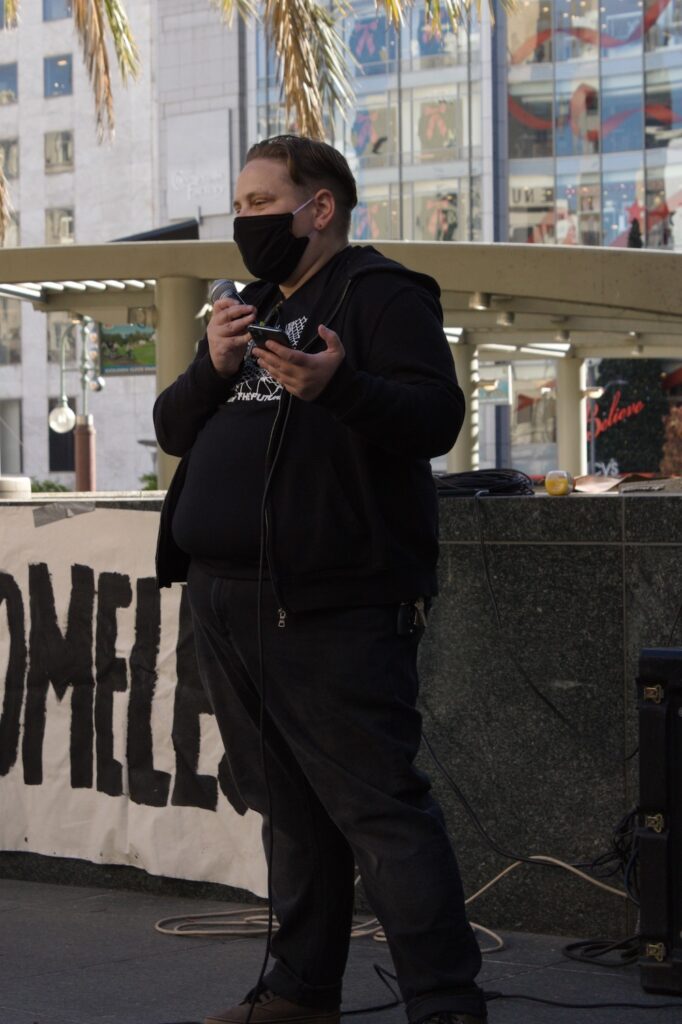 "We've been asked multiple times if our messaging will shift because of the recent Board of Supervisors' emergency ordinance, or the announcement that FEMA will continue reimbursing [shelter-in-place] hotel rooms throughout the pandemic… hell no!" said TJ Holsman, an organizer with Hotels not Homelessness, an organization that crowd-sources money to independently rent SIP hotel rooms for homeless people and organized the gathering. "Our messaging will not shift until the city has guaranteed no more evictions from any kind of shelter."
One of the main problems organizers had with the ordinance, which was signed into law by by Mayor London Breed December 23, was an amendment proposed by District 8 Supervisor Rafael Mandelman.
Originally, the ordinance directed all of the city's approximately 2,000 SIP hotel rooms currently being used to remain available for use as SIP hotel rooms, even as people vacated them to move into other housing, for the duration of the emergency ordinance—60 days. However, after the amendment, the new requirement was that for every 10 hotel rooms that were vacated, only six rooms would need to stay available as SIP hotel rooms. The other 40 percent of rooms could be removed from the city's SIP hotel room program.
Mandleman told me that one of the main reasons that this amendment was added was to strategically wind down the SIP hotel program to a more manageable size in advance of the end of FEMA reimbursements of SIP hotel rooms, which would occur once they deem the COVID-19 emergency has ended, and to put the city in a better position to absorb the ongoing costs of operating SIP hotels as residents are transitioned to permanent housing without cutting funding to other homeless services.
"It was, 'did we want to have 2000 people in the hotel rooms at the moment that FEMA turned off the funding?'"
He said that "inevitably we would have to continue operating them to manage some kind of orderly transition and that would be on our county general fund budget…Hotels, when FEMA's paying for them, are a very inexpensive form of shelter. When FEMA's not paying for them, they are very expensive, and the fear is that they would displace permanent supportive housing investments."
However, organizers were worried that the ordinance's plan of putting people into "stable housing placements" after transferring SIP hotel residents out of their rooms was nebulous, since there is no clear definition of what constitutes permanent, stable housing, and the Department of Homelessness and Supportive Housing has only identified roughly 300 suitable placements for all those currently staying in SIP hotels.
Holsman said that the best solution for long-term housing for homeless folks in San Francisco is one that has been kicked around since the early days of the SIP hotel program—for the city to purchase now-vacant hotels and motels and convert them into long-term housing. That, he said, could be financed using funds from Prop C, which passed in November 2018 and raised the gross receipts tax on businesses with more than $50 million in gross receipts from 0.175 percent to 0.69 percent and has since accumulated more than $400 million in funds earmarked for acquiring housing for the homeless.
However, Prop C funds have since then also been used to finance services rather than housing. The Budget and Finance Committee decided Dec. 16 to release $30.3 million in funds to the Department of Public Health to finance services, including $9.8 million to provide 24/7 access to care at the Behavioral Health Access Center and Behavioral Health Pharmacy, which provides Narcan and Buprenorphine, which are used to treat opioid overdoses and withdrawal symptoms, as well as $4 million to add 150 mental health and substance abuse treatment beds.
While these are incredibly important services and an integral part of the city's response to the homelessness crisis, organizers said that Prop C funding should not be used to finance expansion of those services, as Prop C was originally intended to fund housing acquisition and development for homeless people.
"The voters of San Francisco voted for Prop C to pay for housing for unhoused San Franciscans, so it's a misuse of funds to use anything other than directly housing unhoused people," said Holsman.
Shanell Williams, who chairs the Our City, Our Home Advisory Committee, which was created by Prop C to provide oversight and recommendations into the allocation of funds generated by the tax, opposed the Budget and Finance Committee's decision to allocation Prop C funds towards DPH services, with the exception of expanding the number of treatment beds.
"We as a committee said … that it's not in line with the intention of the fund," Williams told me. "Proposition C is really about expanding existing housing that we have across the board, from shelters to permanent, supportive housing to acquiring mental health facilities, it's about the actual place, rather than the services. But the beds are moving people off the streets, which is what Prop C is for."
Williams said that services should be financed with other funding sources, such as the general fund or the "CEO tax," created by Proposition L which passed last month and placed an additional gross receipts tax on companies whose CEOs earn more than 100 times the median employee salary.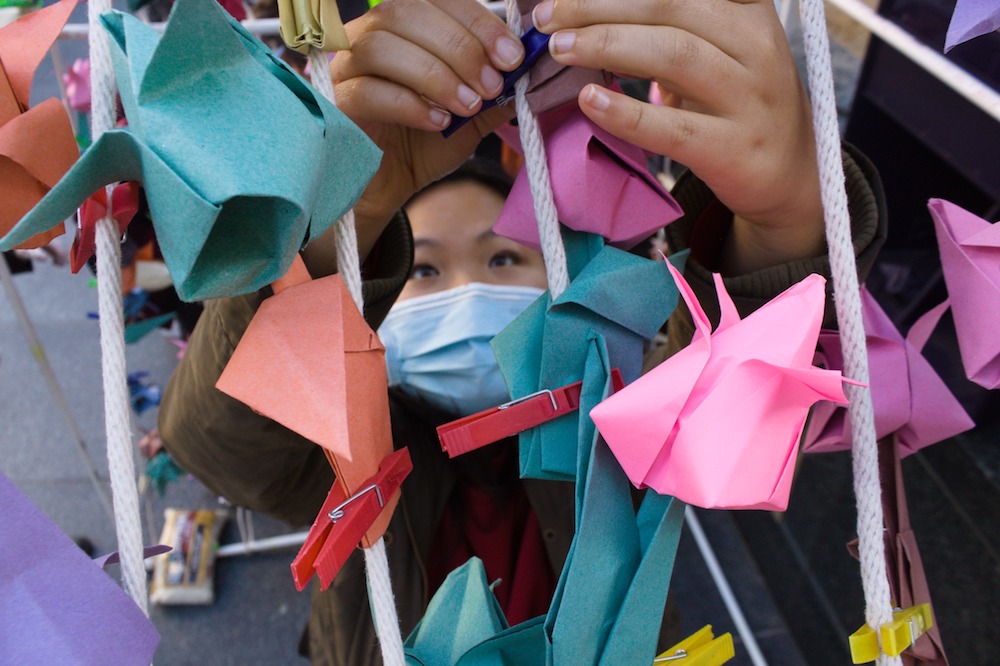 "We're not in support of providing for costs which are not in line with the fund. Behavioral health is definitely connected to the issues that we're having in regards to our homeless population, but that does not mean that Prop C funding is geared to support those services, even though they are serving a large portion of unhoused folks. The voters passed this proposition with a specific use attached to it," said Williams.
Behavioral health needs differ among the homeless population in San Francisco and those needs factor into the housing needs of unhoused folks as well. Sylvia Viviana, an organizer with Hotels not Homelessness, pointed out the importance of tailoring housing options to the needs of homeless on a more individualized level.
"Let's treat our folks in the street with some consideration and respect for their needs whether that is supportive housing with a full-time staff, or just leaving them be in their homes in buildings that are up to code and well-maintained. There is no one-size fits all," said Viviana.
To symbolize the estimated 10,000 homeless people living in San Francisco and the importance of safe housing during the winter COVID surge, organizers created a two displays in the shape of houses decorated with origami tulips, a flower that shelters underground so it can bloom in the spring, with each tulip representing 20 homeless San Franciscans.