In a time when festivities are few and far between, a local newspaper turned the spotlight onto its community during a socially distanced fundraiser this weekend, with funky dance beats, vocal performances, and spirited energy at the Bayview neighborhood's Mendell Plaza.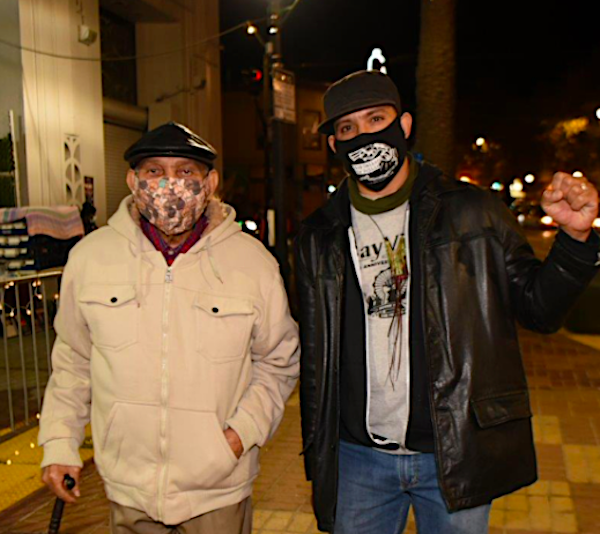 The San Francisco Bay View National Black Newspaper presents an often underrepresented perspective, not only highlighting issues that impact Black and Brown people in the Bayview and beyond, but also celebrating and supporting artists and business owners of color.
"Guess what, ain't nobody taking care of us, but us — so we gotta look out for one another," said Arieann Harrison, one of Friday night's speakers, to an outdoor crowd of around 75.
And this community spirit was the theme of the SF Bay View's two-day fundraiser event. "We want to raise money so that we can continue to use the newspaper to bring forth and uplift the voices that are here in this community," said the paper's new managing editor, Nube Brown.
Since taking over the paper 29 years ago, Editor Mary Ratcliff has been the newspaper's only employee — and has never taken a paycheck. "Everything went to the paper, including our social security checks," Ratcliff said.
Now, the publication is struggling to grow its staff and stay in print — they currently print 20,000 copies monthly, 3,000 of which go to subscribers in prison who often can't afford to pay the monthly $2.
She and her husband, Willie Ratcliff as publisher kept the paper afloat, with the help of community volunteers and hundreds of incarcerated people who write from prison every month.
Today, the SF Bay View is in a period of transition: the Ratcliffs are in their 80s with health issues and are in the process of passing their responsibilities to Brown and Keith 'Comrade Malik' Washington, who will be the new editor.
Part fundraiser, part passing of the torch, the weekend was also an opportunity for community members to learn about the SF Bay View and its new management. Some found the event through social media, while others were enticed on their commute home by the a cappella harmonies or Friday night's lively crowd on the Bayview's main commercial strip.
The SF Bay View, which bills itself as the voice of Black liberation, has historically played a critical role in activist movements, much to the chagrin of those in charge.
In addition to regularly publishing writings from prisoners, the newspaper reported extensively on the Oakland police killing of Oscar Grant in 2009, prompting extensive protests, and their reporting on the California prison hunger strikes between 2011 and 2013 helped amplify the movement against solitary confinement.
"The authorities just hate that!" Mary Ratcliff said, laughing. She said being blamed for 30,000 prisoners going on a hunger strike was the proudest moment in her life.
Brown and Washington hope to connect with the community on a more personal level, too, and could be found mingling with attendees in between emceeing. The couple recently moved to the city after Washington was released from prison in September.
Washington is no stranger to the activist life — he became a prolific writer during his 13-year sentence about injustices he witnessed behind bars. Ratcliff, who has long been in search of a replacement, describes her successor as better than anything she could have possibly hoped for.
The new editors also made sure the weekend's lineup showcased the Bayview's diversity. On Saturday, Washington led a virtual walkthrough of neighborhood businesses from bakeries to clothing outlets, introducing store owners of various backgrounds and ethnicities, and encouraging the community to shop locally.
April Spears, who runs both Cafe Envy and Auntie April's, spoke about knowing the Ratcliff family her whole life — her great aunt taught Willie Ratcliff in grade school. "This paper has been the fabric of our community," Spears said. "They try to bring true awareness for what's going on."
And true to the SF Bay View's mission, the speakers Friday and Saturday did not gloss over the issues. Arts and Culture Editor Wanda Sabir kicked off the event on screen from her kitchen, naming political prisoners, revolutionary journalists, and people killed by SFPD, and pouring out water for each person.
Other speakers brought up the radioactive and toxic waste at Hunter's Point Shipyard, where cleanup has been disputedfor years, or simply encouraged people to wear their masks. One woman, shopping bags in hand, took the microphone to impassionedly urge the audience to "stay on top of" the new president and vice president to deliver on their promises.
This community engagement is what the SF Bay View strives for. Currently, they are working to turn the newspaper into a co-op, a longtime goal of Ratcliff's.
Standing amongst the dancing families, girlfriends drinking wine, and uniform-clad essential workers in the crowd, 73-year-old founder of nonprofit Code Tenderloin, Del Seymour, said he's been reading the SF Bay View since he arrived in San Francisco 38 years ago.
"I would be destitute without a news source," Seymour said wistfully. "They're the only Black media we've got."

Information about the SF Bay View newspaper's fundraiser can be found here.