Living and working between Mexico and the US for most of his life, Rodrigo Reyes is an artist straddling two cultures.
The position can feel isolating, but it's also given the now-Oakland-based director, BAVC MediaMaker Fellowship Co-Creative Director, and this year's SF Indiefest Vanguard award recipient, a unique perspective on the national and international conflicts on both sides of the border. (Read our full guide to Indiefest, running Thu/4-February 21, here.)
He's seen the havoc wreaked by organized crime, drug and sex trafficking, and the murders of activists and journalists in his native Mexico. On the US side, 19th-century Jim Crow laws continue to impact US drug legislation and the prison system and we're only just now reckoning with our colonial past through the removal of racist statues and renaming 44 local schools.
First emigrating from Mexico City to Merced, California at the age of six and then moving back-and-forth between the two countries after the passing of anti-immigration referendum Prop 187 in 1994, Reyes was victimized by racist bullies at school and the media's negative portrayal of the Latinx community.
The complications that he and his family suffered have driven him to stand up for his outsider identity—and for Mexicans and Mexican-Americans who've battled similar forms of oppression—in his movies.
After tackling immigrant trauma in 2016's feature film Lupe Under the Sun and documentaries like 2013's Purgatorio: A Journey Into the Heart of the Border and 2019's After the Raid, it was important to Reyes to explore the historical forces that have shaped Mexico's current socio-political crisis, which makes parts of the country uninhabitable.
The result is his most epic work yet, the multiple-award-winning anti-colonialist 499, a major highlight of this year's all-virtual SF Indiefest.
A beautifully shot masterpiece told in a magical realist style, 499 follows a Spanish conquistador (Eduardo San Juan) who, five centuries after conquering the Aztec Empire and looting its gold, is by a mysterious turn of events catapulted back to what is now modern-day Mexico. There, he's forced to retrace his steps from the beaches to Tenochtitlán (now Mexico City), where conqueror Hernán Cortés and his army fought their most decisive battle against the indigenous peoples.
As the film's antagonist makes the familiar journey, he's forced to confront the real-life victims of recent atrocities in Mexico and witness the ordeal that asylum seekers face as they make their way to the US. It's only then that he realizes how his "glory," 499 years earlier, continues to spell suffering for both migrants and those who've stayed behind.
I spoke to Rodrigo Reyes about 499 (which is expected to play theaters in the second half of 2021), telling truths through fiction, and his next project, in which he'll tackle the injustice of the U.S. penal system.
48 HILLS In the past you told stories of immigration and cultural pain in a more realistic style, but 499 is more fanciful and imaginative—almost fairytale-like—with its magical realism. Why was this the appropriate form for this particular narrative?
RODRIGO REYES Traditionally a documentary is on-the-ground and real-life and building the story through [those elements]. But here, I wanted to make a film about the conquest of the Aztec Empire, so that really forced me to think creatively. Like how do we make that history real? How do we have a conversation with that history? That's how we arrived at this idea of bringing an actor to modern Mexico to play a conquistador from the 16th-century who's been lost in time, which created so many interesting things to think about around this [500th] anniversary.
48 HILLS The film's theme is that the Spanish conquest created a domino effect of violence and oppression that continues to ripple through modern-day Mexico. Can you draw the parallels for me?
RODRIGO REYES I think that the violence in Mexico today has connections to a whole process that has lasted 500 years. The tools have changed but the goals are the same: The way women's bodies are made into expendable commodities or the class system forces people to migrate in horrible conditions, where they're literally jumping on freight trains. So there are these really interesting echoes of history where the past and the present are in this dark connection with all these different types of violence.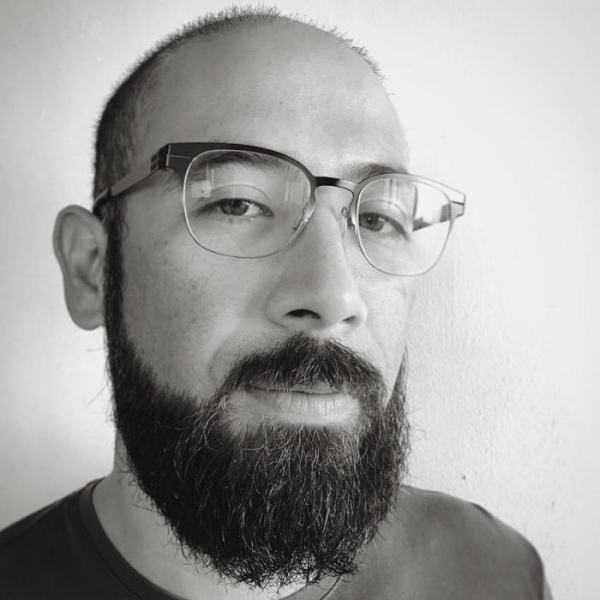 48 HILLS Amid all the fancifulness of the film are real-life interviews with activists, victims of violence, and even corrupt police officers and scenes of migrants making their journey to the US. For the viewer, it can be tricky to discern where reality ends and fiction begins. Was this blurring of the lines intentional?
RODRIGO REYES I think that's the biggest question in the film. What's real and what's in [the conquistador's] imagination? I think that's the magic of this project, that you, all of a sudden, realize that reality feels magical and fiction feels real. So there's always this interplay and it's hard to pin down where reality ends and the fictional story begins.
But that's the way we think about history. We're always rewriting history. There are facts but also the interpretation of those facts and what we choose to focus on. So I love that about the project, that you don't know where you are. It feels very magical, like its own world.
48 HILLS I have to confess that, as the viewer, there were moments where I identified with the conquistador because, like him, I felt like a fish out of water in a foreign situation with nothing other than my own biases to ground me. Did you intend to make both sides empathetic?
RODRIGO REYES I have empathy for this man because he set off on this conquest of glory and has never sat to think about the effects of it. But he has to have the possibility to learn and grow because we have to believe in that potential if we're ever going to repair our world and society. I think there is some of that in his story.
So even if we don't, of course, agree with him and think the things he's done are terrible, we still come to understand how his world view limited him and forced him into this straightjacket of conquest.
Many people tell me when they've watched the film how I've put them in his shoes and then I have to ask how I participate in this process of colonialism. What is my position? So many of the stories in the film, they're tragedies that should be addressed, yet they keep happening.
It's because power doesn't listen. We have to force power to listen. And this guy has to listen for the first time in his life to the victims. He's no longer in charge of the story.
48 HILLS Do you see a time when Mexico's power structure will become more humanist?
RODRIGO REYES Yeah, I think so and don't think we're condemned to repeat history. We need to learn from it and address it. I think that Mexico, like any other place, can build its own future. But we have to look at our histories first and accept what has happened in order to move on.
48 HILLS What's coming up next for you?
RODRIGO REYES I'm finishing a documentary with a lot of fictional elements that I've been working on for 10 years. It's a film about my friendship with a man who's doing life without parole. It's a very refreshing film and also a way of exploring how we tell these stories about a young man who's doing life in prison. If you can't interview him, then how do you tell his story when he's been erased by the system? I've been trying to solve that puzzle.
Especially because there's a conversation to be had about what justice really means in this country and how do we learn different ways of practicing justice that are fair and really take into account what people go through in their lives? Many times we judge someone for their worst moment and haven't looked at all the injustices that they suffered throughout their history. So I'm very excited about that project, and my dream is to finish it and get it out into the world.
499 (followed by a Q&A with director Rodrigo Reyes)
Thu/4, 12am, $10
23RD SAN FRANCISCO INDEPENDENT FILM FESTIVAL
Thu/4 through Sun/21, $45-135