Fellow Freakazoids, it has been 11 months. Almost a year since we did too many shots in the back of the club, hugged our friends all night on the dance floor, and felt those chills up our sneakers when the breakdown hit and the bass pumped in.
Most parties have understandably hit hibernation mode (and some, like the wonderful woman-centered Noctuary party have sadly moved on). Many nightlifers are using this pause to strive for a more equitable and safe reboot of the local scene. And some parties are still forging onward online, pumping music and camaraderie into our quarantine hovels, goddess bless them.
Among those keeping the virtual flame lit is Housepitality, the terrific Wednesday night techno and house party, which for more than a decade has polished that ol' dance floor chestnut that the real party happens on the weekdays. I adore Miguel, Mikey, Tyrel, Gehno, and the whole wild Houspitality crew, which has consistently brought in some of the best DJs in the world. On Wednesdays, even. They've expanded the SF spirit to franchises in NYC, Chicago, and LA, started their own record label, and week after week kept electronic music sounds alive—now streaming Wednesdays 7pm-10pm from F8, rather than packing its dance floor.
But after a year, even the most resilient parties are having to innovate—Twitch alone just isn't doing it anymore for the massive effort it takes to sustain the virtual party. Enter the Keep Our Beat Alive (KOBA) festival—Fri/26-Sun/28—Housepitality's gonzo effort to keep their party afloat and, while they're at it, fund a drive to get fresh pairs of socks to formerly houseless people.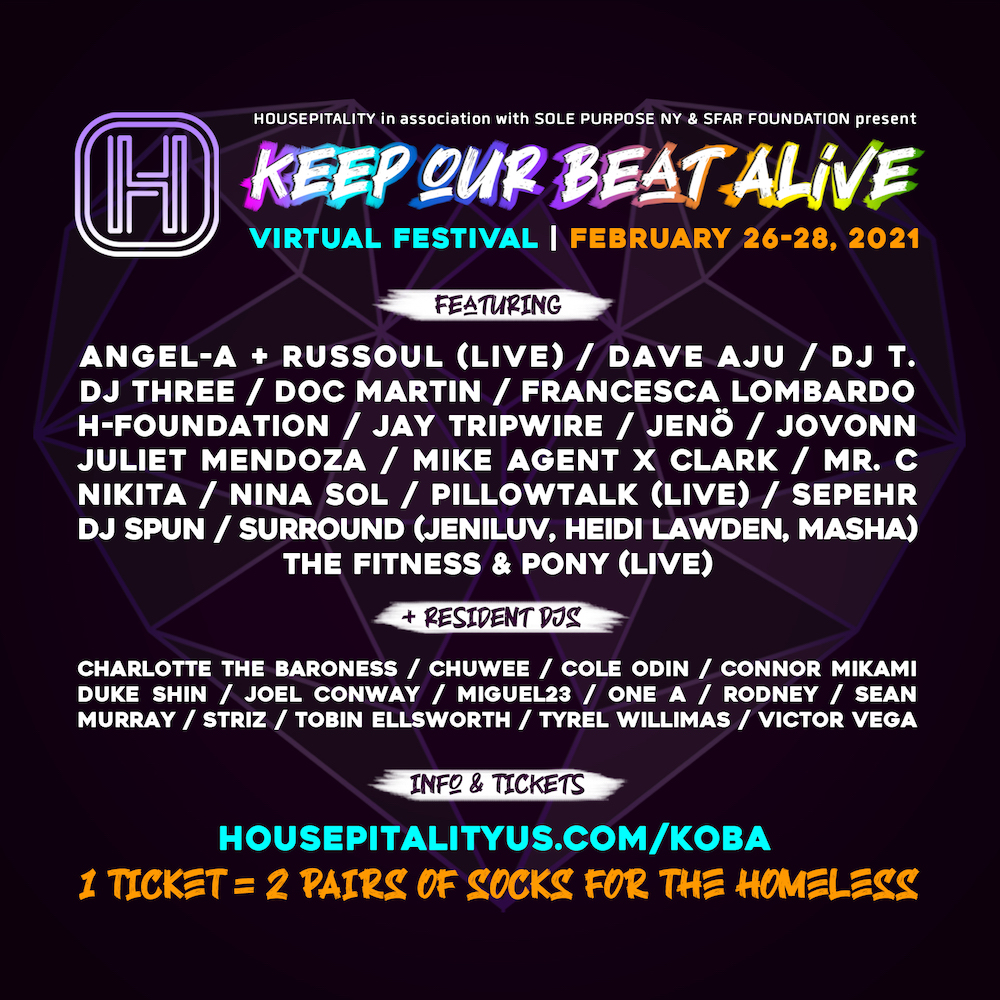 The three-day lineup is completely stacked from Doc Martin, Jay Tripwire, Francesca Lombardo, Mike "Agent X" Clark, and DJ Three to hometown heroes Charlotte the Baroness (love!!), Dave Aju, DJ Spun, Nikita, One A, and dozens more. (If you missed out on the last big SF online love-fest, Revive the Night, you definitely do not want to miss the hilarious and scandalous happenings going on in the late-night chat, lol.)
But wait there's more! Housepitality have taken the extra step to build their own platform for the festival—combining technology from TicketSpice, Vimeo, and Discord—to ensure a total Housepitality experience. I am stoked.
I got deep with Housepitality co-founder Miguel Solari about Keep Our Beat Alive, party longevity, and what kind of future nightlife is facing, even with vaccines coming on.
48HILLS We're about to hit a year of this damn thing—but Housepitality has managed to keep a platform for local DJs going this whole time. What are some of the things you've learned along the way?
MIGUEL SOLARI I relearned how important music is to people's lives, but from an entirely different perspective. I recently watched the classic SF rave movie, Groove. The part where the promoter says he doesn't do it for the money, he does it "for the nod," took on a whole new meaning for me since we are no longer able to charge a cover.
It turns out the positive comments and gratitude our content producers, moderators, resident DJs and I get from our viewers proves that we are truly helping some people cope with the current situation. By staying consistent on Wednesday nights our community can count on us to deliver fresh local live underground dance music from F8 on our twitch.tv/housepitality channel. We just want to put a smile on people's faces, that's our nod!
I also learned that having DJs play 3-hour sets at F8 over the club's sound system to an empty dance floor during the lockdown has some amazing benefits. Our Housepitality residents and guest DJs are playing some of the most amazing sets I've heard in years. They seem to appreciate being back in our DJ booth after many pandemic-filled months to tell their story thru their music but without the regular nightclub distractions. Some remarkable, beautiful, and sometimes emotional sets have been coming out this past year.
The other hidden benefit is that folks are paying more attention to the music more than ever. We somehow recreated our Wednesday night culture online and it reflects in the chatroom. People are meeting their friends, taking virtual shots, and sharing hilarious banter with these puns that sometimes go on for hours. My favorite part is when DJs drop dope tracks and the energy in the chat room goes off. People are connecting on a totally different level during those moments and supporting our local scene and talent. It's the closest thing to feeling like you're back in the club at peak hour. It's special.
48HILLS I know parties like yours are facing such huge challenges to survive, and everyone's having to think on their feet and stay resilient. How did the idea of Keep Our Beat Alive come about?
MIGUEL SOLARI A few things happened. It's important to first mention that we survived 2020 thru a Go Fund Me campaign originally designed to last a few months. We didn't expect we'd be here a year later grinding this hard to keep Housepitality running. Right before the pandemic, Mikey Tello (who I co-founded Housepitality SF with) expanded our brand to Los Angeles, and Brooklyn and Chicago were already going, so we suddenly had a bigger team.
"Keep Our Beat Alive" became the tagline we use to help collect donations that support our free streaming efforts on Twitch. It turns out weekly streaming requires a ton of work to produce and we are now streaming 4 nights a week from different cities. It is absolutely unsustainable. So, we wanted to figure out if it was possible to curate and throw the best online ticketed virtual festival for a small but reasonable fee. KOBA is a bold step to jump off the Twitch platform and cover our production costs and pay our staff.
Housepitality is not the first to explore an online ticketed event, we've noticed other artists and brands building their own live-streaming platforms outside of Twitch. However, KOBA was inspired by a conversation Mikey and I had with Doc Martin about his ticketed Sublevel event back in November when we started exploring the idea of throwing a Housepitality virtual festival. After discussing multiple ticketing platforms, DJ tips, costs, and risks we realized that it was worth a try so we asked Doc if he would play for us, and he agreed. I think he appreciated our hustle to keep Housepitality going and that was a huge vote of confidence. Doc is a very special human being and one of Mikey's long-time friends and one of my favorite DJs of all time.
The other thing that happened was our new team member in LA, Michael Eli joined us a year ago with a vision to use the Housepitality platform to establish community outreach support programs in all our sister cities. Around the same time, right before the pandemic our local resident Joel Conway came up with an idea to do a "housing is a human right" Housepitality sock drive for the homeless. We thought it was great and talked about it but it suddenly became more critical when the pandemic started and the homeless crisis continued to grow out of proportion.
So for each KOBA ticket purchased we are donating two pairs of brand-new socks to homeless individuals who have been disproportionately affected by the pandemic. Michael Eli from organized partnerships with Sole Purpose NY and the SFAR Foundation Welcome Home Project in San Francisco. A new pair of socks for a homeless person is priceless. This component is very important to us.
Mikey and I are very humbled to see all these new Housepitality team members believe in our brand so much that they are still here a year later under this pandemic. We don't even pay ourselves, anything that comes in goes to our staff in need. Our local resident One A has stepped up tremendously putting in ungodly hours to keep our production running. This type of effort has to be rewarded and we hope KOBA helps take care of our team. The current ticket price is only $15 for this amazing lineup. It would be great if we could sidestep Twitch on a weekly basis and cover our costs and pay our staff guest artists directly. This is a baby step towards that possibility.
48HILLS Do you think this is an experiment in how local parties can survive as things grow more bleak about nightlife's return this year? Do you think things look bleak?
Most other people might be more hopeful than I am and see a light at the end of the tunnel but my personal opinion is it's going to be a while until we see packed nightclubs again. I know nobody wants to hear that but we are preparing for the worst-case scenario. Outdoor festivals have a better chance to make a comeback to anything that resembles pre-pandemic social gatherings. The Midway, The End Up, and Public Works are fortunate enough to have designated outdoor space with very limited capacity but that's about it.
Regardless, it's still super-hard to get people out during a pandemic, those numbers just don't add up for promoters, club owners, or artists. So, extra shoutout to our home at F8 for their perseverance and for allowing us to stream every Wednesday during this pandemic. They are struggling to stay open so please come have a drink at their outdoor parklet on a Wednesday night. The city is allowing up to 25 people to gather safely, with table maximums and social distancing. F8 puts the speakers near the door so you can order food and drinks and enjoy our livestream.
So, yes, KOBA is an early experiment for our local scene and sister cities can survive another year of this if we have to. We have to keep our industry alive and figure out how to pay our staff and talent. I'd love it if we set a new bar where other SF crews can pull this off too. Let's face it, local heads miss Werd, AYLI, and other regular events. I would pay for a virtual Sunset Campout Weekend.
I keep hearing of clubs open in other states and in other countries but that seems unreasonable considering what is happening here. We have to be patient, our patrons' safety is the most important thing to us so we are going to stay virtual for now. Housepitality is known for keeping the doors at F8 open through some crazy and difficult times but this is very different.
48HILLS I LOVE the sheer depth of quality and talent you have assembled. It's really in line with the aesthetic of the weekly parties you threw. What was the response like when you reached out to the DJs, who themselves are facing real obstacles? 
MIGUEL SOLARI Artists were open to supporting us and our mission to donate socks to homeless folks. Mikey and I started by reaching out to some of our past headliners and friends because they know what we are all about, having Doc Martin on board in the early phase definitely helped us get the ball rolling with other artists to receive one-hour sets from them. It is super humbling that these artists donated to our cause, they ultimately believe in our brand and that makes my heart melt. We will be pushing their personal donation pay links during the weekend and they will definitely be at the front of the line to play for us in person as soon as it's safe to do so.
Everyone in our industry understands the importance of being able to keep the music going and how this helps our community stay connected, especially these artists. I know underground dance music has helped many people survive through mental and social distress in the past year. Times are hard and we are grateful to collaborate with these artists to provide the best musical experience we can and hopefully help evolve online events to benefit everyone.
KEEP OUR BEAT ALIVE happens online Fri/26-Sun/28. You can get tickets here and/or donate here.