Most of City Hall seems to like the idea of keeping the parklets that have helped save restaurants and bars during the pandemic.
But it turns out this is a bit complicated.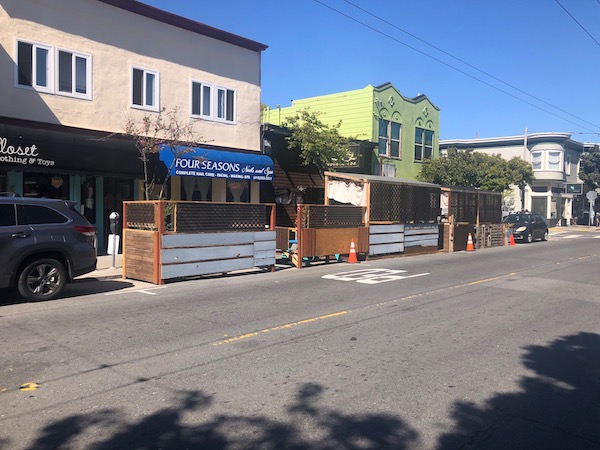 For example:
Some of the parklets are built in Muni stops.
Many of them are going to be moving from public-access parklets to more private commercial parklets.
Some of them are far from accessible under the Americans with Disabilities Act and possibly never will be.
Some of them are not built very well.
Some of them are in places where cars could crash into them.
Nobody in the city knows exactly how many there are and where they all are.
At a hearing of the Land Use and Transportation Committee Monday, the supes and a lot of speakers said that the bill by Sup. Ahsha Safai to make the parklets permanent needs a lot more work.
The three committee members voted to continue the measure until June 7, which is a fairly short period of time for city staffers to answer a long list of questions about a 75-page bill that would change the streetscape in many neighborhoods for years to come.
Mayor London Breed is angry — she wanted immediate action. It's going to take a little longer.
As Sup. Aaron Peskin noted, the city – for very good reason – allowed almost any restaurant or bar to take over parking spaces in the street to create an outdoor space for service during the pandemic.
There were few obstacles, few building codes, few regulations. That was entirely appropriate when thousands of businesses were facing failure and outdoor seating seemed safe and valuable.
And, committee members said, moving to make these permanent would give struggling businesses a chance to make plans and budget for the future.
Safai said that it was critical for businesses to be able to predict what the future of the parklets will be. But at the same time, Peskin noted that "everyone who has one will continue to have one," and the city is not moving to shut down a single parklet.
"I don't think we have an emergency," he said. "None of these permits are going away anytime soon."
The Safai plan is to give business owners – and community groups – the right to take over permanently space that is currently metered parking to create places where people can meet, drink, and eat.
The legislation would create three types of "shared spaces" – public parklets, movable parklets, and commercial parklets.
The public parklets would be open to anyone, any time, to sit and hang out (although nobody mentions whether you can sleep there if you have nowhere else to sleep). Lots of these already exist in the city.
The movable units would be authorized to set up tables and chairs during business hours and remove then afterward. The commercial parklets would have dedicated space for businesses – but also some, undefined, space for the public.
"This will eliminate the public parklet," Sup. Dean Preston said. "I don't see many businesses wanting to be open to the public when they can control private commercial space."
And while all the permits would require some public access on what is, or course, public space, "I don't think one little bench in the corner is going to be enough," Preston said.
David Woo, who works with Soma Pilipinos, noted that "we must be aware and be clear that the program would permanently privatize public space – and be sure that there is an equitable process."
A representative of the Calle 24 Cultural District noted that some communities have parades and big events that require the use of an entire street. What role with the parklets play in those situations (and what about all the summer street fairs?)
A number of speakers from senior and disability groups said that it can be difficult to walk the "gauntlet" of parklets connected to restaurants that are sending servers in and out across the sidewalk and bars that are packed with people clogging the right-of-way.
Small business owners say the parklets have saved their operations, and that's absolutely true. I don't know a lot of people who are unhappy with the street life that has been coming back after the pandemic; I live in Bernal Heights and Cortland Avenue is now, finally, hopping again. So is Valencia. Good news.
But as Peskin noted, "we have to reassess that we have turned a blind eye to certain aspects of these shared spaces." He said that probably ten percent of them are never going to be ADA accessible and aren't safe and are going to have to go away.
"Let's be honest about it," he said.
So much of this is so good, and it's a rare positive aspect of the pandemic. Yes, this is public space – but in the past it was rented out for the private use of cars. Now it could be rented out for businesses that serve better community purposes.
The supes just have to get it right. And that may take a little while.