The Board of Supes will be challenging the Police Department this week with two key hearings on use of force and accountability.
The Public Safety and Neighborhood Services Committee will hear Thursday/27 legislation by Sups. Shamann Walton and Matt Haney that would prohibit the Police Department from
using, deploying, launching, or firing of extended impact weapons, kinetic impact projectiles, chemical agents, disorientation devices, and military grade equipment during lawful assemblies and in other circumstances (curfew violations, verbal threats directed at an officer, noncompliance with an officer's order).
It's part of a movement to demilitarize the cops, force officers to use de-escalation techniques, and end the type of injuries we've seen repeatedly when officers use rubber bullets and tear gas at demonstrations.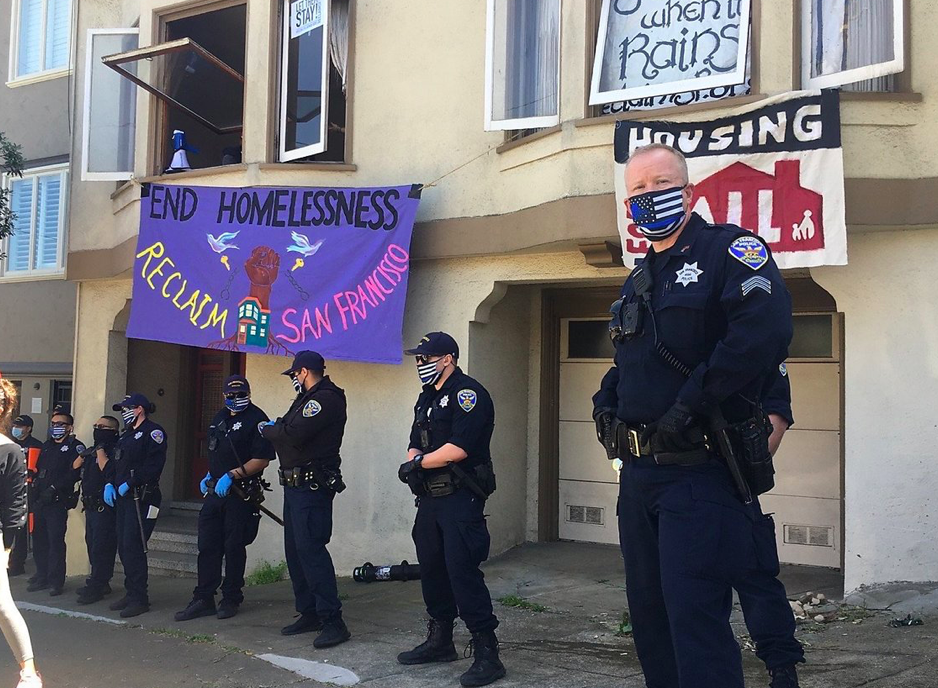 Right now, the cops are on their own with these tools and weapons – nothing in police General Orders bans them.
That meeting starts at 10am.
Then the full board will hold a hearing Tuesday/25 on the status of SFPD's compliance with the 272 recommendations of the Obama-era Justice Department. The department is bare halfway to "substantial compliance," and some of the supes are getting impatient.
So is the community. We can expect a lot of people to call in (for both of these items) to talk about everything from defunding the police to re-imagining law enforcement.
The full board will also vote on Sup. Dean Preston's proposal for a free Muni pilot project, which would allow anyone to ride the bus without paying a fare this summer. And the supes will also vote on extending the moratorium on residential evictions until September. (The city's opening up in June, and the economy is going to start to recover, but a lot of people are still out of work, and it's going to be a long time before some tenants are able to pay not only current but back rent.)
That meeting begins at 2pm.
Then there are the "shared spaces."
The parkets along commercial streets started to appear during the pandemic, and provided a way for restaurants, bars, and coffee shops to stay in business. Now, there's a plan to make them permanent, and it comes before the Land Use and Transportation Committee Monday/25.
There are all sorts of issues here.
The parklets have saved a lot of small businesses, and have made some corridors that were pretty vacant under COVID come back to life. They are also private use of public space, and the city is asking the businesses to pay fees that some say are too high.
The disability community is worried that they are creating obstacles to walking on the sidewalk (which, when they are full of drinkers and eaters, is a real thing).
The SFMTA is complaining that they are costing the city parking-meter revenue, and they are, but getting people out of their cars is part of the MTA's job.
Of course, the sites on the streets are only for commercial purposes; I'm not seeing anyone suggesting that we could use those parking spaces for "camplets" for homeless people.
But I'm glad that the supes are going to hold a hearing and weigh in on this. Past uses of public space for private commercial profit – like the Google buses in Muni stops – just snuck through with little public discussion.
That hearing starts at 1:30pm.