Filmmaker Todd Stephens was on such a high after his 1998 movie, Edge of Seventeen, became a festival hit.
The loosely autobiographical film—based on Stephens' own experience as a gay high schooler in Sandusky, Ohio, in the early '80s—won numerous awards at Outfest and Frameline.
"I remember the film getting a standing ovation at the Castro Theatre," says Stephens. "It was crazy. That was one of the best screenings of my life, honestly."
But when his similarly personal follow-up, 2001's Gypsy 83, didn't land, the producer-director says he shifted to making lighter fare that didn't hit so close to home—like 2006's Another Gay Movie and its 2008 sequel.
"I kind of got burned from Gypsy 83, because it just didn't do very well," says Stephens. "I was just shocked and devastated by a couple of bad reviews. So it took years of therapy to have the guts to make another personal story."
His opportunity to once again mine his Sandusky past for material came in 2015, when he began conceiving his latest film, Swan Song (opening at Embarcadero Center Cinema on August 6). But this time he centered his story around another real-life figure, Pat Pitsenbarger, an eccentric hairdresser (with rings on every finger), whom he first remembers encountering around town in early childhood.
In fact, Stephens credits the local legend—whom he vividly remembers seeing in a women's pantsuit and feather boa, busting out his best Bob Fosse moves at a local gay bar in 1984—with emboldening him to eventually write a movie like Edge of Seventeen.
"I only barely knew the real Mr. Pat, but he left a big impression on me," says Stephens. "He was like a space alien, and I was totally fascinated with him."
Swan Song—Stephens' first new film in 12 years and the much-anticipated culmination of what the moviemaker calls his "Ohio Trilogy" after Edge of Seventeen and Gypsy 83—follows Pitsenbarger (played by legendary actor Udo Kier) through an imagined scenario in which he's cajoled out of a Sandusky nursing home for one final hair job. He must tame the mane of his recently deceased former client Rita (Linda Evans) before burial.
As he makes his way to her home, Pat is forced to make peace with Rita and all the people, places, and things he's lost along the way.
I spoke to Todd Stephens about his big comeback project, working with Udo Kier, and why his latest movie isn't his swan song.
48 HILLS I have to start by asking the $64,000 question. What have you been up to between your last movie in 2008 and Swan Song?
TODD STEPHENS Well, I became a college professor. I teach film at the School of Visual Arts in New York City. My husband and I bought this old church in the country and turned it into a house. I also wrote a number of scripts that just didn't go anywhere.
The real answer is that after Another Gay Sequel I wanted to do something personal again, like along the lines of Edge of Seventeen and Gypsy 83, but it took me a while after Gypsy 83 because I felt blocked by the bad reviews. We all have our moments and we're all fragile.
48 HILLS So each of the films in what you call your "Ohio Trilogy" takes place in Sandusky. Why does your hometown remain so compelling to you?
TODD STEPHENS It's part of me; it's who I am; it's where I'm from. Write what you know, and that's a world that I know. I'm still very connected to it. My parents and both brothers still live there, and my parents live in the same house I grew up in. It was a place that I ran away from as soon as I could and moved to New York in 1985. But now I find myself, as I've gotten older, being drawn back there.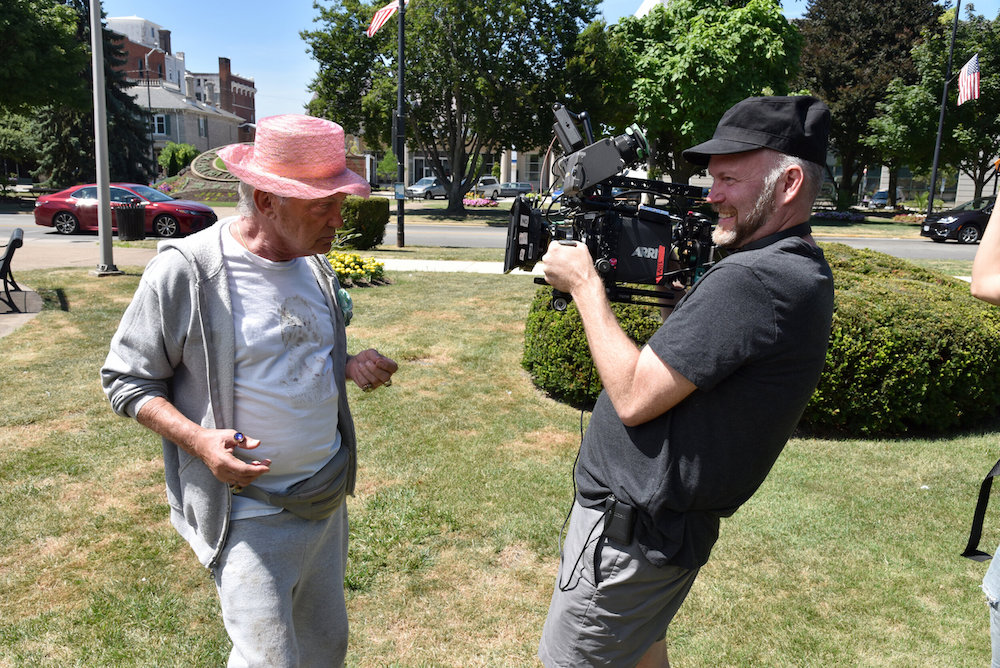 48 HILLS How was your experience filming Swan Song there in 2019 different from previous shoots?
TODD STEPHENS It's changed so much, even in the 20 years since we made Edge of Seventeen. It was really hard shooting a gay film in a small town like that back then. I remember selecting the character name in the script on my PowerBook 180 laptop and changing it from Rod to Rhonda and printing out fake scripts to give out because we felt like people wouldn't help us if they knew it was a gay movie.
When you're making a low-budget film, you need a lot of help. But people did find out and some were really freaked out. That was soul-crushing to me because I was back in my hometown making a film that was affirming who I was as a queer person—and yet we went back into the closet.
Cut to 20 years later, when I went home to start pre-production on Swan Song, in the summer of 2019, and they were in the middle of their third-annual Gay Pride Festival, which blew my mind.
48 HILLS How did Udo Kier become attached to the project?
TODD STEPHENS I decided that I wanted all the queer parts to be played by queer actors, and that limits you because there are not a lot of known queer actors in their 70s or 80s. So my casting director suggested Udo Kier, and at first, I was like, "Wait a minute. He's German with a German accent, and Mr. Pat wasn't from Germany." And they were like, "Who cares?"
48 HILLS What was his response when he first read the script?
TODD STEPHENS Udo loved the script right away and thought the role was something that he could play. So I flew out to Palm Springs to meet him and, of course, I knew his stuff. I loved Blood for Dracula and My Own Private Idaho. As soon as I walked in the door of his house, I knew that he was the guy. He had all these books opened with close-ups of Liberace's rings. He just got it and was it. I was really excited to give him a leading role for the first time in a long time, to really show what he can do.
But he was very clear that he didn't want to overdo it. He wanted to be flamboyant, but also soft-spoken and very kind, like the real Mr. Pat. Udo brought such a reality to the character. Every day on set I felt like I was watching a master class in acting.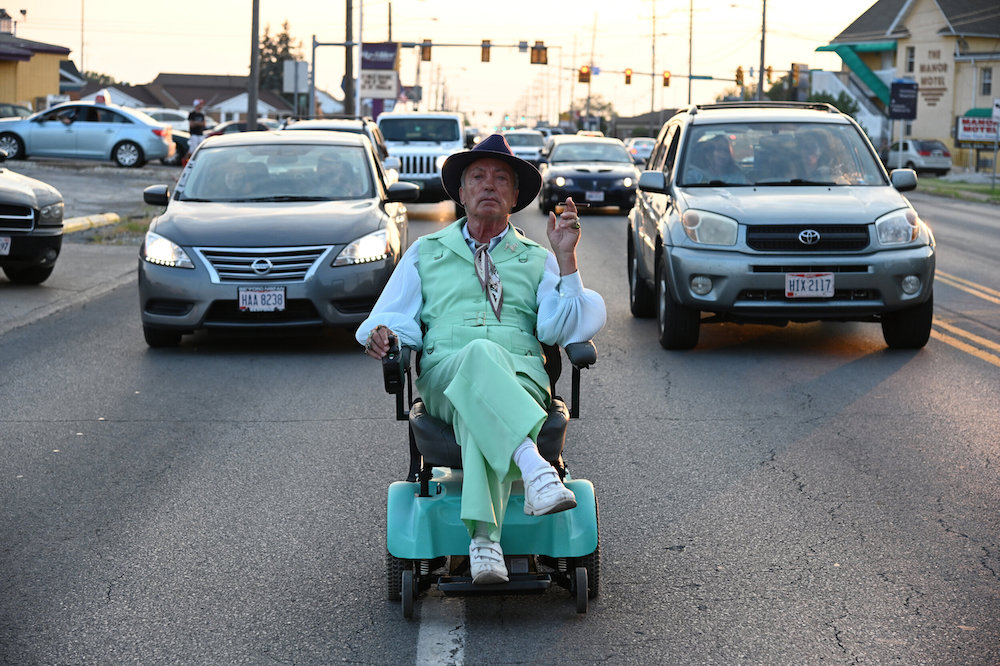 48 HILLS What can you tell me about the real Mr. Pat? I read in the press notes that he was a fabulous hairdresser, an amazing performer, and shopped for groceries dressed like Carol Burnett?
TODD STEPHENS I'm glad that you're asking this because I hardly ever get to talk about it. He grew up in a really poor family in a coal mining town in West Virginia, and they moved up to the "big city" of Sandusky, Ohio. Pat went to the same high school that I did many years before. He got bullied, dropped out, and went to beauty school.
But that's where he met his future life partner, David. Ultimately, Pat opened this amazing salon downtown and he was a real artist with hair. Like in the film, he did all the rich Cedar Point ladies, and they all adored him. On the weekends, he did drag and he made all of his own clothes. He was a comedy queen, very inspired by Carol Burnett.
I only saw him do drag once—when he sat at a table eating Life cereal in milk while perfectly lip-syncing to Shirley Bassey's "This Is My Life," with food spraying everywhere. It was a brilliantly hilarious deconstruction of drag and literally the best drag performance I've ever seen in my life.
48 HILLS With the movie's title being Swan Song and the subject being an aging gay man, I have to imagine that you, in some ways, identify with Mr. Pat. Am I right?
TODD STEPHENS You ask such good questions. I relate to the story because I felt like I was kind of quarantined from life for a while, not making a film for 12 years and I felt like I had kind of lost my nerve. So in a huge way, writing Swan Song about this character that had lost their love of what they lived for and rediscovering that love was a big part of telling myself that I could still do it. So in a way, Pat is me rediscovering the joy of what I do as an artist. So, yeah, Mr. Pat is me in many ways.
48 HILLS Did the experience of making this film embolden you to begin work on another project?
TODD STEPHENS Yes, I think so. I'm just very emboldened by people's reactions to Swan Song, getting into South by Southwest, and getting this great distributor, Magnolia. I've been to one screening with an audience and people seem to really like the movie. So yeah, there won't be another 12-year break.
Swan Song opens on Aug. 6 at Embarcadero Center Cinema and will be streaming on-demand starting Aug. 13.