One of the Ethics Commission charges against Mayor London Breed is almost too ironic to believe.
Two of them are signs that the climate of casual corruption at City Hall reaches the highest levels.
And maybe there's more.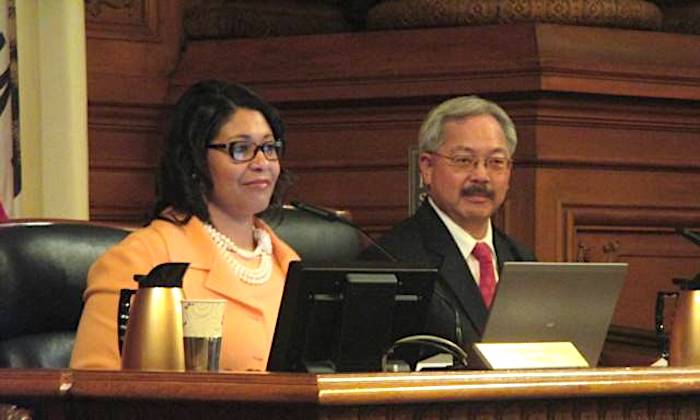 Let's start with her brother.
In 2018, Breed asked then-Gov. Jerry Brown to release Napolean Breed from prison. He's serving 44 years for involuntary manslaughter and armed robbery. That's an insane sentence that was handed down at a time when blatantly racist policies were leading the state to lock up tens of thousands of Black men for totally inappropriate amounts of time.
Here's the irony: I can't imagine that the current district attorney of San Francisco would ever have pushed for that punishment. Chesa Boudin ran on a platform that directly took on the racist carceral state. (His father is also serving a radically excessive sentence under a "felony murder" statute that is now widely discredited among progressive reformers.)
But Breed hasn't said a word of support for Boudin as he faces a recall funded in large part by her political allies.
I have no problem with what Breed did for her brother, and I say this as someone who has often had policy disagreement with the mayor (and who has been attacked by her.) She told the governor that if her brother were released, he would have a stable place to come home to. It's pretty safe to say he would have access to whatever treatment, job training, and other re-entry programs he needed, not just because Breed is mayor but because she makes plenty of money.
Would it look like her political connections won him freedom when others without those connections stayed locked up? Yes. Should her brother be released? Yes. Can you blame her for trying to make that happen? I suppose you can, but I'm willing to let it go.
On the other hand: If she's in favor of criminal-justice reform not just for her brother but for many, many other people in his position, I don't understand why she is tacitly (if only by omission) supporting the Boudin recall.
Moving on:
Breed agreed to pay $8,292 for accepting a gift in 2019 from Mohammed Nuru, the former public works director whom federal officials charged with fraud. A few weeks after Nuru was charged by the FBI, Breed acknowledged in a statement that Nuru paid for repairs to her car in 2019.
Nuru paid $5,600 to fix Breed's car. (Why the mayor, who makes a very nice salary, needed a friend who clearly has been involved in dubious behavior to pay for repairs to a car she doesn't even drive—she has a city car and a police escort everywhere she goes—continues to amaze me.)
So the net she loses on this transaction is $2,692. Not a bad deal.
Then there's Nick Bovis and the Pride Float.
My old friend and former colleague Joe Fitzgerald Rodriguez broke this story at the Examiner in Feburary, 2020. Bovis, the restaurateur who was also arrested with Nuru on bribery charges, paid for her float in the Pride parade when she was a supervisor in 2015. She never reported this as a campaign donation.
Breed was furious at @Fitzthereporter, and tried to get him thrown out of an election party.
She will pay $12,000 to settle that issue. That's .03 percent of her $342,000 salary, the equivalent of a few day's pay. The fine will not impact her life in any significant way.
Here's what keeps coming back to me:
This is not massive, multimillion-dollar corruption. This isn't huge amounts of embezzlement of public funds.
It's mostly small-time stuff. Breed could easily have paid for her car to be fixed. She could easily have paid for her Pride float (or just walked, as many others do).
This whole scandal is about a culture of corruption that goes back to the days of Mayor Willie Brown. It's about business as usual, about the rules don't apply to the "city family."
It's infuriating because at a time when we need collective action—that is, government—more than ever to save the planet, this shit undermines people's faith in government.
There's so much of this stench at City Hall. I don't think we've seen the last of it.