Whirring. Whoosh.
When I first heard those sounds I didn't know the source. I was sweeping leaves off the driveway and thought the source of the odd sound was the broom brushing the cement. Looking up, I saw a white Jaguar SUV driving by adorned with a large spinning device on its roof and what looked like camera mounts deployed on various surfaces of the vehicle.
I spotted a stencil like font of a brand name, WAYMO, on a passenger door.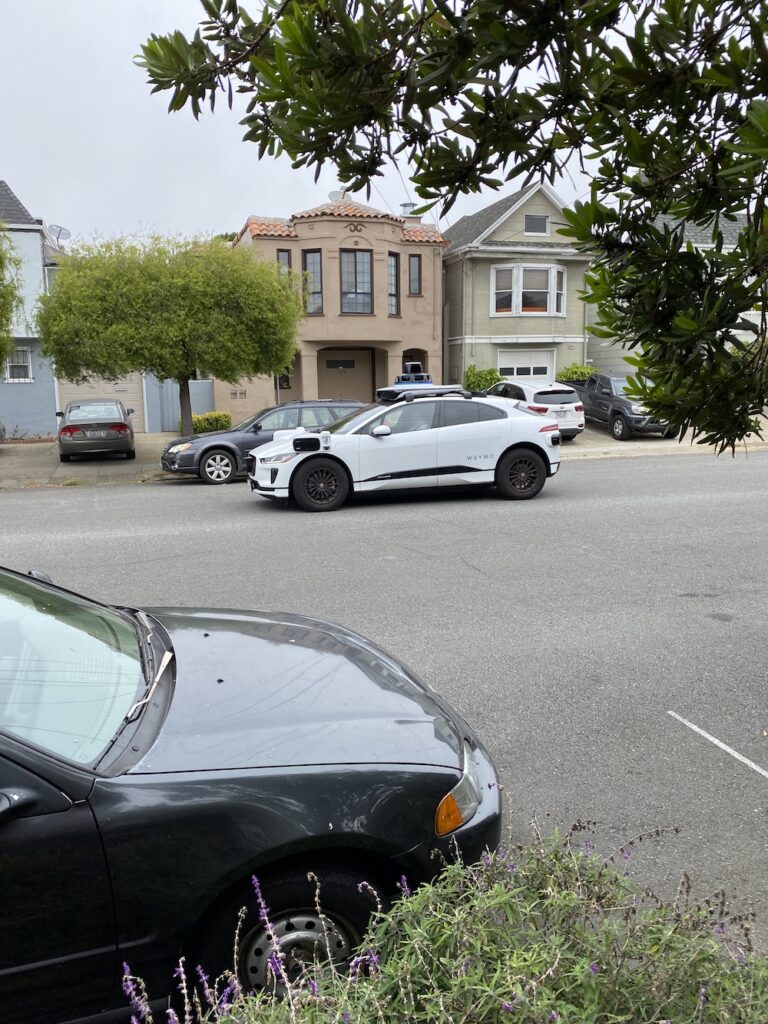 That was seven weeks ago.
From research conducted on the Internet, I learned that Waymo is the autonomous vehicle brand from Google parent Alphabet. According to the corporate website, Waymo's mission is to "make it safe and easy for people to move around, and in doing so, improve mobility and road safety." On the site, Waymo claimed it works "closely with local officials, public safety, and members of the community where we operate."
I also learned that the particular Waymo vehicle on Santiago Street that day, and later, in general, the entire fleet crisscrossing the avenues, is not at all a typical automobile. Each vehicle has a complementary multiple sensor data gathering and mapping system designed to collect a litany of details with a goal to build a comprehensive view of the world.
Moreover, I learned the most devastating fact and the actual reason for the effort to produce a comprehensive view of the world is to eliminate the need for human drivers. Conservative estimates range up to 10 million jobs lost due to the introduction of this autonomous vehicle technology.  Drivers are generally classified as low-skilled workers, with their main skill being the ability to drive. Once unemployed, it will be difficult for such workers to quickly find new work and the cost of re-training them could be high.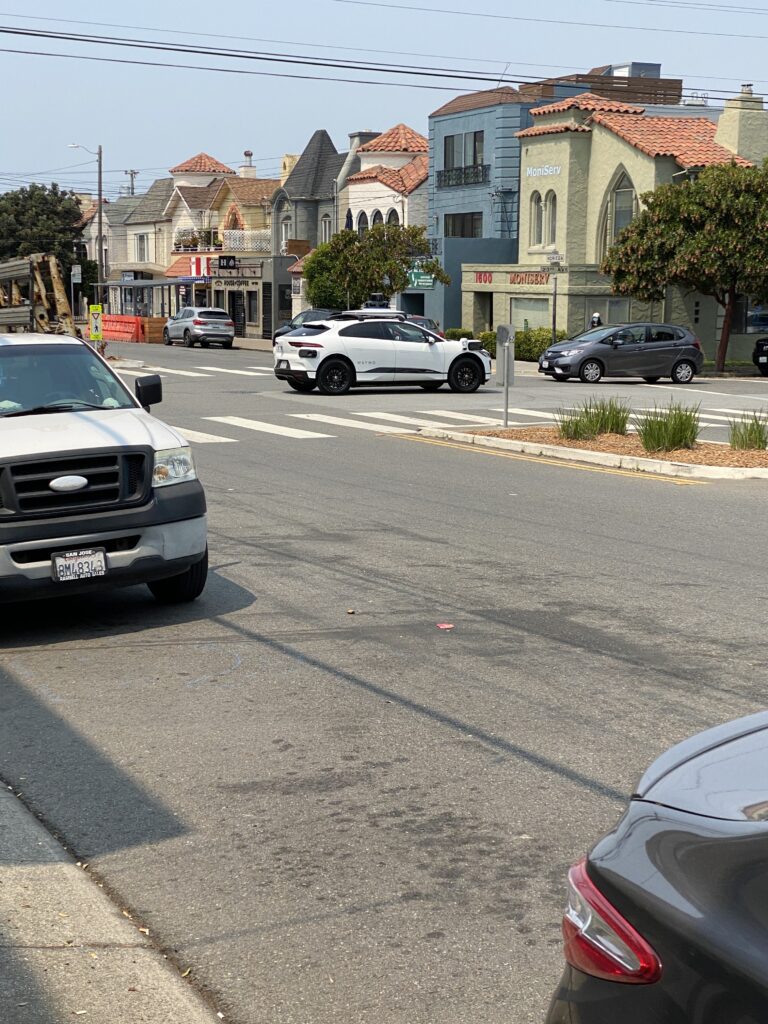 That whirring – whoosh sound emanating from a Waymo data gathering vehicle is the latest variation of an invasion of body snatchers theme. In economic terms, it is dead labor taking the place of living labor, a robot operating the machinery of production rather than a human worker. This process is a means for corporations to increase profits.
Waymo operating in full strength on the westside of the City
The west side of San Francisco, where I live, is a large rectangular shaped area, approximately 1.7 miles east to west, from 19th Avenue to the Great Highway and approximately 2.2 miles north to south, from Lincoln Way to Sloat Avenue.
The Sunset and Parkside neighborhoods make up this vast area and are characterized by row upon row of rectilinear blocks, wide streets, a large number of single-family homes, many small businesses, two public libraries, a reservoir, a few parks, some public transportation lines, public and private schools, and obviously, passenger vehicles.
These neighborhoods are not the most crowded urban area in San Francisco nor the most romantic where a Tony Bennett could have left his heart. Very few tourists visit this part of the City and few cultural institutions bring large crowds here, and by default, large numbers of passenger or commercial vehicles.
Consequently, the vehicular traffic and driving experience in this neighborhood is unlike the rest of the city.
Nonetheless, into my neighborhood, a prototype Waymo autonomous driving vehicle fleet has arrived to conduct a field test. In the last few months, that fleet of Waymo vehicles has tooled through the many avenues and named streets, gathering data about driving conditions extant in this part of the city. And in each vehicle are the robots, lurking, waiting and capable of performing the corporate body snatching ritual.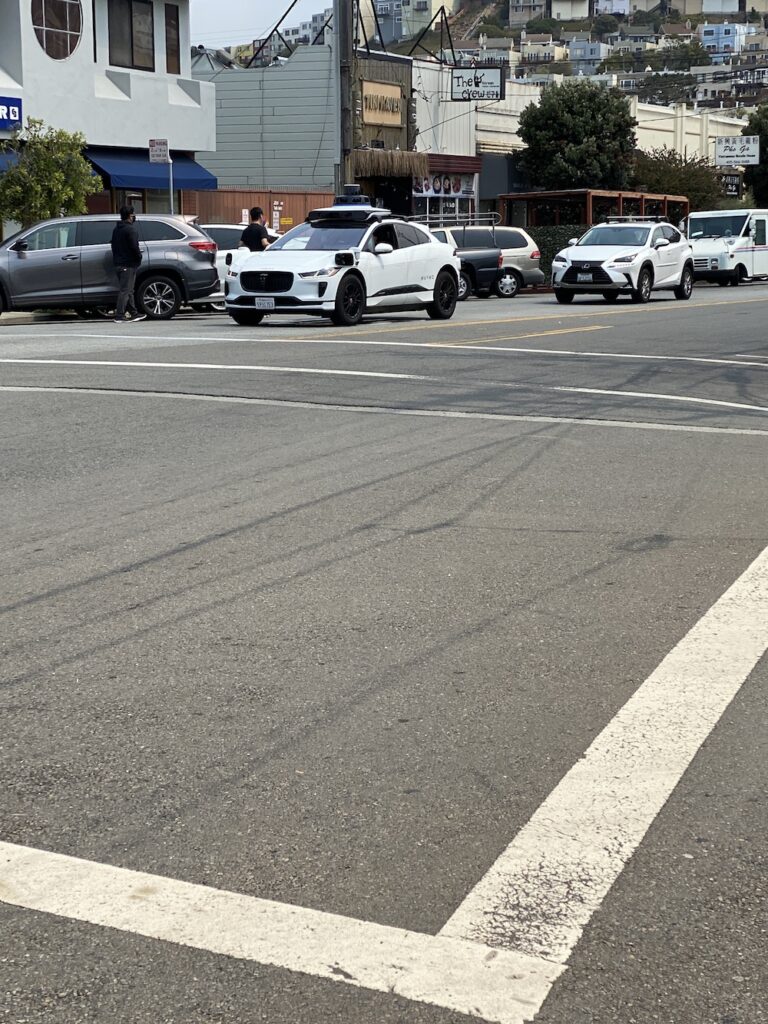 Whirring. Whoosh.
One any given day, without making a serious effort, I have been able to spot at least six separate Waymo vehicles on a neighborhood street in a 30-minute period. Looking for answers, I contacted, by email, the San Francisco Municipal Transit Agency and the California Public Utilities Commission, inquiring about the purpose, frequency and size of the Waymo fleet operating here. I have not, as yet, received a reply to either email. So much for working with members of the community.
Test details in Sunset
However, I did receive some details from Ralph Lane, from Supervisor Gordon Mar's office, regarding the presence of these Waymo vehicles.
According to Lane, "Although they have expanded to all the neighborhoods of the city now, the Waymo fleet did begin its pilot in D4" (D4 is the supervisorial district abbreviation that encompasses the Sunset and Parkside neighborhoods).
Lane continues, "Apparently this was a result of a SFMTA study that this was the safest neighborhood statistically, plus it provides a constant repetition of intersections with changing variables, timing and rights of way to cross traffic."

Finally, Lane stated that "our office was concerned that SFMTA did no outreach. Not to the residents, and not even to our office".
What can a person expect from corporate body snatchers? Stealth, secrecy, and then a very big surprise when you, the worker-driver, are no longer needed and out of a job.
Waymo
On August 24, 2021, Waymo launched its robo taxi service in San Francisco, offering autonomous rides to the public. This venture was reported widely in both local and international media outlets.
According to sources, "San Franciscans can download the Waymo One app and express their interest in joining the program, which will begin with an initial select group from diverse backgrounds with varied transportation needs, including wheelchair accessibility, according to Waymo. The company would not share how many riders would be included in the initial group, nor how many Jaguars it will have roaming the city, but it did say riders would have to be willing to offer a lot of detailed feedback on their riding experience and sign a nondisclosure agreement."
What got my attention was where the planned roll-out of the Waymo venture would take place. Not all neighborhoods in the city will participate. Included in the initial list are the Sunset, Parkside, Richmond, Pacific Heights, Noe Valley, the Castro and Haight-Ashbury.
Are you ready for the emergence of that eerie other worldly whirring-whoosh sound and its long-term economic impact? The invasion of the corporate body snatchers is coming to your neighborhood sooner than you think.