Rock and metal music are synonymous with sympathy for the devil. Over the last decade, Swedish outfit Ghost have refined the art, theatrics, and sound to center and redefine those hellish associations. Ghost crafts inviting, often operatic Satanic anthems on the surface, but digging deeper into their eclectic, catchy, atmospheric arena rock proves they are a perfect counterbalance to the moral panics dominating headlines today.
So when Ghost kicked off their 2023 US Re-Imperatour trek at the Concord Pavilion on August 2nd, 48 Hills had to take in the open air congregation of metal fans delighting in paradise lost.
The Bay Area's history with the dark lord goes way back: The Church of Satan was founded in San Francisco in the 1960s, and San Francisco is constantly cited locally and nationally as a lawless hellscape. Satanic panic was of course, and still is, a fictitious narrative that preys on fear and ignorance, so we should at least acknowledge and celebrate the music that winks-and-nods that nonsense away.
Which brings us to Ghost, the premier architects of such reprieve at the moment. The themes in Ghost's music —the hubris of man, the faithfulness of submission and superstition, the rise and fall of empires, to name a few—are nuanced critiques of power spanning their five album discography.
Ghost at Concord Pavilion. Photo by D.A. Mission

Ghost at Concord Pavilion. Photo by D.A. Mission

Ghost at Concord Pavilion. Photo by D.A. Mission

Ghost at Concord Pavilion. Photo by D.A. Mission

Ghost at Concord Pavilion. Photo by D.A. Mission

Ghost at Concord Pavilion. Photo by D.A. Mission

Ghost at Concord Pavilion. Photo by D.A. Mission

Ghost at Concord Pavilion. Photo by D.A. Mission

Ghost at Concord Pavilion. Photo by D.A. Mission

Ghost at Concord Pavilion. Photo by D.A. Mission

Ghost at Concord Pavilion. Photo by D.A. Mission

Ghost at Concord Pavilion. Photo by D.A. Mission
We live in such a golden age for Satanic and moral panics, Ghost's proud "hail, Satan" schtick is not even subject to wall-to-wall media coverage of American Christians burning their records, citing their music as a sign of the end times. That certainly would have been the case in the '80s during Satanic panic's height, coinciding with parental advisory stickers first arriving on record covers.
That panic continued into the '90s and became fixtures that blended in more than went dormant. Ghost haven't been without their attendant controversies. Yet the perpetrators of moral panics are gaining enough traction with their Christofascist mission these days, to focus away from music as an easy punching bag (although they still do it). They've grown powerful playing tunes from that worn songbook.
QANON, the political panic movement that accuses the Democratic Party of being a Satanic cabal that drinks children's blood, reached residency in the White House and Congress. The Supreme Court, supposedly the highest arbiter of justice in the US, is more compelled to condone state dominion over people giving birth, than keep the water poison free. The anti-queer, anti-trans panics are dangerously in full swing with state's rights bigotry funded by national PACs or good ol' traditional corporate hypocrisy.
It's all coupled with "won't someone please think of the children" hollow anti-child trafficking campaigns; every bad faith actor is suddenly the staunchest defender of the weakest and most vulnerable children, unless those kids are Black in America, Brown at the border, or queer or trans anywhere.
Ghost's music isn't directly topical, but such visible embrace of Satan during these delusional times builds dams against moral panic's deluge. From their position removed from power, Satanists aren't inherently judgemental like the QANON, Satanic, and moral panic adherents, whose philosophy characterizes everyone who isn't following in their blind, cultish faith as murderous pedophiles. When the grifters have claimed piety, the Satanists inherit truth's pulpit.
Ghost's indulgences in pop and glam pitches a grand preacher's tent. Details like tailoring frontman Tobias Forge's outfit with subtle skulls, Beethoven frills, and a concise message that's always been a rock and metal rallying cry printed on the inside of his gold ringleader coat—"fuck you"—further his eccentric conductor stage presence. As Forge's painted face serenades with delightful subversiveness, the righteous guitar riffs by the band of nameless ghouls—like those that launched their Concord set with "Kaiserion"—elevate their show into a necessary concert experience, because if fans are going to risk COVID rocking out to a musical act, why not one that's singing about plague?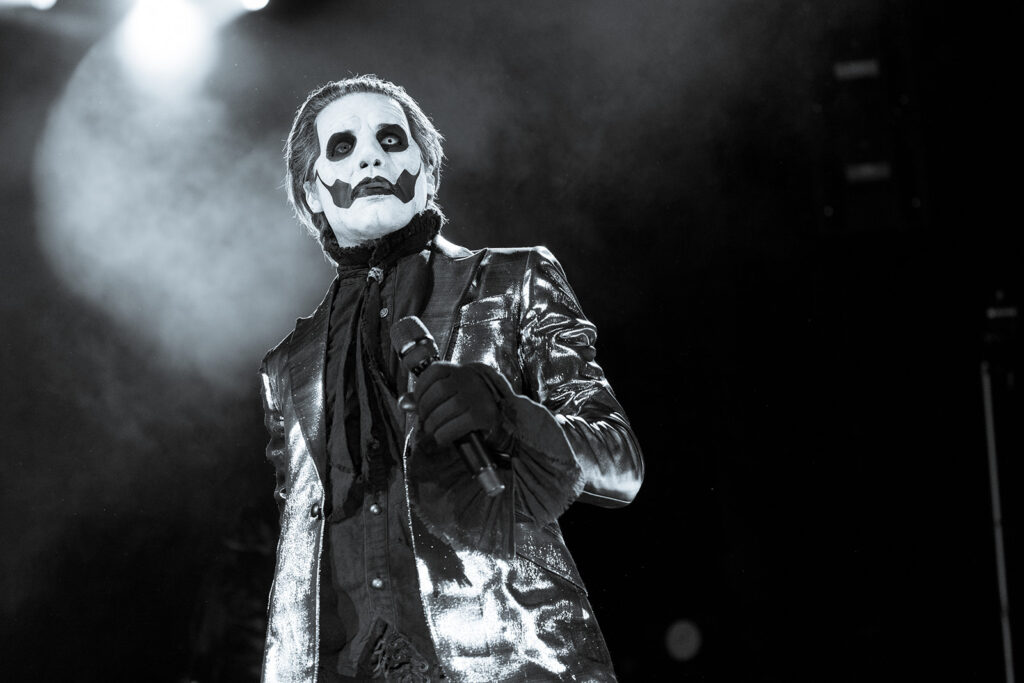 Ghost offers deep lore, devout believers in-the-know, and myths, just like the Satanic and moral panic counterparts, without subscribing to a substantial disconnect from reality. It empathizes a fractured relationship—the fallen angel and God—rather than reinforce the patriarchal kind rampant in Catholicism, which Ghost lampoons. Forge has crafted multiple stage personas, starting with Papa Emeritus, a dark papal figure that has become so entwined with Ghost's identity (even as Forge has left it behind), the vestige appears saintly in their stained glass cathedral stage backdrop, and amongst fans that dawn the big hat-and-robe garb to relish the role-play. The Kiss generation wore face paint to concerts. Ghost updates the template in a time where cosplay is actually in fashion.
From their Grammy award win for Best Metal Performance for "Cirice" in 2016, to being nominated for Best Rock Album Prequelle and Best Rock Song "Rats" in 2019, and continuing their acclaimed momentum with a 2023 nomination back in the metal category for the song "Call Me Little Sunshine," Ghost has become of the most ascendant and timely acts in the genres. Like Beelzebub himself, their genre is hard to pin down. They are both a fitting soundtrack for the devil's playground that is the Bay Area underground scene or a sing-songy stroll through Dolores Park on a lovely, foggy day. Their distinctiveness might be best summed up by the fact that classical overtures play for fans while they wait for Ghost to take the stage. Ghost juxtaposes opera's upper-crust class with the rebellious good time associated with rock.
Despite speaking on the afterlife's everlasting horrors, Ghost seduces fans with a fun musical experience. Conspiracy theorists and hate mongers pushing fabricated panics abhor fun more than anything because it deflates their alleged seriousness and reveals they're a joke. It has none of the grounded wink-and-nod self-awareness that colors Ghost's occult flirtations.
It's worth mentioning the first time this writer saw Ghost live at the San Jose Civic Auditorium in 2018, it was raining ash because of the Camp Fire. It might be incredible imagery for lyrics or music videos, but in reality, it's a recurring collective nightmare, a dire warning the climate crisis requires attention that's being sucked up by conspiracy theories that inspire murderous fervor. Many bleak chapters in Americana were written here in the Bay Area—Charles Manson finding his voice on Haight Street, Jim Jones building his Jonestown congregation, the nightmare at Altamont, and the dystopian dysfunction we're all currently living thanks to dehumanizing algorithms.
Ghost's fearlessness in tackling grandiose existential questions in an accessible package is important when cowards peddling logical fallacies reign locally and nationally. In reflecting these tumultuous times and those of the past too, Forge's demonic homage challenges listeners to understand their soul on tracks like one of their recent singles, "Spillways," regardless whether it is damned or not.
After Ghost's 19-song performance in Concord, the Bay Area will be fortunate to dance with the devil next time Ghost passes through.
Ghost's Imperatour continues through September 11. More info here.