"As Iʻm not DJing anymore, or trying to 'get somewhere' re: career with this project, itʻs not at the top of my list to get people seeing my fucking 40-year-old face everywhere" joked DJ-producer Alland Byallo in an interview with 48hills in 2019, showing off his flair for self-deprecating humor. Sorry snowflakes, if that quote bothers you, then I guess you really didn't know who Byallo was.
The quip was in support of his Rule of Thirds release, the first of many soulful techno-jazz and deep house projects he had pivoted towards on his new Full Bleed imprint at the time.
Alland—who passed away suddenly last month after growing ill at his Berlin home—was a doer, a giver, a grinder. A joy-maker. Matter of fact, he made shit happen, big time. But never acted Big Time.
I wrote about several of these releases not because we were friends, but in view of the fact they were amazing. Straight-up slappers. The veteran techno producer had come back from a breather, after relocating from San Francisco to Berlin, and designed charts that moved with depth. Swung with verve. Uptempo and deep, sometimes cutting in and out of the broken beat style that would make true Bruk heads blurt out "oh my gush." These releases were spacious.
Full of affection, permitting allowance to walk, no strut in those permeating grooves.
Byallo had found green pastures again, and dude was a mowing.
So it hit like a two-by-four when this pivotal figure in building San Francisco's current techno scene left us. This Fri/29 will see Remembering Alland: A Memorial and Celebration of the Life of Alland Byallo, 9pm to 2 am at Underground SF, where friends will gather and his music will be played all night.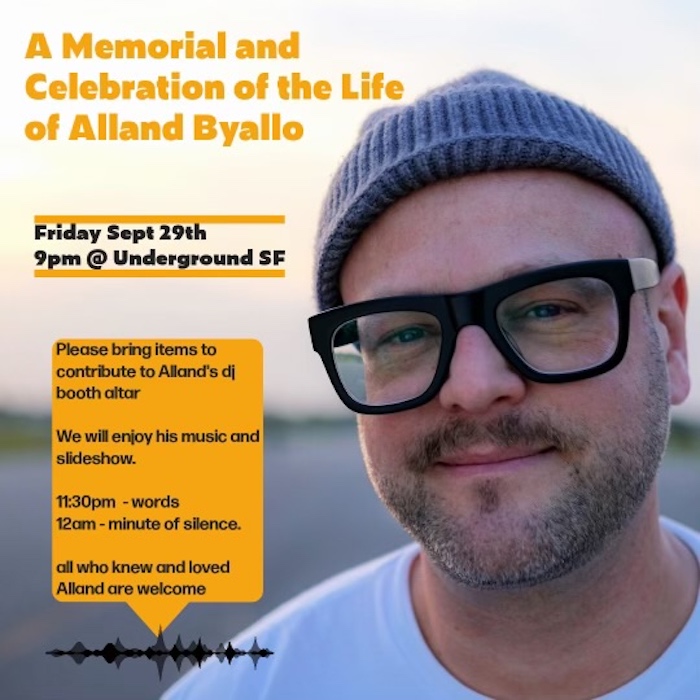 Will Sumsuch, the last person to interview Byallo, in 5 Mag on July 11, felt the producer was walking towards a new beginning.
"So I guess all of us at 5 Mag had been aware of him and his music for some time, but it was a promo of that last EP (Fill Light Shine) on that Full Bleed imprint that prompted me to want to interview him," he said.
"He was also the sweetest and most supportive recipient of my promos for [label] Only Good Stuff, and right from the beginning after I left BBE [Records] and went out on my own he was amazingly encouraging of my new venture and I just felt energised and positive every time I got a message or feedback from him.
"We never met in person, or even spoke on the phone, but I was struck by how raw and honest he was in his interview answers. He left Beatport shortly after the interview so we had to make some amendments, and it felt like he'd really found himself musically, and in a wider sense, as a human. I think some of the angst and self-doubt that we all suffer from had fallen away, and I was left feeling so excited to see what he would do next, now he'd stopped getting in his own way (to paraphrase something he said to me about the struggle of imposter syndrome, burnout etc).
"To put it short, and if it's of any comfort, it felt like he was in a really good, calm place in himself and with his creativity"
Byallo was born in Los Angeles, and learned the piano and trumpet as a kid before moving towards electronic music from being inspired by his first pair of turntables in the early '90s. After spending time working at LA's now-shuttered WAX Records, he moved to San Francisco in 2003.
San Franciscans remember Byallo as one of the founding members of [KONTROL], the seminal 2000s monthly party at the EndUp that introduced the city to the minimal techno sounds that were flowing from Berlin, and was one of North America's most respected techno events.
That influential party, co-founded with Greg Bird, opened in 2005 at RX Gallery then in 2007 moved to the EndUp in SOMA, where it remained home-based until the gig ceased in 2012. Byallo's ongoing DJ residency there found him sharing the stage with Josh Wink, Matthew Dear, and Modeselektor on any given night. The seven-year run of guests reads like a directory of talent fueling many outdoor music festivals today.
[KONTROL] had its pick of the best underground house and techno artists during that time period. The platform respectfully buoyed Byallo into headliner DJ slots at Berlin's Panoramabar, Watergate, Bar25, Cookies, and Tresor. It all goes back to those first Saturday nights, though, at the funky-ass intersection of 6th and Harrison. Peak time had the sound pushed, unfiltered, shooting heavyweight dubby organic house and dark minimal techno onto the 6am skreets.
[KONTROL] was the standard cities across the globe took cues from when designing their own techno and minimal scene. Like the drum 'n bass phenomenon in SF a decade earlier: art brings commerce. MutekSF arrived in 2018. Do the math.
We reached out to close friends, collaborators, and local historians of electronic music to explain the legacy of our brother and friend Alland Byallo:
48 HILLS: What was your relationship with Alland?
MARK BARRITE AKA DAVE AJU: We'd been close friends and collaborators for over 20 years. First met at WAX Records in LA around y2k when he worked there, and got much closer once he moved to SF a few years later, and yet even closer again when we both relocated to Berlin for awhile.
SAMMY DOYLE AKA SAMMY D, [KONTROL] DJ: He was a brother and a lifetime friend. We were incredibly close during his time in SF and we formed a bond that remained after his move to Berlin. Alland also was as a trusted peer and someone I immensely respected. A cornerstone in my musical career.
GREG BIRD, CO-FOUNDER OF [KONTROL]: He was my friend, a fellow music lover, and a fellow raver at heart. We worked together very closely on everything from the flyers, posters and promotional materials, to bookings and general concept. Along with my other brothers in [KONTROL], we partied together, traveled together, and were generally one big happy dysfunctional family.
MIKE BATTAGLIA FROM VINYL DREAMS RECORDS AKA MIKE BEE: I wasn't super close with Alland, I first met him through the [KONTROL] folks since I knew Greg Bird and Nikola Baytala. He was really, wonderfully nice and we appeared on the same bill a few times before he left for Berlin and after. I remember a night at the old BOCA (Bar Of Contemporary Art that the Blasthaus folks opened in that little area right in Mint Plaza), he and I shared the night and I really enjoyed everything he was playing, back when minimal techno was happening and before SF's techno scene had grown to its current size.
Yeah, there was a little scene here with Mad (Joe Rice, Monty Luke) and Static but those [KONTROL] boys really brought it. Alland's music was part of that and while I wasn't a regular, I did make it down there every once in awhile and always enjoyed what he was doing. 
48 HILLS: Can you describe how it felt collaborating with him?
DAVE AJU: He was one of the few people that I could tap for the different inspiration source references. We both grew up on Jazz as kids, became huge hip-hop nerds, then heavy house heads, and eventual techno snobs—so in any given session or interaction he or I could reference anyone from Ahmad Jamal to Ornette Coleman, De La to Shabazz Palaces, Gemini to MAW, to Basic Channel or Jeff Mills and never miss a beat.
In the end, all the work we did together, as either features on each others' solo works or together in our KAMM band or Something Something Something DJ team was an open fusion of all these things, which resulted in the most refreshing and rewarding of all the musical projects I've ever been involved in. We are about 40% done with the new and final KAMM LP which Kenneth Scott and I are seeing through in righteous tribute to our boy.
48 HILLS: How did [KONTROL] come about?
GREG BIRD: [KONTROL] was born out of a early 2005 conversation with a fellow music fan (it was Ryan Fitzgerald from Broker/Dealer, if memory serves correct) in which I was complaining about a lack of representation in the SF music scene for the emerging sounds of minimal techno and micro-house that were becoming quite popular in other parts of the world, primarily Germany (and Europe in general).
His response to me was something along the lines of, "well, you know what they say… if you want something done…" I took his words to heart, and called up my friend Sammy Doyle and said we should throw a party that features some of the "weird German shit" that we were into at the time. I asked him who else might be on board with the idea and he immediately suggested Alland Byallo, who had recently moved up to SF from LA.
I had never met or even heard of Alland prior to the meeting we set up a few days later, but we instantly recognized that he would be a perfect fit and he enthusiastically agreed to join us in our mission. Soon after we met with Will Linn from Blasthaus who, in addition to being an experienced music curator, was operating an art gallery and music space called the RX Gallery. He offered us a monthly night there, and even helped us book our first act, a basically unknown Swiss duo with an unpronouncable name that played live techno with no laptops and even some homemade gear. Incredibly, that first night was packed and the vibe was something none of us had experienced in quite some time. We knew we were on to something and decided to run with it.
48 HILLS: Can you speak about his music?
DAVE AJU: He would take these vast music influences and shine them through a visually-minded lens. I don't think he had synesthesia, but there was certainly a "look" to every sound he laid down. From a sonic perspective, he often channeled his Eastern Bloc-blood roots with an icier, square-wave laden, brutalist approach to composing, which gave his work a very unique edge combined with the warm swing of his jazz, hip-hop, and house music roots.
There are a few songs where he's jumped on the mic which are downright hauntingly gorgeous given the tragic circumstances, such as the closing track "Singularity" on his best LP (in my opinion) Bones, Flesh. Or my all-time absolute favorite music piece of his "Who's More The Fool" which always gave me chills long before he was laid to rest.
SAMMY D: Alland was the epitome of avant- garde and completely dedicated to his craft. He worked tirelessly behind the scenes, running over the years, his labels: Nightlight Music, Bad Animal, Full Bleed. He also produced under the name Kid Grimm, which were personal favorites of mine. Also a member of super bud group KAMM. His music will live on through us and those he touched.
GREG BIRD: He was always true to himself. His sets incorporated everything from classic deep house to cutting edge techno, with no limitations on his musical palatte. With his productions, he wasn't afraid to experiment and never focused on commercial success, but rather on expressing himself. In that regard, he possessed the soul of a true artist.
48 HILLS: And his sense of humor?
DAVE AJU: Hands down the funniest motherfucker I've ever known. He wouldn't always flash those cards to everyone, but man when he did it was like no other. He could go from 7yr old borderline potty humor to the most hilarious curmudgeonly senior citizen bites that would make Larry David bow down. And mind you, this is just during daytime working hours. If you were one of the lucky ones who got see the Byallo humor in the light way, way later at the after after after, man there is no quantifying that level of laughter.
My own mother on a Berlin visit once said to Alland, Kenneth, and myself after a bday meal laced with copious amounts of wine and ensuing antics, "How in the hell do you guys get any work done?" Good times would be the understatement of a lifetime.
SAMMY D: What a card. He could have me in stitches with his silliness and quick observations. Many nights we spent hamming it up cracking each other up. I'll miss this about him the most.
MIKE BEE: Alland was always great to be around and his slightly dry sense of humor was something he and I connected over, as I can't be friends with people that aren't at all funny.
GREG BIRD: Goofy. Witty. Sarcastic. But underneath it all, a genuinely kind, thoughtful, and encouraging human being.
48 HILLS: How important was he to the electronic music scene in SF?
DAVE AJU: He revitalized and galvanized an entire sound and movement, shifting the city's focus more toward global electronic dance floor sounds. Making previously slept-on and thought-of-as-nerdy domains like techno and minimalism seem cool and even sexy. Along with old homies like Gold Code, The Tourist, and DJ Wrong aka Witchita Ron, I had been attempting techno parties for a solid seven-eight years before Alland even landed at the SF port. But he and the [KONTROL] team with Greg Bird and Sammy D had a way of presenting it far more apporachably and tastefully (not least by which was his graphic design skills on their flyers, vs the middle-fingers on our Jeremy Fish-inked ones previously).
Suddenly, all the DJs in SF started buying into the pitch. The West Coast house heads sacked up and bought ballsier, weirder tunes, the breaks/D&B djs started messing with minimal and tech stuff, and things that even I was damn near chastised for playing at SF stronghold parties before, like raw AF acid house records became ubiquitous, now you can't go to an SF club event and not hear these sounds.
That was all Alland, no question.
SAMMY D: For the time, his importance was immeasurable. He was well loved and respected by many in the scene. It was his prolific design skills that was the force behind our highly important party. He shaped and created a brand that went on to influence other parties, labels, events and DJs well after his Berlin relocation. His sense of community in this bourgeoning music scene was unmatched by anyone that I knew at the time.
His foresight, before social media, to create the all-important Elektrus Techno Forum was way ahead of its time. This was a valuable tool for like-minded promoters in the techno community in SF and across the US. He made it accessible and streamlined international artists tours in the US, through this online forum.
GREG BIRD: Without Alland, [KONTROL] would probably have been a few guys standing around talking about ideas that may have gone unrealized. His work inspired so many other artists, musicians, producers, and promoters. The late '00s produced an explosion of talent out of SF, with Alland leading the way. He was, in my opinion, probably the most influential single person from that era, at least in my circles. Everyone who partied through those years owes a huge thank you to Alland for helping to make SF the exciting place it was.
48 HILLS: Can you describe the impact and legacy of [KONTROL]?
SAMMY D: It was a seminal party while it was around. We really had our finger on the pulse back then.  Timing was right and we were incredibly lucky to have such a dedicated team. The most rewarding aspect about [KONTROL] was the name-brand. It became an institution which allowed us freedom be creative with our bookings. Along with the full support of The End Up, we were able to bring international talent over and debut many up and coming artists who have gone on to very successful careers. Its legacy hopefully is well solidified in the history of the electronic music scene here San Francisco and the US. 
MIKE BEE: Well, [KONTROL] basically built the current techno scene we have now and paved the way for As You Like It and other promoters to start throwing more frequent events and bringing out more straight-up techno DJ's especially lots of Germans.
GREG BIRD: It really meant a lot to many people, and definitely played a role in pushing SF's music scene forward. When we retired the party seven years and 100+ events later, I certainly had nothing to be complaining about anymore.
48 HILLS: What will you miss most about Alland?
DAVE AJU: That list is truly endless, Man. He was also one of the few friends that could match my appetites in food and drink as well. But lately in the humor department, the hardest thing for me is the missing those three-four times per week shit-talk, meme-drop, side-split texts we sent each other either directly or in our SSS group thread. Those got me through the rough days, weeks like nothing else. It's a trip to think that the darkness in his absence is missing its own antidote now. I've resolved to create a comedic addendum to the final KAMM album that will hopefully immortalize and shed light on the way he uplifted his dear friends and family through love and laughter.
SAMMY D: Seems silly but it was a yearly routine we would have. I would always forget the name of this one record and sure enough every year I would frantically hit him up to thumb through his collection and pass along the title and artist.  I would say "it's the record with the jungle picture on the cover." He would make a wise crack and pretend he wasn't sure what it was. This has gone on for over 10 years. He would always get home from work or traveling and follow up with the info and I would breath a sigh of relief. I would never write the title down or artist because I enjoyed our little yearly dig and our silly routine. I knew he enjoyed the absurdity of it as well. I'll miss these moments with my buddy. 
GREG BIRD: His friendship, his dedication, his wicked DJ sets, his gorgeous graphic design, and his incredibly admirable work ethic. Alland made things happen. The world will certainly be less colorful place without him.
MIKE BEE: A few years ago he reached out to me and asked me to supply a mix for his podcast, Animal Crackers. His written intro for the mix was extremely flattering and I was honored to have him recognize me like that. He could be so gracious and humble. I'll miss that about him.