Transcendent, a word heavy on the page but lofty in imagination, best describes San Francisco Museum of Modern Art's current exhibition, Yayoi Kusama: Infinite Love (through September 7, 2024). The presentation of two Infinity Mirror Rooms, created one decade apart by the renowned Japanese artist, still working at age 94, is the first solo museum exhibit in Northern California of her enormous, room-sized psychedelic installations. In addition to these two spaces—Love Is Calling (2013) and Dreaming of Earth's Sphericity, I Would Offer My Love (2023)—the exhibit has recently been expanded with Aspiring to Pumpkin's Love, the Love in My Heart, a 2023 display involving large-scale serpentine pumpkin sculptures covered in Kusama's signature polka dots.
Kusama's work and life history spans—and it can be argued, transcends—art traditions and movements from traditional Japanese painting and Abstract Expressionism to Pop Art and Minimalism and embeds itself as foundational in the multimedia, cross-genre spectacles of the modern era. Her oeuvre includes paintings, performances, indoor and outdoor sculptural installations, literary works, films, fashion, design, and "interventions" within architectural structures. Having been the subject of numerous large-scale retrospectives and major solo exhibitions at leading museums, galleries, and art institutions around the globe, she is the top-selling female artist in the world. (The show at the SFMOMA uses timed ticketing for the Mirror Rooms to deal with the crowds.)
Kusama is often showered with accolades for breaking boundaries, not only with her prestigious and what has often been revolutionary art, but by fleeing at a young age Japan's patriarchal dynamic and her highly sexist, dysfunctional family to pounce on the New York counterculture art scene. After seeking advice from Georgia O'Keefe while working in Seattle, she headed to the East Coast's art mecca to, in her words, "compete with the best."
Much attention has been given to Kusama's self-admitted and well-documented struggle with mental health and attempts at suicide, which caused her to commit herself in 1977 to living permanently in the Seiwa Hospital for the Mentally Ill in Tokyo. While continuing to make art at a proliferative rate clearly driven by obsession and hallucinatory episodes, a quote from the documentary Kusama: Infinity, is revealing: "My canvas can't keep up with me."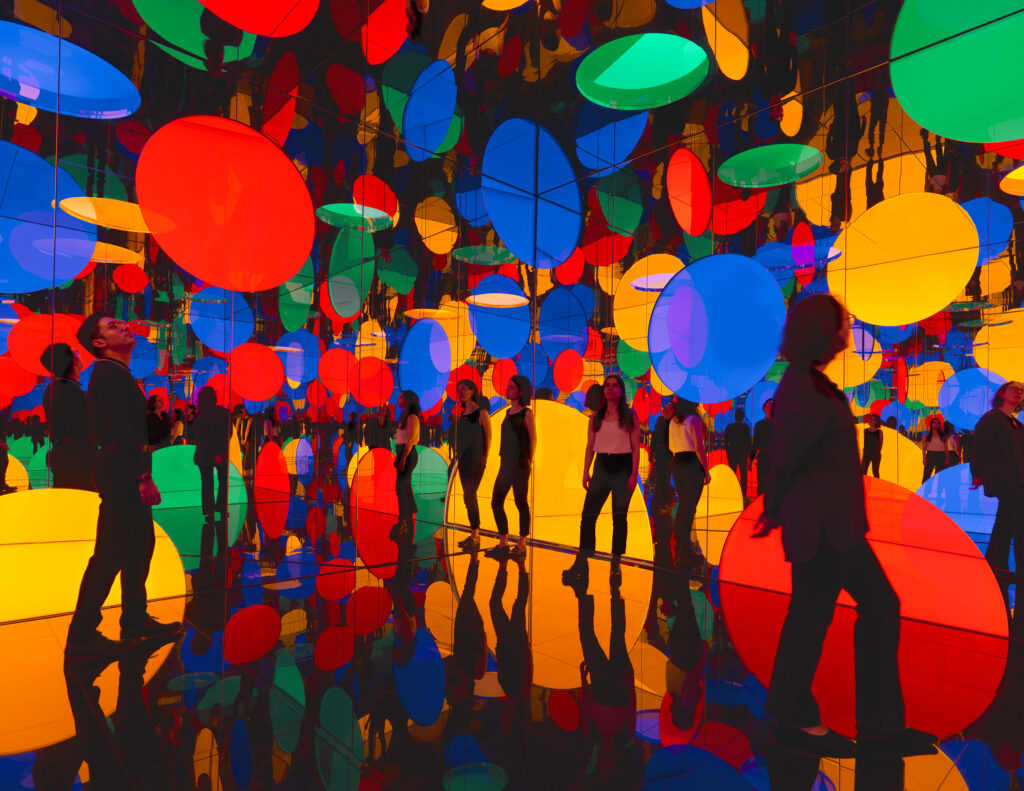 At the same time, a dissonant reality counters the applause. Kusama's earliest literary works and photography reveal an artist whose past includes examples of latent, underlying racism. In today's viral environment, the stench of past rot has been forced to shed its shield; a fact made evident by questions about why SFMOMA failed to mention the controversies connected to Kusama in the exhibit's biographical information.
For background, two examples of what has transpired, as reported by Dexter Thomas earlier this year in an explosive article in Hyperallergic: Kusama's 1971 play "Tokyo Lee" describes the one Black character as a "WILD-looking, hairy, coal-black savage." Her 2002 autobiography, Infinity Net, described Black people as primitive, hyper-sexualized "exotic" beings. The Japanese edition references where she lived in New York as a "slum" and includes a claim that falling real estate prices were due to "black people shooting each other out front, and homeless people sleeping there." Notably, that sentence was missing in the English translation that came out in 2011.
Under pressure from local community advocates after the Hyperallergic article—including retired health worker and activist Catherine Cusic, artist Rodney Ewing, photojournalist Spike Kahn, and writer and educator Leticia Hernandez—Kusama apologized on the eve of her exhibition's opening in a statement published in. the Chronicle via SFMOMA, saying "I deeply regret using hurtful and offensive language in my book. My message has always been one of love, hope, compassion, and respect for all people. My lifelong intention has been to lift up humanity through my art. I apologize for the pain I have caused."
It stands to reason that SFMOMA could have been more transparent in crafting the exhibit's biography of Kusama. Asked by 48 Hills to explain what could generously be referred to as an oversight, the museum replied, "As a museum, we use self-reported data and are in contact with the artist and their representatives about how they self-describe. This is related to SFMOMA's efforts to improve our biographical information about artists, improve best practices, and apply a consistent process for seeking, understanding, and honoring artist identity data."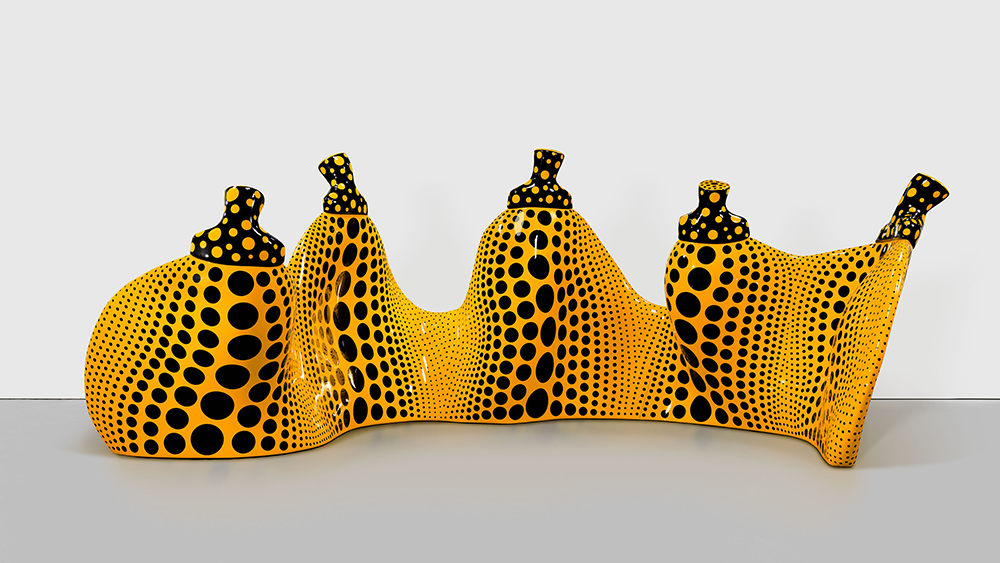 Could and will the museum go further here, perhaps engaging directly with the Black arts community in a form of reparations from what is surely a blockbuster moneymaker of a show? That remains to be seen.
But for now, writing an article about Infinite Love is a bit like opening a shipping container full of lollipops. There are treats upon treats of astonishing decades of creation. There is sweet anticipation and the promise of eye-popping pleasure that comes from rainbow razzle-dazzle, arriving in a variety of flattened or rotund or towering, sugary, illuminated orbs that provide galaxies of light and reflections. There are human-made inventions never before imagined, searing pink, yellow, blue, green, red, aqua, gold, silver, and black dots upon dots upon dots.
But just as a person revels in the sugar vault, cracks in the container—knowledge of Kusama's complete biography—disturb. Echoing beneath, there is the horrid scratching sound of vermin feasting on sticky surfaces. An undeniable stench emanates from these fringes, lacing the blissful smell of candy, and forcing the question: which is stronger?
Kusama's late apology does show an evolution, a grasp of the weight of former transgressions. We will have to read her future writings to see if things have truly sunk in. It's disappointing that she has now been placed in the line of great artists with whom most wouldn't normally wish to rub elbows, but who still make entrancing art—at least in the eye of some beholders. (We obviously defer to Black viewers here.) The hope of publicizing the incident is that others may be inspired to examine their own expressions and shed any toxic trappings as they move through the world, art or otherwise.
With that instructive episode in mind, a visitor turns to the undeniably immersive, accessible, and intrinsically pleasurable experience of exploring the living work of Kusama. In Earth is a Polka Dot, a short documentary made in 2011 for Louisiana Channel, she says her art is "dusted with the rainbow's powder of light." Surely that is intriguing enough to want to see her art and judge for oneself its value.
The exterior of Dreaming of Earth's Sphericity, I Would Offer My Love, on first approach, stands in harmony with the all-white gallery, interrupted only by the oversized, transparent acrylic window dots that accentuate the exterior and serve to bring ambient light within. Entering the installation, the colorful portals and natural light represent a contrast to her characteristic use of suspended LED lights, but are no less brilliant. The reflective black ceramic floor (and any visitors choosing to spin slowly) cause a kaleidoscopic, charged, and ever-changing visual effect. Returning again to circle and consider the work from the outside as a piece of sculpture, the Mirror Room's angled placement makes more apparent the transparent door at one corner that offers entry to the piece.
Encounters with art, it seems to suggest, are constantly in flux.
The second work, Love Is Calling, is one of Kusama's largest Infinity Mirror Rooms to date. Its dot-covered inflatable forms on both floor and ceiling create a hallucinatory, dream-like environment. Accompanied by the sound of Kusama reciting "Residing in a Castle of Shed Tears," a poem about life, death, and love, one imagines giants having blue, purple, green, orange, yellow pillow fights among the leopard-spotted columns that soar to the high ceilings.
The Aspiring Pumpkin installation on Floor 5 is sheer grace and satisfyingly fun. Extended over 18 feet in length and more than 11 feet in height, the curvaceous bronze sculpture manages to be simultaneously elegant and amusing. Exhibition notes say images of pumpkins found in her work since the 1940s began appearing more broadly in the 1980s and represent a special, personally significant element in her outdoor installations.
In an email answering questions about how the work expands and supports contemporary artworks that invite visitor movement or participation, SFMOMA says, "Kusama's immersive Infinity Mirror Rooms are a dynamic addition to other experiential artworks on view. A few key examples include passing through strands of golden-colored beads installed at one gallery entrance (Felix Gonzalez-Torres, 'Untitled (Golden),' 1995); moving through a dazzling archway of prismatic color over the museum's atrium bridge (Olafur Eliasson, 'One-way colour tunnel,' 2007); and contemplating the act of mending in an all-white environment (Yoko Ono, 'MEND PIECE,' San Francisco Museum of Modern Art version, 1966/2021)."
(Kusama's studio was also sent questions and offered a recommendation for people interested in contextualizing a visit to the exhibit to review an online digital guide to her work.)
The SFMOMA works also contribute to the museum's increased representation of Asian and AAPI artists presented in 2023 and in the future. The first retrospective of Pacita Abad this fall included a gallery of paintings and drawings by Hung Liu; current and upcoming group exhibitions offer key works from the museum's collection by Japanese artists Yoko Ono, Tatsuo Miyajima, Rakuko Naito, Tadaaki Kuwayama, and Takashi Arai, among others.
But for people who need no framing to be drawn to what can undeniably be a transcendent experience, the message here is simply to go and see it for yourself. The message to the museum is to trust that most people know or easily learn that incredible art is more often than not made by incredibly imperfect people. It is vital that viewers are allowed to consider the art—and the artist—from every angle.
YAYOI KUSAMA: INFINITE LOVE runs through September 7, 2024, at SFMOMA. Timed tickets are required for the Infinity Mirror Rooms. More info here.