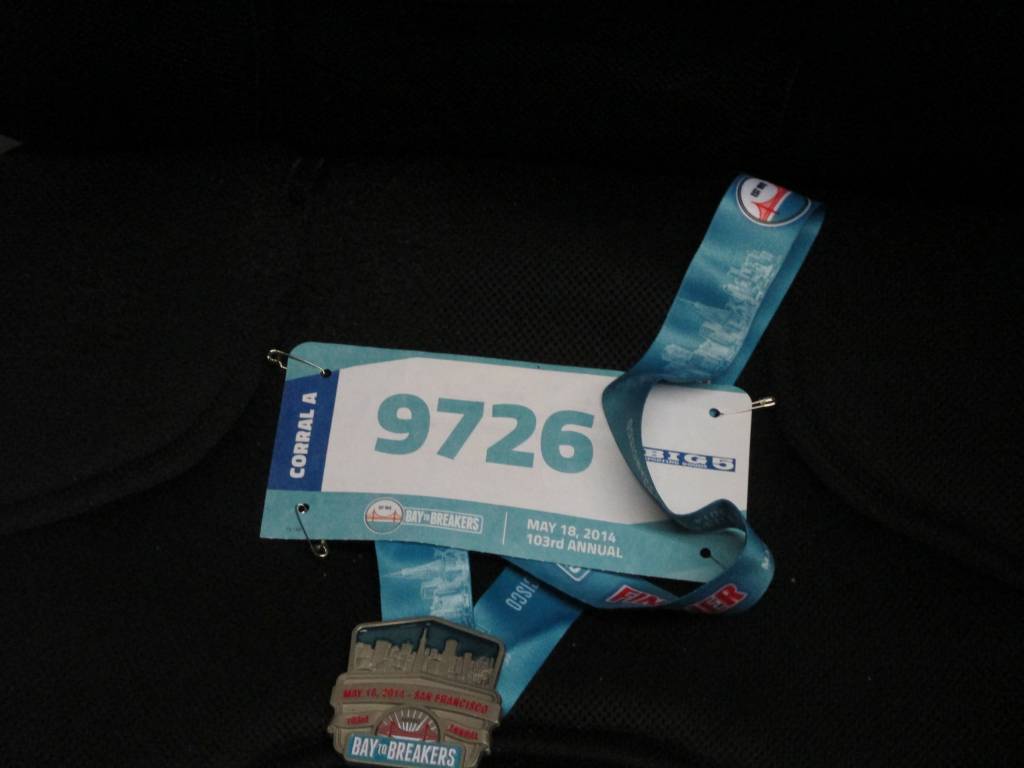 By Tim Redmond
The weather was San Francisco perfect, cool, a bit of a breeze, with the sun finally breaking through. Things were running a little late, as anything involving moving around this city often does. But from the moment I got to Spear and Mission Sunday morning, Bay to Breakers was a blast.
The costumes were festive and creative. The people who just wanted to run the race got to run the race. The spectators were upbeat and encouraging. There was music along the way, people just walking in the middle of the street to be part of the action, people laughing and talking to each other, making friends with strangers, counting penises (the running total in our little pod of slow competitors was 13) and generally having a glorious and somewhat anarchic good time.
Yeah, there was some drinking in the panhandle (though not so much on the race course.) I saw nobody pissing in the street or in an alley or in anyone's driveway, mostly because there were abundant portable toilets everywhere.
And then I read shit like this, and I started to ask: Were we even at the same event?
San Francisco doesn't have many big, uncontained, free-rolling parties any more. Halloween in the Castro died under the burden of too many suburban lookie-loos and too much scary violence. The street fairs have strict rules, high police costs, and very limited geographic range.
It's nice to feel as if, for one day, 40,000 people – some serious athletes, some crazy, some naked, some nicely intoxicated, some pretending it's Halloween again, some expressing wild creativity, some just along for a nice Sunday morning run to prove that they can do it – were loosed upon this ever-more-uptight city.
You can't do that – you can't have that kind of party – without some problems. There will be a mess to clean up. You ask that many people – some of them decidedly not athletes — to run 7.3 miles, and there will be some injuries (that's why there were First Aid tents all along the route).
You are going to have spectators drinking at 9am, and that's never pretty.
But seriously, folks – this is San Francisco, and we're talking one day a year, and for the scale of the thing, the impacts were pretty minor. I saw a picture in the Chronicle of somebody – get this –vomiting in the Panhandle. Folks: People vomit in the Panhandle fairly often, and they drink there, too, and their dogs piss in the grass … and the city, and the parks, seem to survive. At least the B2B sponsors pay to clean up the trash; the city has to foot the bill for 420 in the Park.
We give out tax breaks and do all kinds of outreach to get movies and TV shows filmed here – in part to get the extra jobs that come with them but also in part to get this city in pictures. Attracts tourists. And you don't think the video of 40,000 people streaming down Howard Street in bright colors cheering each other on makes visitors want to come to San Francisco?
Look at what we did for the America's Cup, which took over the waterfront for weeks and cost the taxpayers millions. Bay to Breakers pays its own way (the participants were all willing to cough up $50 to play) and lasts all of four hours.
And people see this as a problem?
I saw a couple who were running, well, walking, their 40th B2B. How cool is that? I jogged along with people who came from all over the world for this event. I saw kids and seniors, women in business suits, men who looked fabulous in their perfectly-fitting running dresses, people of all the diverse ethnicity and psychography of San Francisco. There were probably some Republicans. And for a couple of hours on a Sunday morning, we all just got along.
I understand that people who live in the Haight, near the Fell Street corridor, get mad when the party spills over and drunks stumble and get obnoxious and leave unpleasant bodily fluids in the driveway. (That also happens on other days, but there's more of it during B2B). Outside Lands also causes inconvenience to people who live near the park. Not everyone who lives near Soma loves the Folsom Street Fair.
I know that two years ago it was out of control, and I support the people in the neighborhood who said that the level of grossness was intolerable. But the past two years, most of the worst has been cleaned up. The cops kept the Panhandle mostly under control. It made me feel like: Yeah, we can do this. We can have this party and not let the assholes ruin everything.
All of these events combined make up maybe one fiftieth of the days of the year – and they're an outsized part of the San Francisco experience. They are fun. Bay to Breakers was fun. It was fun waiting with all the happy people in the BART station at 7am. It was even fun riding with the tired, impatient people back downtown on the slow shuttle bus after the race. Nobody asked anyone else about their time, or whether they beat anyone else; the elite runners had a real race, and good for them, but the rest of us had a running party. There is nowhere else in the world that this happens. It's never going to be perfect, but nothing of this scale ever is.
I'm down with starting the race earlier; the worst drunks aren't out of bed at 7am. But don't clear the Panhandle, don't put up ropes to control spectators the way the Pride Parade does. There are no vehicles to run anyone over; the unregistered hordes who just got in the way along Howard did nobody any harm. They cheered us on and we ran around them.
Bay to Breakers is a lingering symbol of a city that once ran wild and free. Now that it's filling up with rich people who are turning it more homogenous, we need these moments to remember who we still are. In spirit, anyway. It's not a "gangrenous limb," as the Chron put it; it's part of the healthy attitude that keeps this city alive.
Lighten up.