The voters are overwhelmingly sick of political sleaze — and in the Mel Murphy era, it will be hard to duck reforms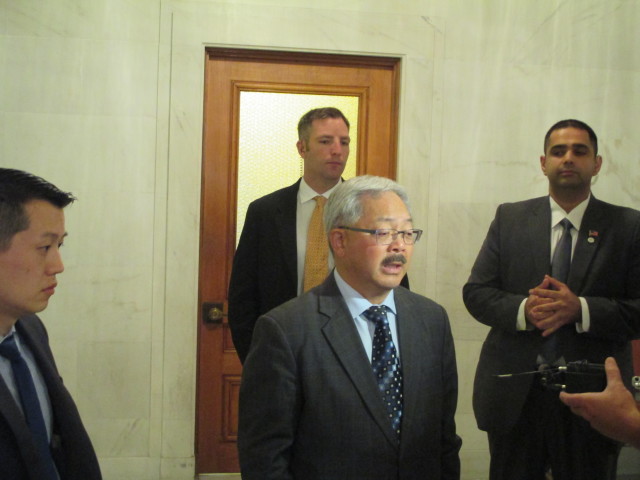 APRIL 8, 2015 – It should come as no surprise, but the voters of San Francisco think there is too much corruption at City Hall – and that could be a serious issue for the mayor if anyone were to challenge him for re-election.
A new poll from Friends of San Francisco Ethics comes in the wake of a political mess for the mayor (and some of his allies on the board) – a defiant Port Commission member refusing to give up his job despite serious allegations of wrongdoing in a lawsuit by the city attorney.
The poll shows overwhelming support for a series of reforms, many of which came out of a Civil Grand Jury report from June, 2014. The report found serious flaws in the way the city enforces campaign finance and lobbying laws, and made a series of recommendations.
"But the mayor opposed all of them," Larry Bush, a member of Friends of Ethics and former Civil Grand Jury member, told me.
Here's what the poll found:
The voters aren't with the mayor, not even close. A full 65 percent say special interests have too much influence over local government, and only 16 percent think the current Ethics Commission is doing a good job limiting money in politics.
More than 70 percent of the people polled supported the f0llowing:
A measure to prohibit lobbyists from giving gifts or campaign contributions to city officials
A measure to limit all campaign contributions to candidates for local office to $500 – and eliminating the loophole that allows candidates to run for, say, Democratic County Central Committee with unlimited money and also run for a city office
A measure to prohibit real-estate developers to contribute money to officials who have the power to approve their projects
A measure to prohibit city officials from participating in decisions involving the interests of campaign donors.
All of those would crimp the pay-to-play politics that is still too much of a part of city government. They wouldn't stop someone like Ron Conway from doing a huge independent-expenditure campaign, but that's unfortunately the result of a US Supreme Court decision.
Friends of Ethics has been trying to get the Commission to adopt the reforms, so far with no success. But if one of the supervisors pushes this agenda, it will put the mayor in a tight situation.
In 1999, when advocates launched a ballot initiative to pass the Sunshine Ordinance, then-Mayor Willie Brown was furious. He hated the measure. So did most of the incumbents on the board.
But Brown was facing a surprisingly strong upstart challenge from then-Sup. Tom Ammiano, and one of the major issues was the sleaze in the Mayor's Office. There was no way Brown could openly oppose the Sunshine Ordinance.
A majority of the supervisors voted to approve Murphy's appointment to the Port Commission – although at the time Sup. John Avalos raised exactly the problems that Herrera is raising today. Seriously – could they vote against serious ethics reforms, today, with the current climate at City Hall?
Although he still doesn't have an opponent, Lee is under fire for his handling of the Mel Murphy affair (does anyone actually believe that the mayor was ignorant of all of Murphy's problems until Herrera filed suit? If so, does anyone actually believe his office does a credible job of screening commission appointees?) And I bet if you put a poll in the field today and asked if the voters thought Lee should be opposed (or if you asked how well he was doing protecting renters from displacement or whether you could trust his ethics) you'd find stark vulnerabilities.
The supes may try to duck and water down any reforms. It's a little late to start gathering signatures for a 2015 Ethics Reform ballot measure. But if it goes before the voters in November, 2016, it's going to get about 80 percent of the vote.