Legislation world be perhaps the first official acknowledgment that market-rate housing isn't the answer. It needs nine votes to head off a "crisis." Who is going to side with the developers?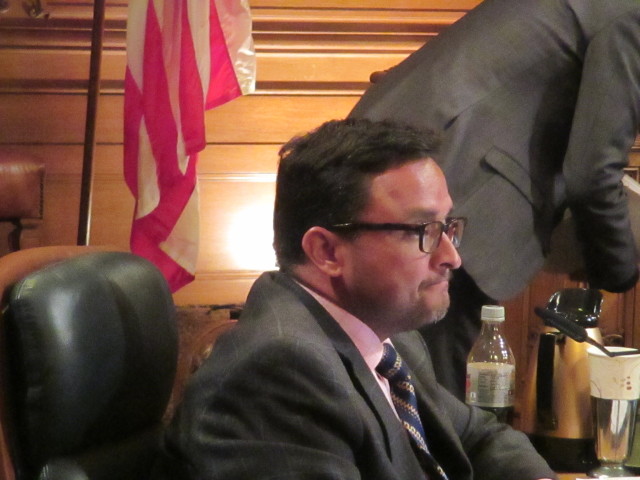 By Tim Redmond
MAY 5, 2015 – Sup. David Campos formally announced his proposal for a moratorium on market-rate housing in the Mission today, and it was greeted by loud applause in the Board of Supervisors chamber.
It's been no secret that Campos was working on a plan to put a temporary halt on luxury development in the neighborhood, but a broad coalition of community leaders is happy to see it moving forward quickly.
"I have never seen our community so united," Campos said.
Campos has asked the board to consider the measure as a Committee of the Whole (instead of sending it to Land Use); that vote will be next week. Then the board will have to schedule a hearing and vote at a later meeting.
"This is a state of emergency," he said. "I have never said this before, but my district is in a crisis."
The measure would suspend all new housing construction (with the exception of below-market-rate housing) while community leaders, the Mayor's Office of Housing, the Planning Department and Campos work on a new Mission housing plan.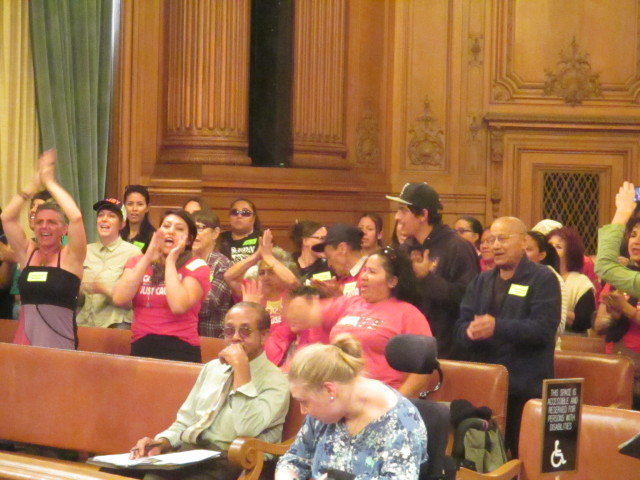 Under state law, the moratorium would last 45 days, but could be extended by the board for another 10 months and 15 days, and then for another year.
It would be possibly the first legislative acknowledgement that market-rate housing is not the answer to the city's affordability problem — and in fact could be a big part of that problem.
The existing zoning, under the Eastern Neighborhoods Plan, "has failed the Mission," he said, pointing out that 8,000 Latino residents have been lost in the past decade. The population of the Mission was 52 percent Latino a decade ago; now it's down to 40 percent.
"Our working people, families, youth, and seniors have been displaced," he said. "People have come together to say enough is enough."
There's a lot of new housing online for the Mission – but virtually none of it is affordable. Some 93 percent of all the new units proposed or under construction in the neighborhood will fall into the category of market-rate, which in the vast majority of cases is out of the reach of most neighborhood residents.
There are new apartments on Valencia Street renting for $10,000 a month. New condos can sell for close to $1 million.
And, of course, as those units attract more wealthy people to the area, there's pressure on surrounding land values. Merchants who have run small family business on 24th Street are concerned that high rents will force them out.
And I don't think it's a coincidence that there are eviction pressures at, say, 16th and Mission, where a new market-rate housing complex is planned.
Campos told me he knows it won't be easy to get this passed – an emergency interim land-use control measure like this needs nine votes, meaning all but two supervisors would have to vote for it.
The measure has four cosponsors, Sups. Eric Mar, Jane Kim, John Avalos, and Norman Yee.
Sup. Scott Weiner has already told me he has serious concerns about any sort of housing moratorium. Two more votes along with his would kill the measure.
But as Campos pointed out, the board has a long history of deferring to district supervisors on this sort of land-use measure.
Developers (and the people who argue that all housing is good housing) will be going crazy in the next week looking for allies to kill this. But I've been talking to a lot of people in the Mission, both residents and merchants, and if the supervisors won't do this, I could see it wind up on the ballot in November.
In the meantime, it will be fascinating to see how the other board members vote. Sup. Julie Christensen is facing the voters this fall, and she's portraying herself a longtime neighborhood advocate. She told me she hadn't seen the specific legislation, and can't comment on it until she has read it, but "I don't think it's unreasonable to ask for a 45-day opportunity to plan."
It's highly unlikely much will happen in 45 days; the moratorium will have to be extended for much longer to allow real community planning. And that will be a second battle.
For the moment, the next issue is whether the board will agree to hear this as a Committee of the Whole. That will be on the May 12 agenda.