Mayor's candidate beaten in D3; mayor wins with a stunningly small majority against a group of unknown opponents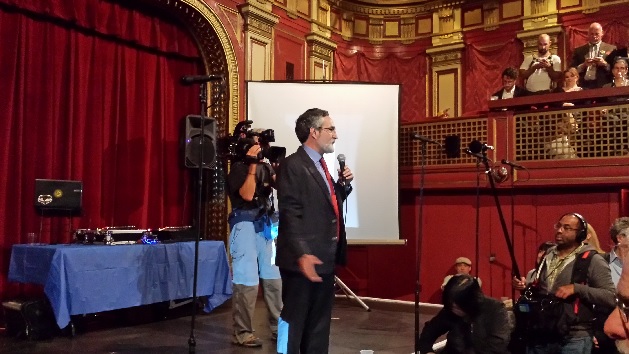 By Tim Redmond
NOVEMBER 3, 2015 – Aaron Peskin was in thank-you mode long before all the ballots were counted. At a little before 10pm, he was thanking his campaign team, his volunteers, his supporters, his wife, his parents … and reminding a crowd at Club Fugazi so packed that the line ran well out the door that "this isn't about putting me back in City Hall, it's about putting you back in City Hall."
Already, with just the absentees and a few election-day votes counted, it was clear: Mayor Ed Lee's appointee was losing, badly.
An hour later, with all the precincts counted, Peskin had 53 percent of the vote, with Christensen at 43 percent. Wilma Pang had about 4 percent.
That means the city's Ranked Choice Voting program won't matter: Peskin has more than the majority he needs to win the election.
It was a stunning defeat for Mayor Ed Lee and his allies, who spent immense amounts of time and money trying to keep Christensen in office.
And it wasn't the only shocker for the mayor: Lee, as expected, won the election – but with only 56 percent of the vote. Lee's opponents had essentially no money; none had ever run for political office before, and they were unknown to most of the voters. But together, they got 44 percent of the vote.
That's incredible. When Tom Ammiano – a School Board member and president of the Board of Supervisors – took on Willie Brown in a serious campaign that forced the incumbent to work hard, Brown did better than Lee did tonight.
The fact that a group of candidates who frankly came out of nowhere kept Lee below that number – and close to the level where RCV would have come in to play – shows the deep discontent this city has with its leader.
The anybody-but-Lee vote was enough to indicate that if a major contender had challenged the mayor, he or she might have won. So even though the Chron had already announced – before the votes were counted – that Lee had a mandate, the voters told a very different story.
"If a sitting mayor with no serious opposition can't get above 60 percent, it's a sign of very serious weakness," one longtime political observer at the Peskin event told me.
The D3 result is also a sign that the city is sick of having tech lords like Ron Conway call the shots.
The mayor, it's now clear, made a big mistake by appointing Christensen to the board seat instead of Cindy Wu, a planning commissioner and community activist who would have easily won re-election. There are lots of theories about why the mayor went back on what many say had been a promise and refused to appoint Wu, but the one that makes the most sense to me is that Conway didn't want her. Wu voted on the Planning Commission to more tightly regulate Airbnb, one of Conway's companies.
That led to a major rift in the mayor's political alliance, with Rose Pak, who had long been Lee's biggest cheerleader, siding with Peskin.
In fact, Chinatown – where Lee is said to be immensely popular – was a major factor in Peskin's win. "We could not have done this without Chinatown," he said.
The mayor will take credit, as he should, for the victory of Prop. A, the affordable housing bond. It's hard to get 66 percent for any bond measure, and this one won easily.
But he will now face a Board of Supervisors five members of which supported Peskin, who will be the sixth vote to change the majority on the board.
That's critical, because the other progressive measures, particularly Props. F and I, went down in a tsunami of Airbnb and developer money.
That's not a surprise – when Airbnb threw more than $8 million into the No on F campaign, everyone figured it would be hard to beat. And the real-estate industry spent a vast amount to try to stop a temporary moratorium on market-rate housing in the Mission.
But now everything is different.
The neighborhood and tenant groups who want to better regulate Airbnb will now be able to bring the essence of their measure – enforcement – to the supervisors and get six votes. Land use in the Mission will no longer be a hopeless cause at City Hall.
So the mayor lost big tonight. And if he wants to have any success in his next term, he has to recognize that a sizable percentage of the city, probably a majority, is deeply unhappy with what he has done to San Francisco..