Four hours of testimony challenges chief on Bayview shooting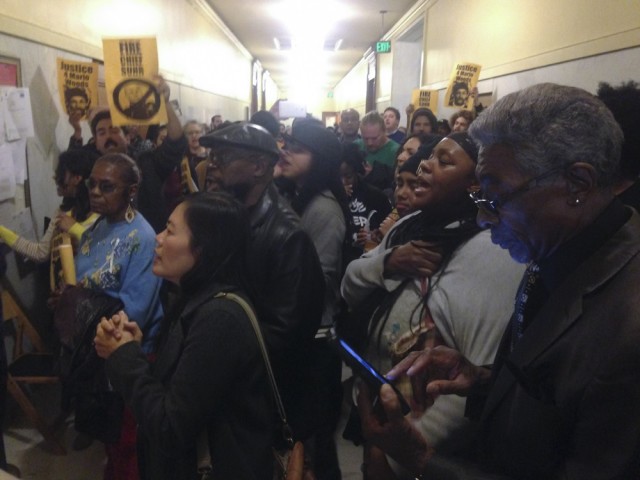 By Sara Bloomberg
DECEMBER 10, 2015 — Enough is enough.
That was the rallying cry from the community last night during a San Francisco Police Commission meeting, where commissioners listened to around four hours of public comment about the use of police force and the shooting of Mario Woods.
Pain spilled through the microphones and into an overflow room as people spoke at City Hall, while around a hundred people were lined up in the hallway outside of room 400, waiting to get in. Their chanting reverberated back into the packed meeting room, as public comments continued inside.
"Fire Chief Suhr," they chanted throughout the evening.
Protesters also demanded that the names of the officers who shot Woods be released, and there were calls for an independent, external investigation into the shooting.
Many people drew comparisons to recent police shootings in Ferguson, Baltimore and Chicago. Tension is building up in San Francisco, they said. "Civil unrest is coming because of you. What's happening here is getting ready to spread. I suggest you resign," said Oscar Grant's uncle, known as "Uncle Bobby," said, directing his remarks at Chief Greg Suhr.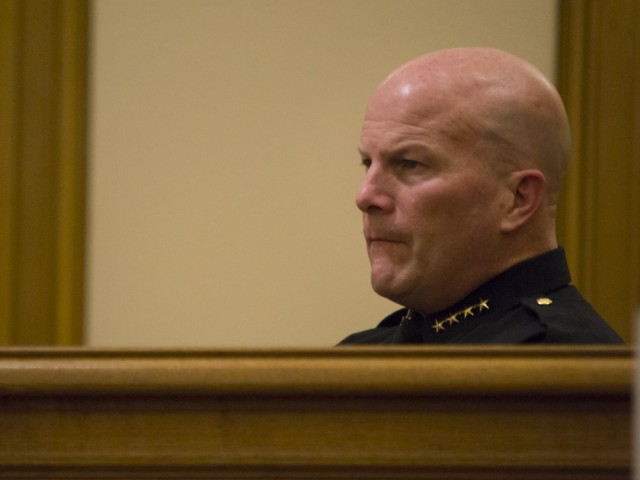 Teachers expressed frustration that they can no longer reassure their students that they'll be safe on the streets of San Francisco.
"You are radicalizing and politicizing" our kids, a teacher from Balboa High School said.
Many people talked about their own trauma from encounters with the police, from surviving being shot at themselves to losing their sons to a police shooting.
"It's really sad that these meetings are routine," said Felicia Jones, of SEIU Local 1021. "When are we going to have a dialogue?"
After hearing about two hours of public comments, Commission President Suzy Loftus called a brief recess when a woman refused to stop speaking after her two minutes were up.
During the recess, Suhr was spotted leaving the meeting room and was then suddenly chased down the hall by a group of protesters. Minutes later, he came back, surrounded by a couple dozen protesters chanting "fire Chief Suhr" as he fought his way back into the meeting room.
After two more hours of public comment, the commission responded and stressed that their job this evening was to listen.
"Viewing that video has eroded trust. We all wish it had ended differently," Loftus said. "Tonight we're having an initial discussion on the use of force."
The other commissioners agreed that the video of Woods' death was disturbing.
"That thing was terrible. It was really bad," Commissioner Joe Marshall said. "I'm sorry. When we look at the thing, it doesn't make sense. Could we have done something else? If we could, why didn't we? And if we couldn't," we need to change that.
Suhr acknowledged the need to revise the police department's policy on use of force, which hasn't been fully revised since 1995 (see:DGO5.01 "Use of Force" (Revised 10/04/95), pdf).
He talked about collaborating with other departments across the nation to find solutions. He talked about a need for focusing on de-escalation tactics, and cultural competency and implicit bias training. And he asked the commission to consider implementing the use of what he called "conductive energy devices," the controversial devices commonly known as tasers.
He also said he had personally apologized to Woods' mother for her son's death and the way she found out about it (via social media).
But it's pretty clear that the city and police have lost the trust of San Francisco's Black community, whose population has been steadily declining since the 1970s.
Incomes of  African Americans in the city have fallen, too, as the rest of the population has generally profited from the tech-fueled economic boom.
And according to the US Census, African Americans account for less than six percent of the city's total population. Protesters outside of city hall claimed to be the last three percent of Blacks remaining in the city.
"We are the last three percent of Black San Francisco, fighting for justice in this racist city," they chanted.
Considering how small the Black community is, it's even more appalling that Black men, in particular, are disproportionately targeted by police.
The commission even admitted that the Bayview neighborhood is used as a training ground for officers. In response, an audience member shouted out that they should use Pacific Heights, a predominantly white and affluent neighborhood, instead.
A former state peace officer stunned the room, and the commission, when he said that he never fired his gun in 30 years of service — and that he would intervene to de-escalate situations when his white colleagues behaved too aggressively.
Now a pastor at El Bethel Missionary Baptist Church in the Fillmore neighborhood, Keva McNeill said he was trained to use his gun as a last resort, and he called for new leadership in the police department.
He also told 48 Hills that transparency is vital for changing the why the police force operates.
Without any transparency, officers aren't afraid of facing consequences for their actions, McNeill said.
When asked to explain the difference between his mindset and that of his white colleagues while on the job, even though they all received the same training, he said it came down to different "cultural perspectives." McNeill is Black.
So, while revising use of force policies and tactics and implementing certain technologies like body cameras and tasers might help move the police department towards more accountability and fewer lethal incidents, it's clearly not enough.
As long as there's a lack of empathy between officers and the communities they patrol, as long as the police force is militarized, as long as officers are exchanging racist texts with each other, Black men will continue to die at hands of police officers.
The commission is scheduled to meet again on Feb. 3, 2016.