The Google bus program is in a bit of trouble. And that reflects a significant new dynamic on the Board of Supervisors.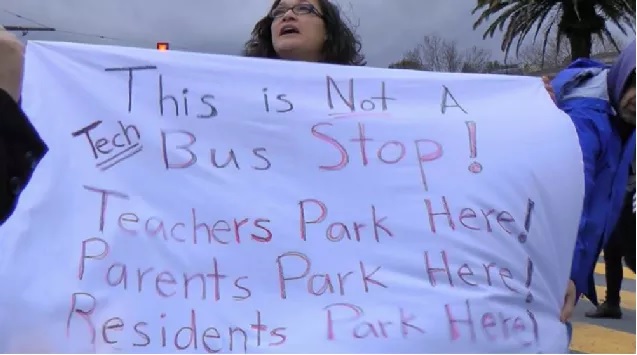 The supes were supposed to vote today on an appeal of the city's decision that a permanent tech-shuttle program needs no environmental review. That's a complex legal issue, but it involves a huge set of political questions: Did the city get the best deal possible from the tech and shuttle companies? Are the buses causing displacement, and should that be part of the mitigation? Are there too many buses, and is the city regulating them tightly enough?
Instead, Sups. David Campos and Norman Yee moved to continue the appeal for two weeks, so that all the stakeholders can have a chance to meet and see if they can work something out.
These sorts of continuances are pretty standard, and it's unusual for anyone to oppose a request for extra time to negotiate an appeal.
But in this case, Sup. Scott Wiener announced that he would not support a continuance. "I think we have all the information that we need to decide this today," he said. He said he would try to keep an open mind, but based on the documents he had seen, "I don't see a CEQA question here."
He went further, saying he was a strong supporter of the tech shuttles, that they took cars off the road, and that critics of the shuttle program should stop complaining about the tech buses driving up housing costs. "Let's address the housing crisis with affordable housing instead of scapegoating people who are trying to get to work."
There's a lot of evidence that the tech shuttles do, indeed, drive up housing costs. Even so, Campos noted that "none of us here are saying the shuttles should go away." The question, as a pilot program becomes permanent, is whether there are strong enough regulations, whether the shuttle operators are paying their fair share to use Muni stops, and whether the plan that the Municipal Transportation Agency has put forward is the right one.
Sup. Eric Mar said that he wants to see the city "mitigate the horrible impacts of too many shuttles."
There were clearly six votes for a continuance; in fact, there were nine, with only Wiener and Sup. Katy Tang opposed. But the long debate over what could have been a simple routine motion showed that at least six of the board members are not happy with the city's long-term plan.
Even Wiener was candid: "Let's acknowledge that the majority of this board opposes the shuttle program," he said.
I don't think a majority of the board opposes the concept of a shuttle program, but it seems that a majority of this board – as opposed to the last board – is at least willing to suggest that there need to be strong regulations and mitigations.
The debate suggests that the addition of Aaron Peskin – who has always been a strong voice for regulations and environmental mitigation – and the upcoming November elections, and the weakening position of Mayor Lee, have combined to create a dramatic shift in how much the once-sacred tech industry will be able to get away with.
In 2016, if the Google buses want to operate in the city, they'll have to follow some real rules. I suspect this means Airbnb will be facing a similar dynamic. The days of tech-at-all costs are coming to an end. For now.