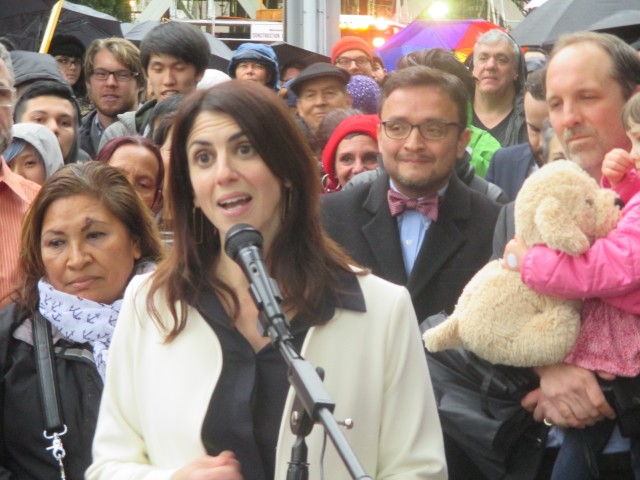 By Tim Redmond
UPDATED (see below)
JANUARY 14, 2016 – Hillary Ronen, who has worked as chief of staff to Sup. David Campos the past six years, formally announced today that she's running for the District 9 seat.
Ronen joins Edwin Lindo and Josh Arce, who have both filed paperwork and announced their candidacies. But neither has presented anything close to the kickoff event Ronen put on.
A few hours earlier, School Board member Sandy Fewer filed her paperwork at City Hall to run for District 1 supervisor. Kimberly Alvarenga has already filed in D11,  meaning the progressives will have three strong women running for the key districts where progressive incumbents are termed out.
More than 100 people, including Sups. David Campos, Eric Mar, and John Avalos, along with Fewer and Alvarenga, showed up on a rainy afternoon to cheer Ronen's announcement, making her a clear front-runner in what will be one of the most critical and hotly contested November races.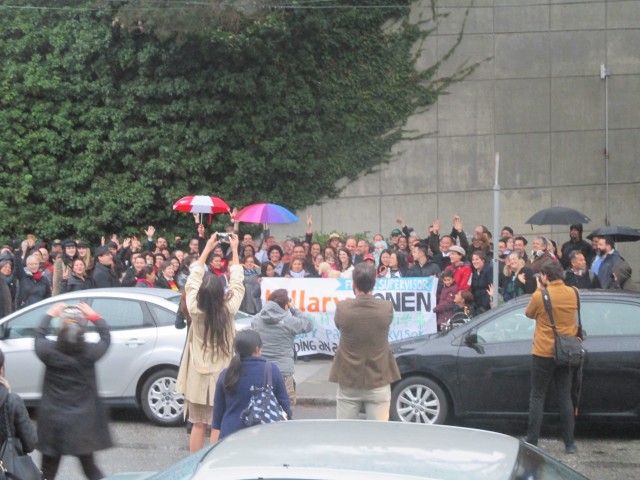 Ronen has raised $40,000 so far, she said. Lindo, who was active in the Mission Moratorium campaign and is an officer with the Latino Democratic Club, reported having $11,000 in the bank at the end of December. UPDATE: Lindo tells me he has raised more than$20,000). Arce, who has been part of the conservative pro-landlord bloc on the Democratic County Central Committee, has not yet reported any contributions – but will almost certainly have support from the mayor and his allies.
Ronen appeared in front of St. Luke's hospital, which is being rebuilt as part of a deal the Campos' office help negotiate after the hospital's owner, Sutter Health, tried to shut it down. She took aim directly that Mayor Ed Lee:
Four years ago, the mayor made a bad deal for the residents of District 9. Behind closed doors, he met with the corporate conglomerate that owns St. Luke's Hospital and negotiated a deal that would have led to the closure of St. Luke's while paving the way to build a mega hospital serving the ultra rich in Cathedral Hill.

Unfortunately, this is what we have come to expect from this administration. This administration will be most known for is his shortsighted thinking, shutting out community voices from the decision making process and only listening to corporate interest. And more than anything else, bad negotiation.

And what has this meant for San Francisco? It means we're experiencing the worst affordability crisis in our city's history. A crisis so bad that we are being written about and studied by economists all over the world.
Ronen talked of how she and Campos worked with a broad coalition of community and labor groups that forced Sutter to preserve St. Luke's, which is one of only two hospitals serving the southeast side of San Francisco.
She also talked about the desperate need for affordable housing in the district – of the longtime residents facing eviction, the young people spending half of their paychecks on rent, the families who can't afford to stay, the homeless people sleeping under the freeways:
The mayor wants you to believe that these problems are complicated and inevitable, because when we believe that, we don't take action and his corporate allies will continue to profit.
Her comments frame this race as a progressive must-win, which it is: Campos is termed out after this year, as are Sups. John Avalos and Eric Mar. And Sup. Jane Kim is running for state Senate.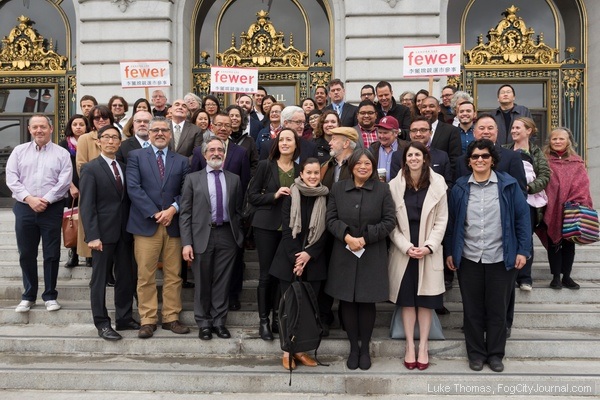 It's possible that none of the four stalwarts of the progressive bloc will be on the board in January. And if the mayor's allies and the real-estate interests win in Districts 1, 9, and 11, the board will have a much more conservative tilt.
The mayor will not appoint a progressive in D6 if Kim wins, so control of the board will depend overwhelmingly on those three seats.
So we're seeing the beginning of a coalition campaign; Ronen, Alvarenga, and Fewer – all of them mothers — are all supporting each other, and they all have the support of most of the progressive elected officials. It's a long way to November, and in every district the mayor and the tech-mogul bullies and the real-estate interests will put up a fight. But we can see the future of the progressive movement right now – and it's moms.