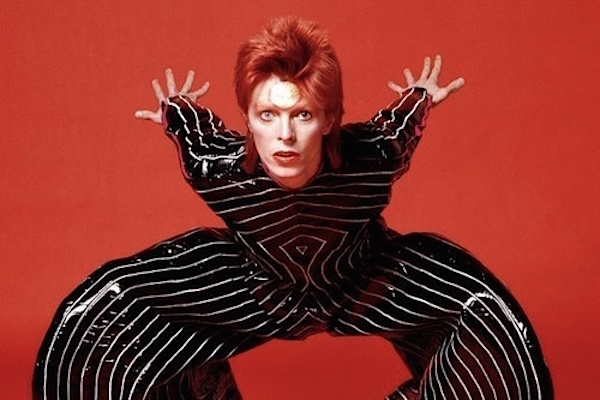 PARTY RADAR Hey, all the young dudes, the Starman has ascended. And while Sir David Bowie's influence on nightlife has already been incalculable, from placing club legends Klaus Nomi and Joey Arias on an SNL stage to inadvertently inventing dancehall reggae, we'll still feel the after-hours ripples for years to come.
So naturally, local nightlife is rising to pay tribute to the always fabulously dressed shape-shifter. The sun machine is coming down, and we're gonna have a party.
Here are highlights so far (let me know of any more at marke@48hills.org).
TUE/12: RETRO VIDEO NIGHT DAVID BOWIE TRIBUTE 440 Castro is already a chill place to hang if you're into hairy guys — but it also harbors a secret weapon in DJ/VJ Jim Hopkins, whose been spinning Bowie for 30+ years. He'll have the goods. Plus $2 beers. 440 Castro, 9pm, free.  
WED/13: A CELEBRATION OF THE LIFE AND MUSIC OF DAVID BOWIE The grandest and most devoted tribute: "The First Church of the Sacred Silversexual invites all devoted Bowie fans to join in a night of celebration! Featuring two sets by the Church band plus drag and burlesque performers." Slim's, SF. 7:30pm, $10 advance. More info here. 
WED/13: BONDAGE-A-GO-GO CELEBRATES DAVID BOWIE One of the most fitting tribute IMHO, since Bowie's sexuality was a seismic force, simultaneously pushing boundaries while exploiting them. So SF's kinkiest weekly dance party will surely continue his legacy of exploration and celebration. Cat Club, SF. 10pm, $10. More info here. 
THU/14: CLASS OF 84: IN MEMORIAM DAVID BOWIE The city's go-to weekly '80s night, Class of '84, pays tribute to the Modern Lover. Let's dance. Cat Club, SF. 9pm, $7. More info here. 
THU/14: THE DAVID BOWIE MUSIC VIDEO CELEBRATION Sing-a-long with the 18+ crowd at the new Alamo Drafthouse (9pm show sold out instantly). Alcohol served! Alamo Drafthouse, SF. 11pm, $5 Tickets and more info here. 
FRI/15: DAVID BOWIE TRIBUTE PARTY Some of the city's best selectors in wildly disparate scenes — Timoteo Gigante, King Most, Deejay Mykill — come together to play their favorite Bowie records from all periods. This is an add-on to 1015's bigger Friday party, featuring electronic up-and-comers Pomo and Jerry Folk. 1015 Folsom, 10pm, $20. Tickets and more info here.

FRI/15: SOME THING DAVID BOWIE TRIBUTE DJ Josh Cheon of Dark Entries Records knows his Bowie. And the artsy-glam queens who run weekly party Some Thing know their drag. Together on this night, the party's sixth anniversary, they'll be just Hunky Dory. The Stud, 10pm-late, $9. More info here.
SAT/16: NEW WAVE CITY BOWIE TRIBUTE The longest-running '80s dance party in the city was scheduled for its annual Depeche Mode tribute; now, it's adding a Bowie tribute in the front room and the Mode boys will be feted in the back. The DJs here really know their stuff, so this will be excellent. Cat Club, SF. 9pm-3am, $7-$10. More info here. 
 MON/18: LABYRINTH + SURPRISE SECRET FILM Do the magic dance at the Castro Theatre with numerous bizarre muppets. Castro Theatre, 7pm, $11. More info here.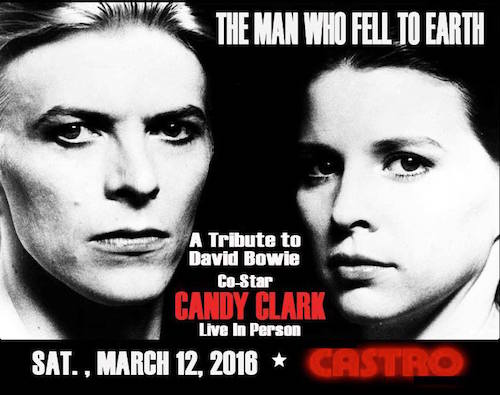 MARCH 12: THE MAN WHO FELL TO EARTH DAVID BOWIE TRIBUTE "Celebrate the genius of David Bowie with his most iconic film at the Castro Theatre, featuring a live on-stage interview/tribute from co-star Candy Clark. Bowie video clips on the big screen, tribute performances by some of SF's finest talent, a 40th Anniversary Screening of Nicolas Roeg's sci-fi masterpiece The Man Who Fell To Earth, and a meet & greet autograph signing with Candy Clark in the Castro mezzanine after the main event. Come dressed as your favorite Bowie character!" Cool! Castro Theatre, 6:30pm. 
MARCH 12: MOTHER: DAVID BOWIE TRIBUTE The Trannyshack Bowie tribute nights are legendary (a selection of clips is posted below). Now Trannyshack is Mother, located at the Oasis club, but obsessed hostess Heklina and a similar drag crew will be going bonkers on Bowie in extraordinary ways. SF Oasis. 10pm, $10. Tickets and more info here. 
Special Bonus WTF: