A couple of weeks back I found myself scrambling around the internet trying to glean the password for the Citibank Visa Card ticket presale to… an Iggy Pop concert.
Kind of a depressing moment actually, in realizing such a corporate avenue as my only angle on Iggy. And by the time I caught wind of the hefty ticket prices to match, I was not only left dejected of purpose, but exhausted with the dismal state of rock music in 2016. How did we get to this point? When did it require a small bank loan to see a concert? Better yet, where did all the edgy and dangerous bands go? In light of the attacks on Paris, of Donald Trump as a viable U.S presidential candidate, and a long laundry list of appalling police shootings, why is there so little urgency?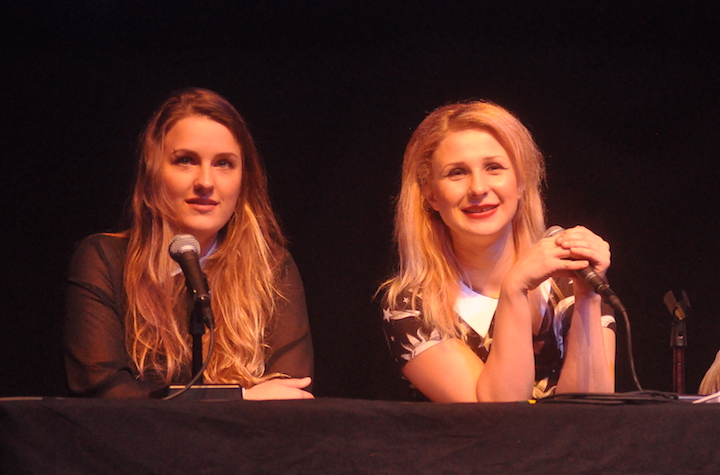 As I entered the Warfield theater last Wednesday night to see the Russian punk-activist collective Pussy Riot, all of these questions resurfaced on my mind, but with a glimmer of hope. After all, if anyone could offer a glimpse of activism and urgency, it would be these young women from Russia. Consider this — as if taking on the oppressive policies of walking-human-rights-violation Vladimir Putin was not enough of a monumental task, Pussy Riot somehow still found time to address social issues here within the US, by tackling the Eric Garner killing at the hands of NYPD with their 2015 video "I Can't Breathe."
Still active at home, their most recent video — "CHAIKA," released earlier last week — is a scathing parody of the Russian prosecutor general, Yuri Chaika, who jailed three members of the group for hooliganism in 2012. In this regard – Pussy Riot, seemed to be the logical antidote to my earlier anxieties.
Wednesday night's event at the Warfield was not a performance, but rather a discussion moderated by local writer and Russian native Zarina Zabrisky, covering myriad topics of activism, LGBT Rights, political prisoners, and a general state of existence under the policies of Putin. The evening started with an abbreviated screening of the upcoming documentary Pussy vs. Putin (by Russian filmmaker Alexander Cheparukhin), which showcases a wealth of raw from-the-trenches footage of the group staging protests around Russia in the face of belligerent police and hardline religious zealotry.
Amid the footage of their now infamous 2012 Punk Prayer protest at Moscow's Cathedral of Christ the Savior, a beleaguered clergy women, confounded by the scene unraveling in front of her, simply blurts out, "What a provocation!" Indeed.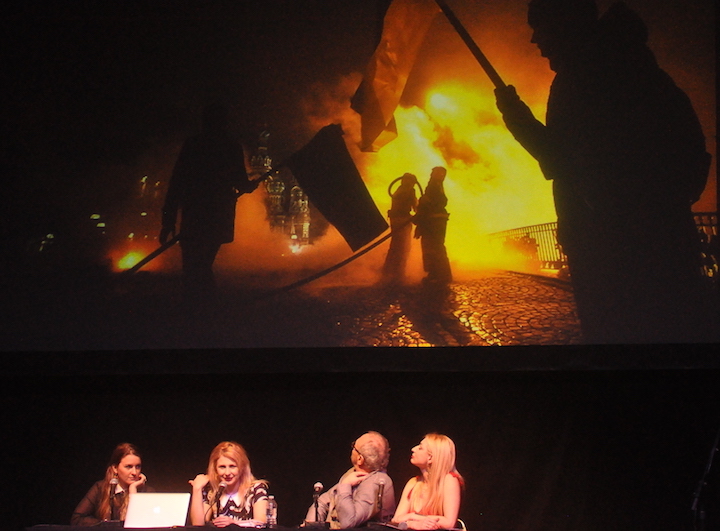 Yet for as interesting as the film and the discussion was at times, the event was pretty disjointed. Ranging from issues with translation, to an awkward rapport with the moderator and clunky handling of the Q&A session, the evening just never quite seemed to gel. And while Pussy Rioter Maria "Masha" Alyokhina was in attendance (joined by Russian prison reform activist and seemingly newer Pussy Riot member Ksenia Zhivago), her well-known counterpart Nadezhda Tolokonnikova (who carries the new "CHAIKA" video) was not.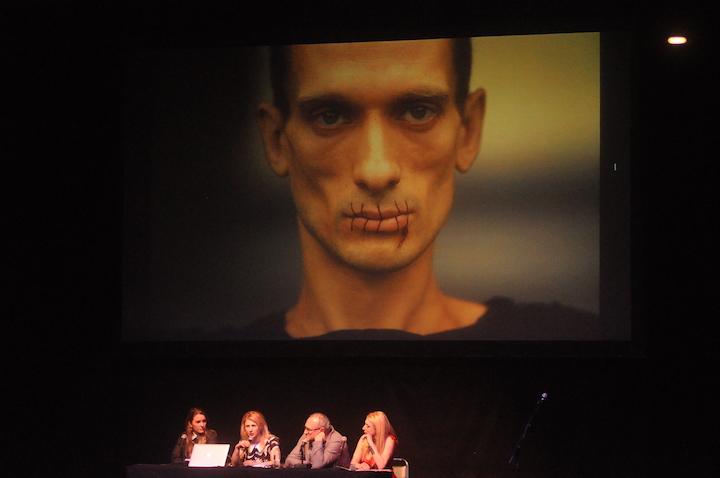 It was unfortunate to see this event plod along, because the members of Pussy Riot had an array of interesting topics to speak on, including Zhivago's insight into the dismantling of Moscow's once vibrant LGBT movement, and the group's support for Russian political performance artist Petr Pavlensky. There were some great lighter moments as well, such as when Alyokhina explained that since their Cathedral protest, a few different Russian citizens have formally filed charges against Pussy Riot for causing them severe mental distress.
As the night progressed, the main issue with the discussions seemed to be a mismatch of expectations within the audience. After all, a seated talk about human rights is simply not the same experience as a rebellious rock performance under looming threat of police repression.
In fact, when the lights came up after the documentary screening, a heckler shouted, "Enough with your unedited footage, bring out Pussy Riot." Moderator Zabrisky addressed this issue at one point, explaining how many people seemed to desire a "fashionable" experience from Pussy Riot, as opposed to the hard realities of a "real" human rights struggle.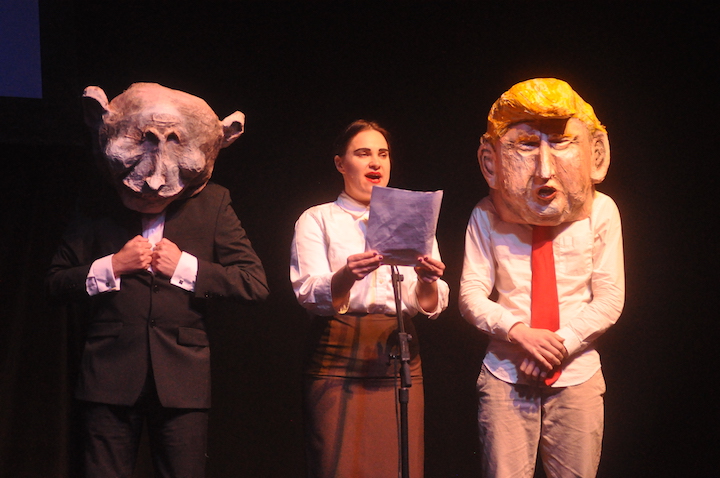 Here's the thing though: Pussy Riot should absolutely tour as a band, because all of these things can be successfully merged. Both their activism and passion for punk agitprop could fuse into something formidable. To begin with, the concerts would garner a huge amount of media (and therefore awareness) for their causes, while also inspiring a much greater cross-section of younger fans towards activism. Most notably though, a Pussy Riot tour would generate the kind of resources that the band needs if they are going to continue going head-to-head with the Putin regime. And if a few spectators get a "fashionable" experience in the process, the benefits still outweigh the nonsense.
However, both Alyokhina and Tolokonnikova have already received criticism from other segments of the collective from deviating outside the lines of the group's principles, for attaching specific faces to Pussy Riot, and for participating in for-profit events. And in this sense, maybe a tour isn't the right fit for them. If they begin openly shedding their founding principals one after the next, well … from there the Citibank Visa Card Pussy Riot presale probably wouldn't be far off.