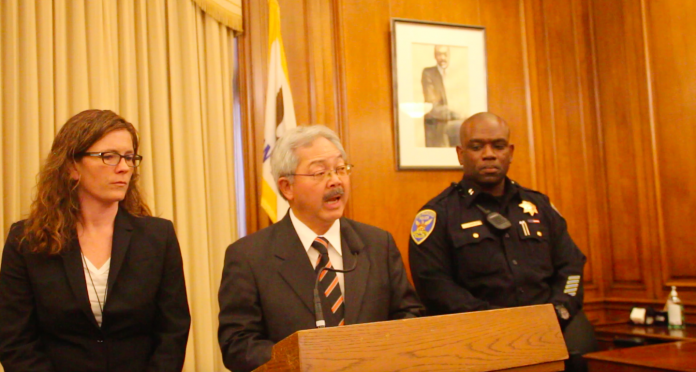 After months of protests, this evening Mayor Ed Lee announced he had asked for and received the resignation of San Francisco Police Chief Greg Suhr. The resignation comes after this morning's shooting of a 27-year old African American woman by an SFPD police officer.
"For the past several months, the city has been shaken and divided. Tensions between our law enforcement and communities of color have simmered for too many years and that has come into full view. While the facts are still emerging, we know that this morning a young woman of color was killed in an officer-involved shooting," Mayor Lee said as he addressed a room full of reporters inside his office.
Sources inside City Hall had tipped reporters that the mayor was meeting with the chief. As reporters waited outside the Mayor's office, Chief Suhr exited from a different entrance without addressing the media.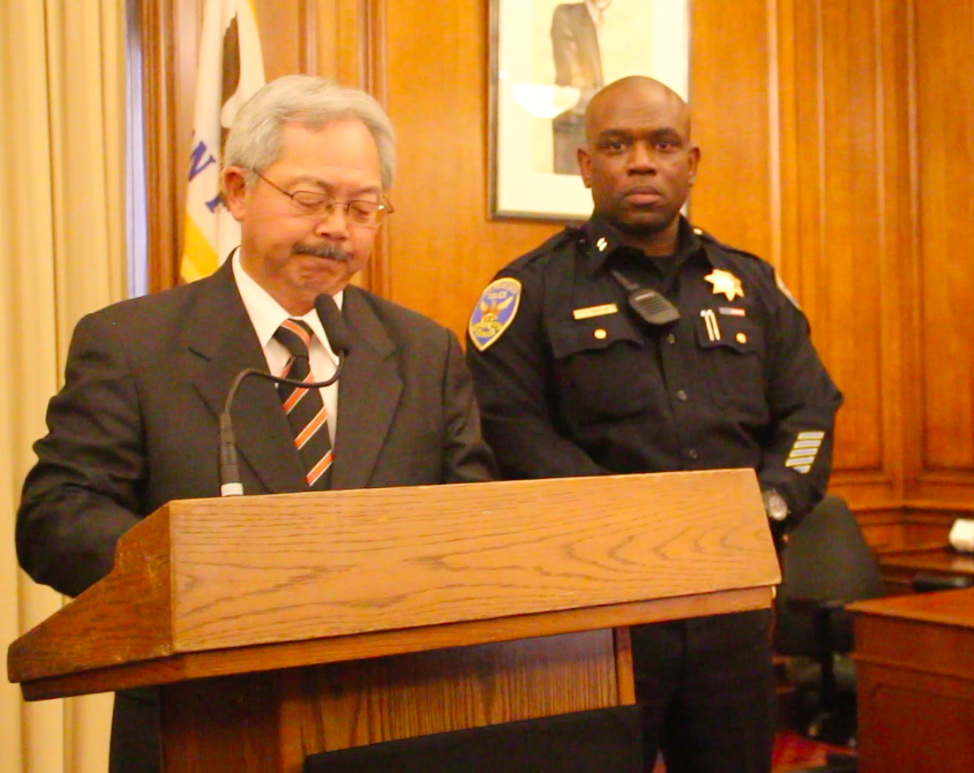 "For the past many months every day I have asked myself is the path to reform best advanced by current department's leadership and it has been my goal and remains real reform and restoration of trust," Lee said. Lee has received a lot of criticism for his support of Chief Suhr "While I have previously expressed confidence in Chief Suhr, after this morning I have arrived at a different conclusion."
Technically, the mayor can't fire the chief; only the Police Commission can do that. But once Lee asked for Suhr to step down, the chief had no choice.
Lee named Deputy Chief Toney Chaplin as acting chief, effective immediately. Chaplin is a 27-year veteran who has of late has advanced fairly quickly through the ranks; a year ago, he was still a homicide lieutenant.
So his command-level experience is limited — particularly for someone who will be taking on the huge task of reforming the culture of a department out of control.
One of the main tasks: Breaking the hold the Police Officers Association has on the department. Chaplin has not been a part of the recent thug-like POA actions at the Police Commission, so that's a positive sign.
He was a speaker at Public Defender Jeff Adachi's last criminal justice summit. He spoke, along with Yulanda Williams, of Officers for Justice, about the issues facing African Americans in the department:
Commander Chaplin said that there "is a lot of self-reflection going on, not just in the United States but in the world."  He said he felt that something should have happened well before now and he expressed sadness at the events happening nationwide.

"Some of us have lost our way," he said pointedly. "Some people get it right away – not a problem. Some people get it sooner or later – we need to train them… Some people never get it – they need to be fired."

He said that the chief made the recommendation to fire those officers involved in the text messaging scandal because, in some of those cases, there is nothing that can be done to change the officers' actions.

Commander Chaplin related to own his own bad experience with the police prior to becoming a police officer. He said he went clubbing down in the South Bay. He said he wouldn't go into details but, "It almost stopped me from being here sitting in front of you."

Mr. Chaplin continued, "I apologize if I offend anybody, but I wasn't shocked by any of it [that which came out on the text messaging scandal], because most of us African Americans have experienced it throughout the years."

He said a lot of African-American police are questioning the people they thought were there friends. At the same time, he said that it's a great time for this country because things that have been talked about and whispered about for years are finally coming out into the open.
He may, in fact, be the best choice of the existing command staff — for now.
But it may be close to impossible for anyone inside the ranks to make the changes that are so clearly needed. We asked the mayor if he intended to do a national search to fill the permanent job, and all he would say is that he will "work with the commission."
Sup. David Campos told us tonight that he thinks the commission should do a national search and look outside. "We've tried reform from inside," he said. "If Greg Suhr couldn't do it then we need to look at another approach."
The Racial Justice Committee of the Public Defender's Office issued a statement:
"The Racial Justice Committee recognizes the important symbolic step taking place today with Chief Suhr's resignation.  As public servants we know that these decisions are not lightly undertaken. But as black and brown bodies of unarmed men and women lie in the streets of San Francisco, having been felled by way too many police bullets, we also know that this is only the first step toward building public trust in the City's administration.

We renew our call, first made on May 3, for a change in police culture, from the top of the command staff to the cadet just making her way through the academy. It is imperative that every single officer given a uniform, a badge and a gun receive regular and repeated training on how implicit racial bias affects their perception of danger and of who is walking down the street in a suspicious manner."
The Racial Justice Committee reiterated their ten point plan for Police Department Reform, which includes the need for accurate data collection on detentions, traffic stops and so-called consent searches.
Maria Cristina has a message on the news of Suhr's resignation pic.twitter.com/iCRaXBJffc

— Sana Saleem (@sanasaleem) May 20, 2016
A group of community members gathered outside City Hall and after a long time, the crowd appeared festive but determined. Maria Cristina Gutierrez, one of the hunger strikers who went without solids for 17 days to demand Chief Suhr be fired or step down, met with other supporters who hugged and greeted her as they arrived.
"This shows that the power of the people can show things, the unity of the people can accomplish stuff so we should believe in ourselves" she said before repeating two of the three community demands that still need to be addressed "We have a big job ahead of us, one of them is that the policemen who committed the murders has to go to jail. The next one is that there has to be true reforms in the police department. I also believe that the community needs to be involved in who is going to be the next chief," she said.
For Lee, and for his chosen interim chief, the message of the past few weeks could not be clearer: There is a dedicated, organized community that is watching the Police Department — and is sick of the killings and the racist texts and the impunity.
Acting Chief Chaplin takes his new office with the knowledge that if he can't reform the department, he will also be held to account. And that's a critical victory for the community.