On Tuesday, the SF Board of Supervisors and the sheriff have an opportunity to uphold core San Francisco values. The stakes are high. Trump-style hate mongers  are targeting our city, and this policy, to advance a dangerous right-wing agenda.  Meanwhile, the Obama administration is continuing its attack on immigrant families by announcing massive deportations for the second time this year. And local law enforcement is mired in a profound crisis of confidence. So we are calling on people of conscience to stand together to say: The politics of hate has no home in our city!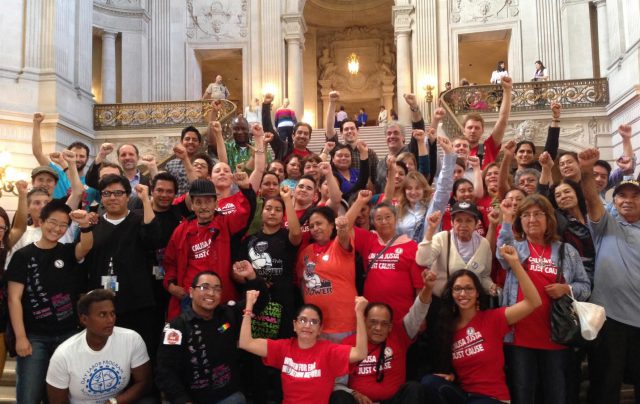 Last October, our supervisors sent a powerful message to the nation: San Francisco rejects scapegoating and hate; SF law enforcement should stay out of the business of deportations and the crisis of human and civil rights violations that comes with entangling themselves with Immigration and Customs Enforcement (ICE).
But this message must be put into action. ICE's deportation machine has hurt too many local families.  This is all the more urgent in the face of ICE's new, deceptive deportation tactics.  Faced with this increased injustice, our communities have organized to build a broad, successful campaign to safeguard due process for all immigrants in our city – this is what the Upholding Due Process for All ordinance  is all about. With Sheriff Vicky Hennessy sending mixed signals, we need to make sure our city takes a strong stance against hate.
The Upholding Due Process for All ordinance would benefit people like Pedro Figueroa-Zarceno, who asked police for help in finding his stolen car and was instead wrongly turned over to ICE when both police and Sheriff's officials contacted the troubled federal agency. After a public outcry, powerful testimony from Pedro's family, and strong community and legal support, ICE finally freed Pedro after two months of wrongful incarceration. But his deportation case is still pending and the threat of being separated from his seven-year-old daughter remains.
At a time when the long history of police shootings of Black and Brown residents, racist text messages and other misconduct have sparked an unprecedented crisis of confidence in San Francisco law enforcement and even forced the chief's resignation, entangling sheriff's deputies and police officers with a cruel deportation system would be a step in the wrong direction.
Upholding Due Process for All will ensure fairness and basic human rights for local families like Pedro's and so many others, by keeping our troubled local law enforcement agencies out of the dirty business of deportations.
As we near victory, we face new attacks from extremist right-wing forces.  Last week, a virulently anti-immigrant blogger from Texas showed up at City Hall and made clear his hostility to San Francisco's people and politics.  He attacked the due process measure and aggressively filmed a young Latino immigrant named Chuy–a young man who has survived a lifetime of health challenges, including Down's Syndrome and cancer, and a long-time beloved member of our community–who broke down into sobs as a result of the blogger's actions.
This is an ongoing threat as it is unclear what the blogger will do next.  We believe threats like these are intended to attack San Francisco values by dividing us, to erode our record on immigrant rights and to open the door to regressive right-wing rhetoric and politics in this progressive city.  We are clear: this is not an isolated incident but one part of the national surge in the right-wing politics of hate that seeks to undermine just policies city by city, state by state.
In response right-wing forces are not only escalating political attacks on our policies, but also physical attacks on our people, our organizations and our movements for change.
We have a long way to go to achieve full justice for Black and Brown lives and for all immigrants, but community-based action is on the rise in our city, which is becoming known for something other than the greatest racialized wealth inequality in our country.  Chief Suhr's resignation was inconceivable just a few months ago, but pressure built through solidarity organizing between Black and Latino working communities has achieved the inconceivable.  The answer is to keep organizing together, to build the strength of grassroots movements locally and nationally, and to continue to have courage in the face of fear and hatred.
We are calling on all justice-minded people to continue the fight: join the broad, multi-racial Free SF coalition to attend the San Francisco Board of Supervisors this Tuesday afternoon to demand our city Supervisors vote to defend and uphold our local values by passing the Uphold Due Process for All ordinance. If you can't come to the hearing we ask that you sign and circulate this petition to demand that the Board of Supervisors, the mayor and the sheriff pass and enforce the ordinance.  Let's stop the right-wing attack in its tracks and stand up for the San Francisco values we all share.
Staying silent is not an option.  Change is possible with grassroots organizing and solidarity and historically this has proven to be true over and over. Our voices united are our power.
María Poblet is executive director, Causa Justa :: Just Cause (CJJC). Myrna Melgar is vice president, San Francisco Building Inspection Commission, a Democratic Central Committee Candidate, and a CJJC supporter. N'Tanya Lee is a CJJC board member.