This post is part of our special coverage on the #hungerforjusticesf. Five San Francisco residents are on hunger strike outside Mission Police Station, demanding that Mayor Ed Lee fire San Francisco Police Chief Gregory P. Suhr. Over the past three years the SFPD has shot and killed four men of color; the protestors feel that the hunger strike is the only remaining option to demand an end to police impunity. Read our full coverage here.
On the 15th day of the hunger strike outside Mission Police Station, the Frisco5  – the five hunger strikers – received a phone call from Mayor Edwin Lee. The Frisco5 were at the Black and Brown Social Club holding a meeting with their doctors when they mayor called.
Maria Cristina Gutierrez, 66,  was exhausted as she walked back from a press conference and the meeting.
"The mayor called us," Guitierrez announced as she sat back in her seat inside the public area of the Mission police station. "In the morning somebody told me that he wanted to talk to me on the phone. He said he left a message for [Edwin] Lindo to call him. So we called him back." Gutierrez said that she felt it wasn't worth talking to Lee; she's still dismayed at her last interaction with the mayor.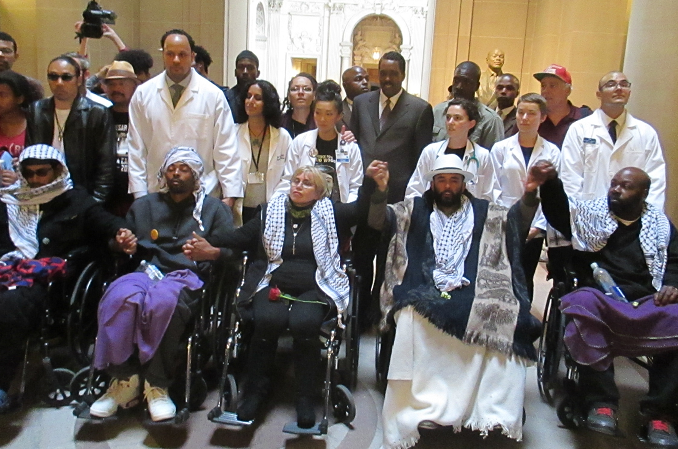 "The mayor didn't ask us about our health or ask how we are doing. He basically just defended Chief Suhr," said Lindo, who is on Day 15 of his hunger strike. Shortly after the call, the Frisco 5 announced that they will continue their hunger strike until their demands our met.
"We  told him we have only one  simple demand, that is to fire Chief Suhr," Lindo continued. "He said Suhr is a great guy, considering the chiefs in the country he's doing good," Lindo continued "We asked him 'are you going to fire Chief Suhr?'He said 'no we are not gonna do that,' we then said 'Well, then our blood is on your hands,' and he said 'Well, that's your choice." Lindo is a candidate for supervisor for District 9.
Gutierrez reiterated: "Equipto spoke to him with the five of us present. We told him we have only one demand, to get the police chief fired." Her son, Illyach Sato, better known as Equipto, has been expressing his concern about the health of his mother and repeated the concern to the mayor. "At the end when Equipto told him that his mom is getting weaker and her death is going to be in your hands, he didn't care, he just said something along the lines of 'well that's your choice."
Equipto spoke on behalf of the five. "I told [the mayor] from the gate that we don't want to talk about reforms, so I asked him straight up again, 'are you going to hold a press conference tomorrow for the public of San Francisco and say that Chief Suhr is fired,' and he said no."
Suhr's tenure has become a symbol of the lack of accountability for police killings and overt racism in the department.
Equipto said he's always hopeful that things will change despite the conversation with the mayor. Gutierrez wasn't so optimistic. "Personally, I knew from the beginning what he's trying to do is buy time, but we are winning. His call today shows that we will win," she said.
Still dismayed after her last conversation with Mayor Lee, when he arrived unannounced at the police station and his refusal to meet them on Tuesday as  they marched to City Hall with more than 800 people. "He sounded like he didn't care. I expected that from him, I didn't feel it was worth it to call him, but Equipto and others said that we should be respectful and call him so we did."
[The Mayor's Office is still having a hard time grappling with the real reform question: What good are reforms if the current rules are ignored with impunity? Who is accountable for police misconduct?]
Gutierrez and rest are still determined. "We want to continue the hunger strike; every day the press is  talking about the  issues, just today there was coverage about chief of police and his corruption. (There's some good background on Chief Suhr's record here.) Yesterday people took over and shut down the Police Commission meeting and it's coming around and we are seeing the true color of politicians too."
Christine Falvey, the spokesperson for the mayor, responded via email and said that the mayor had called the group to talk about current efforts at reform of the Police Department.
"Mayor Lee contacted the group today to let them know that he respects their right to protest, but hopes they will do so in a way that doesn't harm themselves," Falvey wrote in her email response. "He let the group know that reforming the police department is bigger than any one chief."
Ike Pinkston, one of the hunger strikers and a preschool teacher who works with Gutierrez at Compañeros del Barrio, said the phone call went as he had expected. "I can't believe this dude thinks it's okay for the chief to have his job when you have a thousand people marching through San Francisco," he said. "It's not just the five of us. If everybody felt safe, it would've been like 13 people marching, but it was a thousand people on a Tuesday afternoon."
Now that the mayor has made clear his support of Chief Suhr, the Frisco 5 seem even more determined to amp up the pressure "He might say no now, but he might change his mind in a few hours or a few days. We are not giving up, we are here till the end," Lindo said.