It's no surprise that the Chronicle is coming out against all of the progressive good-government measures. You don't expect much from the city's largest daily – and I really don't think it makes much difference. The Chron's readership – certainly the readership that pays attention to the Editorial Page — is older and more conservative than the city as a whole, and I don't think the paper's recommendations have a lot of influence.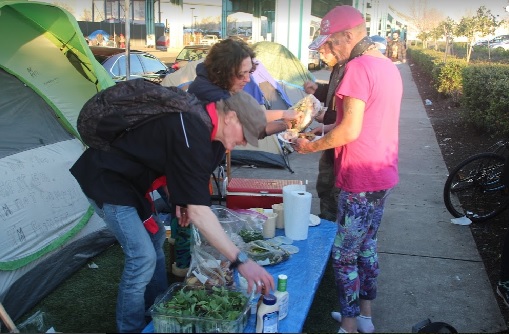 But here's what will be interesting: At some point in the next few days, the Chron will weigh in on the two anti-homeless measures on the ballot, Props. Q and R. The paper's editor, Audrey Cooper, led a citywide effort to report on homeless issues this summer. If the stories by the paper and its community partners (including us) demonstrated anything, it's that more law enforcement and sweeps won't solve the problem. In fact, all that approach does is cost more money.
So will John Diaz, the editorial page editor, pay attention to what his own paper wrote – or will he do what the Chron normally does, and just go with the retrograde conservative politics behind Q and R?
Anyone taking bets?
We will see where the incumbent supes, particularly Sup. London Breed, who is facing a progressive challenge in D5, will come down on the criminalization of homelessness this fall when a measure by Sup. Jane Kim comes before the board. It's going to the Public Safety and Neighborhood Services committee Thursday/8.
The measure – a direct challenge and contrast to Sup. Scott Wiener's ballot measure – requires the city to give seven days' notice before dismantling a homeless encampment and must offer "specific shelter, transitional housing, or other stable housing opportunities" to the residents.
The reality, as we all know, is that the city doesn't have enough shelter beds for even a small percentage of the homeless people on the streets.
Kim chairs the committee, and members David Campos and John Avalos will no doubt vote in favor of the bill. Which means it will soon be before the full board.
The way that Wiener and his allies are attacking Kim – as someone who "wants to put tents in front of your house" – may work on the west side of town, but not so much, I think, in D5, where Breed has to face some of the most progressive voters in the city.
Meanwhile, as if it's not enough to attack homeless people, the real-estate industry is attacking affordable housing.
The realtors have two measures on the fall ballot, Props (yes) P and U. Prop. P would prevent any affordable housing from getting built unless the city gets three bids and chooses the lowest one. A lot of the time, there aren't three bidders interested in a low-cost housing project, and many of the projects are pretty much geared to existing nonprofits that don't compete against each other. Why would they – the goal is to build more housing.
Then there's U, which seeks to undo the mandates for more affordable housing that the voters just passed in June. Technically, what the measure does is allow apartments rented to people who make as much as 110 percent of median income ($78,000 a year for one person) to count as "affordable" if it's rented for $2,241 a month or less.
That would cut down dramatically on the number of units available for people with less money – and would save developers millions.
It creates no new housing at all.
The Teacher's Union, which has long advocated for affordable housing for its members (and two teachers living in a one-bedroom unit might qualify for this sort of housing) is strongly against Prop. U:
Our teachers need affordable housing, but this measure creates no additional housing. Instead, it locks the doors to low-income residents, raises their rents, and even encourages unscrupulous landlords to evict them. Teachers need affordable housing, not developer giveaways.
The mayor has shown exactly zero leadership on this: When he didn't want Aaron Peskin elected to the board, he held an emergency meeting with powerbrokers from all over town and said they had to support his candidate. He made no such effort with the real-estate industry on Props. P and U. He has declined entreaties to raise the kind of money that's needed to defeat them. And now he's so weak that it makes no difference if he comes out in opposition.
But there's going to be a robust campaign against the stinky P and U, and it starts Wednesday/7 with a rally at noon at Glide Memorial Church, Ellis and Taylor. It's a chance to remind the real-estate industry that enough is enough.