This week at CounterPulse (Thu/15-Sat/17), multidisciplinary artists Keith Hennessy and Jassem Hindi  come together for future friend/ships, "an idiot's perspective on violence and despair, made from oracles and drones and childish dances" that weaves together dance, sound, and poetry to summon fragmented visions of a fictional Arab future.
Hennessy and Hindi have improvised performances together around the world, and for the last five years have worked together on a yearly happening called Turbulence (a dance about the economy). In part a poetic response to the Syrian War, future friend/ships is also a medium-melding meditation on the deep complexities of violence spanning back generations in the Middle East, embracing ambivalence around any roadmap for political solutions. Earlier this year, it was performed in New York as part of the American Realness  festival — here, some of the original elements have been re-imagined.
We caught up with Hennessy to talk about the show.

48 HILLS Tell me a little bit about future friend/ships. What sparked the work?
KEITH HENNESSY Of all the people I know who are friends or colleagues, Jassem is the one who is most equally obsessed with the news from the Middle East and even more specifically the news about Syria. You know, there's this huge war that's been going on since 2011. It's very complicated and most of us don't get it. We either don't get it, or if we do get it, we don't feel like there's anything that can be done about it. So, this is a way to step beyond the news and actually respond: How are artists responding and what might an artist response look like?
At the same time, there's a real ambivalence to really identifying the project that way. For Jassem, who is Palestinian, who has roots in the Middle East, who has spent considerable amount of time in Syria — there is a lot more hesitation on his part to say, "We're making a piece that responds to the war in Syria." Because we can't. It's impossible and we don't want to set up an expectation that we have anything to offer a larger discourse. That's especially true in bringing the piece to San Francisco where expectations of what political art can be are very narrow. We're making a very weird poetic dream. The piece doesn't carry a lot of pedagogical or propagandistic information that one might expect in a Bay Area political theatre piece. That's something that [Jassem and I] share: a very expansive idea of what a political artist is, or in this sense, a political poet.
48H You're book-ending a very crazy 2016 with performances of this show. What's different about remounting it now in San Francisco, especially in a Trump world?
KH Because we both operate in a more international context, we see the Trump election as a part of a global phenomenon. And not just Brexit — it's also the most recent vote in Colombia, and the most recent election in Philippines where a very Trump-like character just got elected.
I would see that loosely as a negative reaction to a failed global neoliberal agenda and how that gives rise to right wing populist movements. So, anything we're relating to Trump is inside that larger picture. And we have to do that. We read this article, easily two years ago, that said that if people would at least not see the [Syrian War] as a single war but as three separate wars — a holy war, a civil war, and a cold war — then they'd at least be entering the conversation of how complicated it is.
The second thing is that we never thought the piece was finished. Now we have a three-week residency here in San Francisco where we're really reconsidering the work. One of the things we are really thinking about is creating a more congenial environment for the audience. I think that one of the big artistic tensions or generative frictions that artists are going to be dealing with for the next 30 years is the tension between the politics of care and the aesthetics of care and the politics and aesthetics of provocation. […] People are rethinking healing, and ritual, and care and challenging notions of provocation and disruption as re-stimulation of trauma that people don't need in their lives. Trying to figure out how to create spaces of hospitality and care in the work is becoming more and more important. That's something that's shifting. We're making a whole different beginning to the piece which is all about hospitality.
48H Global fascism. Living under near-constant surveillance. Post-truth. Accelerated environmental degradation. In many ways, it feels like the sci-fi dystopia we've dreaded is already here. If part of the project is to imagine the future, how do you start given that context?


KH [In future friend/ships], we don't spend our time imaging a future. We don't see our project as utopian. It's more like we're living in a moment where we allow ourselves to drift both into the past and the future at the same time for a present that is maybe pre-figurative. It's not so much that we are imaging a different future, we are just living a different way. We're taking more time. We're reading more poetry. We're rethinking what friendship and collaboration looks like and we're trying to politicize the personal.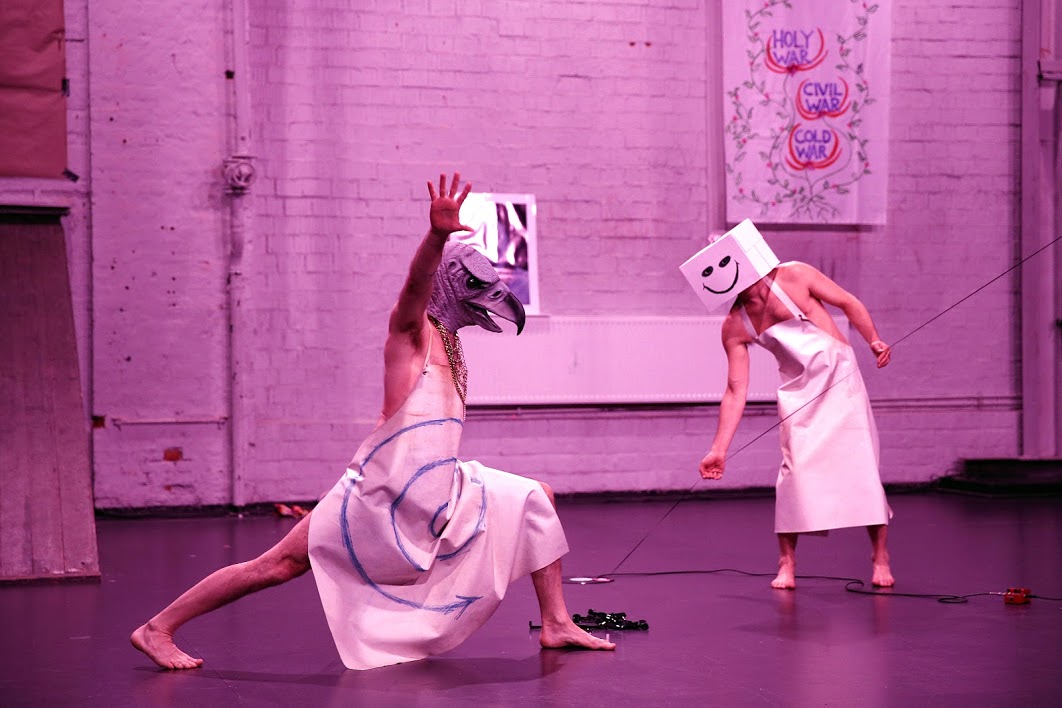 48H Can you talk a little bit about building the visual vocabulary for this show? There are these really vibrant floral patterns, masks, drones… 


One of the things about our drones is that none of them work — they're broken. They don't fly, they just limp around the room. 

We keep thinking of the broken drones as a kind of oracle. We set them into motion and then we watch how they interact the way one might read coffee grounds or a palm. 
The masks? I've been trying to get "the face" out of my work in a lot different ways for a number of years. But one of the things we came up with is that maybe we needed to go to folk tales of the Middle East and then we decided to look at animal tales. And then we thought, "Maybe we'll write a play — a dialogue between two animals." We bought two animal masks, brought them to the studio and it never quite worked. We're not mythologists. We're not playwrights.
So out of frustration I was like, "Look I'm just going to make a mask out of this cardboard box," and I drew a happy face on a cardboard box and I stuck it on Jassem's head. And somehow, the box talking to a bird was actual difference, instead of two animals talking to each other. By wearing a box on your head to talk to a bird you can actually have a cross-cultural conversation. 
48H What kind of experience are you hoping to create? How are you hoping people will engage with future friend/ships?

I think we're definitely trying to create space outside ordinary time and space. There's a ritual aspect to that. Some of the way we're doing that is creating a space that's nice to hang out in. We want to offer ways for people to arrive and shift their quotidian concerns, to be able drop in for an hour and into a place where things are not what they seem to be. And I think we're doing a lot of playing with the gaze and what people see.
I think that all I ever hope for in any piece is that by dropping into non-ordinary time and space some new insight or some new feeling, some new sensations and new information might come to people. 


FUTURE FRIEND/SHIPS

Fri/15 through Sunday, Dec 17

8pm, $15-$25

CounterPulse, SF
Tickets and more info here