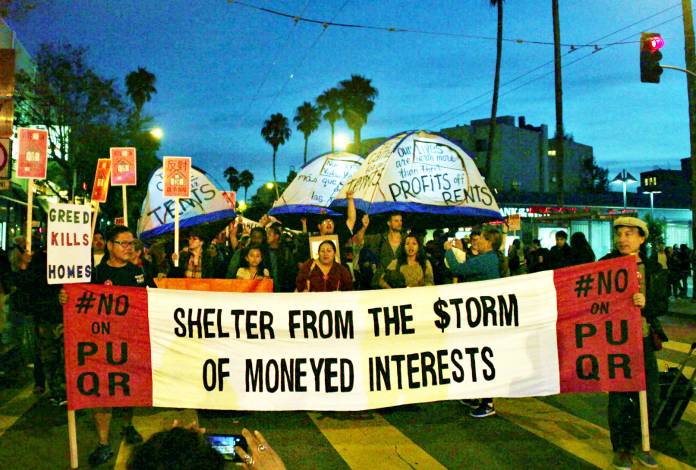 The supes decided today to once again delay a decision on the 117-unit luxury condo project at 2675 Folsom, as the developer and community leaders continued to meet to see if there could be some kind of a deal.
At the same time, a new study by researchers at the University of California takes a hard look at the role so-called "transit-oriented development" plays in displacement, particularly in places like the Mission.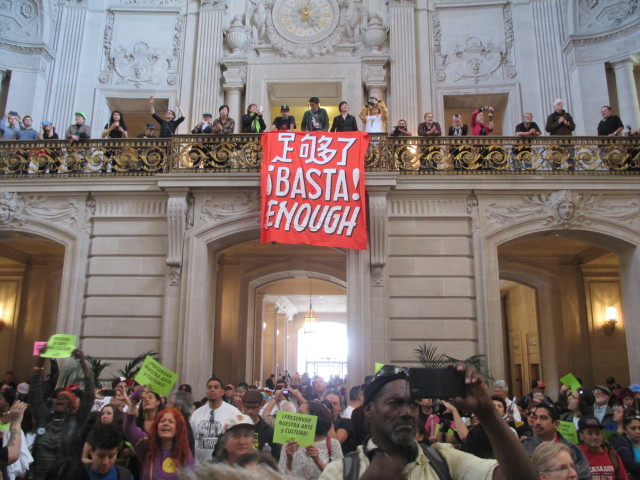 The study doesn't make dense new market-rate housing in the neighborhood look like such a good idea.
The March 24 study, led by Karen Chapple, a professor of City and Regional Planning at UC Berkeley, runs about 400 pages and is packed with complex economic data. It takes a long time to read, and like many academic reports, is cautious about its conclusions.
But it makes a few remarkable statements that are not generally part of the San Francisco City Planning Department's analysis of housing development.
"This study," Chapple writes, "produces the strongest evidence to date of the relationship between transit-oriented development and displacement."
Chapple is not a radical anti-development type. The report is nuanced, and carefully stops short of opposing market-rate housing in transit corridors. It's full of the sort of language these papers often have — the data is not always conclusive, more work needs to be done, some regions are different than others. Yep. This is complicated.
But there are some facts on the ground that we need to discuss.
The study was funded by the California Air Resources Board as part of the state's effort to figure out how to cut greenhouse gases – in part by cramming a lot more dense housing into urban areas with good transit access.
The problem, of course, is that a lot of that development will go into areas that have existing vulnerable populations – and if it's done wrong, which it often is, the study notes that those populations will be forced out:
Overall, we find that TOD has a significant impact on the stability of the surrounding neighborhood, leading to increases in housing costs that change the composition of the area, including the loss of low-income households.
The study doesn't say that transit-oriented development always displaces people; in detailed studies of Los Angeles and the Bay Area, it concludes that sometimes gentrification is caused by other factors, and development isn't the only reason for it.
But it notes that:
TOD tracts in the Bay Area are changing more in the direction of gentrification than non-TOD tracts.
There's a good reason for that:
The reduction in transit costs is also thought to increase land values.
That discussion was entirely missing from the debate around the Google buses. Sure, the buses get cars off the road, which is good. But they also make housing along the routes that they serve much more desirable to people who work in tech companies on the Peninsula, and many of those workers can pay more rent than the existing residents of the Mission. Thus: Evictions and displacement along the Google bus routes.
Then you get the interesting question of whether market-rate development near transit actually makes the greenhouse gas problem worse. The study looks at Vehicle Miles Traveled, which means how much people drive, and lover VMT are good.
If a lot of development takes place near rail lines (like BART), the residents are less likely to drive. But if, in the process, the development forces existing lower-income residents to move further away for affordable housing, and they have to drive to work, you actually see more VMT, undermining the whole idea of transit-oriented development:
Regional Vehicle Miles Traveled are likely to increase "if gentrification results in a reduction in the population living near rail."
That is: Richer, smaller households move in. Poorer, larger households move out.
A statement from the Mission Economic Development Agency, Calle 24, and five other community-based organization notes that the Mission fits perfectly into that definition:
Between 2000 and 2012, while the rest of the city population rose, the Mission lost 4.8 percent of its population, median income increased by 48 percent (gentrification), and households with cars rose from 37 to 64 percent.
The other critical conclusion of the study – which seems to be obvious to everyone except city planners and supporters of more market-rate housing – is that "upzoning" – that is, increased density in specific areas, like the Divisadero St. corridor – is not necessarily a good way to bring down housing prices.
When the city upzones parcels, the study notes, property owners get a windfall – and are likely to charge more for the land that can be developed into housing. Simply put, upzoning drives up land values – and since the cost of land is one of the defining reasons that new housing is so expensive, maybe making land more expensive isn't such a grand idea.
The community groups note that "this new displacement research is unfortunately absent from the City's socioeconomic report on 2675 Folsom St."
Whatever the deal on this one project, this is the kind of discussion we need to have. In some parts of town, like 23rd and Folsom (and 16th and Mission) new market-rate housing and the upzoning to make dense projects happen will absolutely drive up land values nearby. That will absolutely lead to evictions, rent hikes, and displacement of existing residents.
Is there a way to build housing in transit corridors, to keep people out of their cars, without forcing existing residents to move further away and drive their cars much more? Maybe – but San Francisco, where private developers set the agenda, hasn't managed to find it.