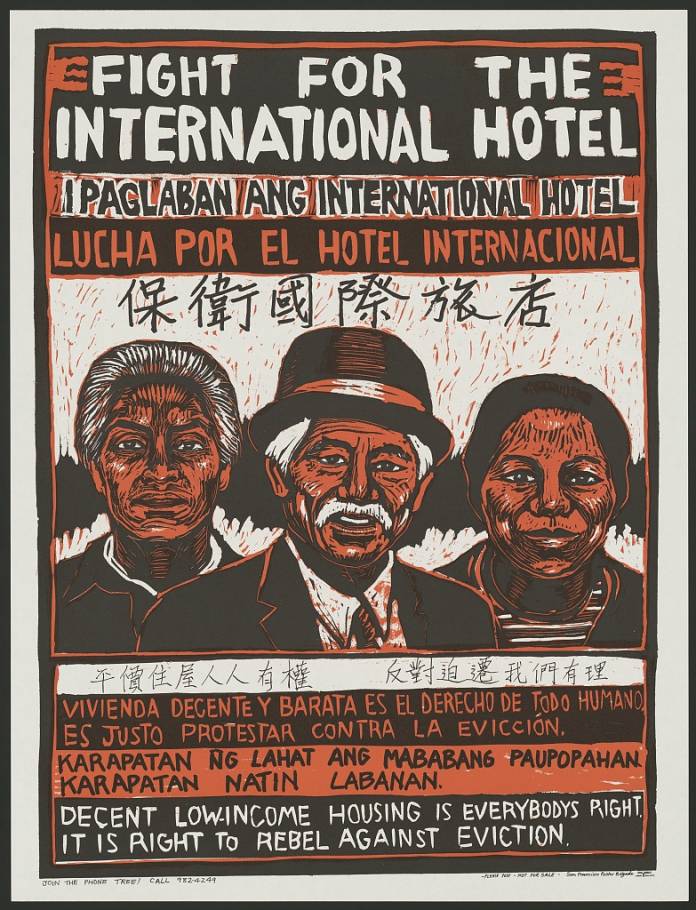 On August 4, 1977, a piece of San Francisco's heart was torn out. At midnight, the San Francisco Sheriff's Office broke down the door of the International Hotel, the heart of San Francisco's Filipino Community, and physically evicted 55 mostly elderly, low-income residents.
It was a dramatic moment in San Francisco political history. Five Thousand protesters surrounded the building. Sheriff Richard Hongisto at first refused to carry out the eviction order, and spent five days behind bars in his own jail before relenting – and leading the eviction, breaking down the door himself with a sledgehammer.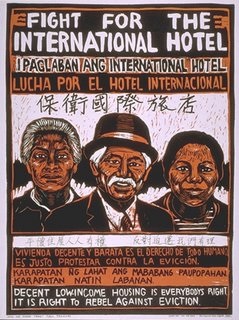 Mayor Dianne Feinstein sided with the Thailand-based real-estate investor who was parking his money in the I-Hotel. Her appointees on the Planning Commission and the Board of Appeals voted in favor of the demolition, despite the fact that the owner of the property (who was trying to park his money in the US) had no plans to replace the building.
For more than 20 years, it sat there as a whole in the ground and a symbol of the failure of the city's housing policy. Finally, in 2003, community-based organizations got the property back and rebuilt the hotel as low-income housing.
On Friday/4, the Manilatown Heritage Foundation will hold a commemoration at the new I-Hotel, featuring the amazing documentary film "The Fall of the I Hotel," with a presentation by filmmaker Curtis Choy.
Here's the schedule of events:
Opening Remarks:  Tony Robles, Manilatown Heritage Foundation Board of Directors president
Unveiling of Chewang chi Biyeg Tapestry: Kalinga Master Weaver Jenny Bawer Young and Kalingafornia Laga
Original Defenders Panel
Moderated by Emil Guillermo, Journalist
  Guest Panelists:
    Emil DeGuzman , I-Hotel Tenants Association President
    Estella Habal, Author "San Francisco's International Hotel: Mobilizing the Filipino American Community in the Anti-Eviction Movement"
    Pam Tau-Lee , Co-Founder Chinese Progressive Association
    Juanita Tamayo-Lott , Community Activist
  Screening of "The Fall of the I-Hotel" with Director Curtis Choy
   Current Housing Rights Activists Panel  
     Moderated by  Joy Ng , Veterans Equity Center
   Guest Panelists: Angelica Cabande, Organizational Director of South of Market Community Action Network
    Theresa Imperial, Veterans Equity Center Housing Case Manager
    Tony Robles, Senior & Disability Action Housing Organizer
   Candlelight Vigil led by Emil DeGuzman
6pm to 9pm, 868 Kearny St.