PARTY RADAR I don't wanna make too big a deal about it, because I love the close family vibe—but what the hell, if you aren't out club-hopping on Wednesday nights in San Francisco, you're missing some of the best DJs and most adventurous clubs on offer. Here's a brief rundown of my favorite Wednesday weeklies:
MUTANTE From psycho-rave to womb-pulsing bass, the hot weirdos (Xango, NOFI, and Tom Ass) behind this weekly Lone Star Saloon jam get off on otherworldly obscurities, with awesome theme nights like "Amyl House" and "Thot Night." 
KOSMETIK Hero technoists Matthew Paul and Jordee (who also curates the monthly Mixed Forms party, happening Sat/17), host some insanely talented international and local players to lay down cutting-edge techno tracks at the Stud. 
HOUSEPITALITY The grand-daddy of midweek rave-ups, going on for almost 10 years now and bringing in some of the biggest names in house, techno, and bass. Those names, however, don't kill the intimate vibe, present even when 400 people are lined up out the door. (And the Housers make sure to book a ton of locals.) I do love this party so much.
BONDAGE A GO-GO A polyamorous playpen that features killer tunes and actually interesting go-gos. The weekly just celebrated its 25th anniversary (!!!)—it's just behind out longest-running weekly club, Death Guid, in that respect—and offers a fantastic space for all body types and body lusts. Go get hog-tied! (Or just oscillate wildly.) 
So go out already!
OTHER PARTIES OF NOTE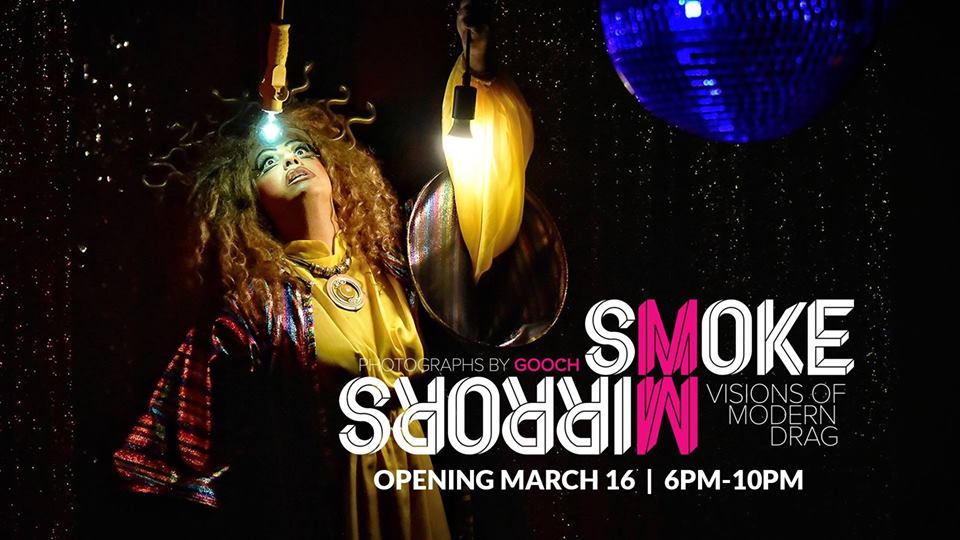 FRI/16 SMOKE AND MIRRORS: THE NIGHTLIFE PHOTOGRAPHY OF GOOGH Goochis everywhere on the scene, and I cannot wait to see his photos of incredible drag and party moments. "Smoke + Mirrors explores performances from the sublimely beautiful to the beautifully grotesque!" 6pm-10pm, free. Ravot Gallery, SF. More info here. 
FRI/16 TWO ANNIVERSARIES, ONE PARTY I'll be playing some extra-special '80s tunes at this party for the GLBT Historical Society (celebrating 33 years) at the GLBT History Museum (celebrating lucky seven years). Drag goddess Landa Lakes performs.  Come support! 7pm-9pm, $10. GLBT History Museum, SF. More info here. 
FRI/16 JOSH WINK The sock-hatted guru of rave has gone through a few evolutions, but has always kept his distinct ear for quality party techno. "Higher States," still bangs, of course. 10pm-4am, $20. Monarch, SF. More info here. 
FRI/16 RØDHÄD Sure it's cliche, but imagine a mighty bearded Viking pounding at your viscera with up-to-the-minute techno, and you'll have an accurate description of this German festival fave. He's actually very sweet and keeps it underground, tho. With Jason Kendig. 9:30pm-4am, $20. Great Northern, SF. More info here.  
FRI/16 MAKEOUT PARTY Pucker up, queers: another monthly installment of the lip-locking dance party is upon us. With two DJs I adore, Elaine Denham and Robin Malone Simmons. 10pm-2am, $10. the Eagle, SF. More info here. 
FRI/16 CREATURE Amazing party full of fluid genders, sloppy genres, fantastical outfits, demonic drag, and so much more. Basically The Shape of Water set in Liquid Sky. This month's theme? Future/Present with Shannon Funchess of Light Asylum. 10pm-4am, $10. The Stud, SF. More info here.   
SAT/17 MATMOS The insanely creative duo helmed SF's experimental-electronic scene in the 1990s, went on to tour with Bjork and drag pianos across the desert, make an album with a washing machine, and all kinds of thing-a-ma-jigs. A rare appearance by two of my favorite musical minds. 8pm-11pm, $10. San Francisco Conservatory of Music. More info here.  
SAT/17 COURTESY The Mixed Forms party stands by its name, bringing together people from all over the scene for some of the most interesting music. This month: Danish sensation Courtesy brings her impeccable selections to the deck. 10pm-4am, $15. The Stud, SF. More info here. 
SAT/17 BONDAX When these young Brit brothers popped up on the scene several years ago I was obsessed with the way they rode the popular R&B house wave to wonderfully uplifting and unique shores. Glad they're back, cannot wait to hear what they're up to. 9:30pm-2am, $10-$25. Audio, SF. More info here. 
SAT/17 ESSAIE PAS "Essaie Pas will be a godsend if you like pulsating electronic dance music past and present, from Sheffield to Dusseldorf and beyond: the dystopian synth-futurism of early Human League, Cabaret Voltaire circa Sensoria, Propaganda's Teutonic lullabies, Giorgio Moroder's theme from Midnight Express." Bring it. 9:30pm-3am, $15. Monarch, SF. More info here. 
SAT/17 FRINCE ST. PATRICK's DAY BASH I had to throw a St. Paddy's Day party in, duh. Join DJs Blondie K & subOctave at Madrone for one of the most fun indie dance parties in town, with tons of giveaways and singalongs. Oh, and free green glow rings. 9pm-2am, $5. Madrone, SF. More info here. 
SAT/17 DADIVERSARY WITH CARRIEONDISCO Too-cute DJs Kelly Naughton and Michael Romano have been throwing their too-cute gay DAD disco party at too-cute Driftwood bar for a full year, and they're bringing in the incredible CarrieOnDisco to set the decks aflame. 9pm-4am, $5-$10. Driftwood, SF. More info here. 
SAT/17 SURFACE TENSION LATE NIGHT One of our sharpest-eared techno crews is presenting "a two-room, all-night dance party featuring its four resident DJs selecting left-of-center electronic music well into the wee hours of the morning." This will close out the CounterPulse Festival with a bang. 11:30pm-6am, $10. CounterPulse, SF. More info here. 
SAT/17 BEATPIG Um. "Legend has it that St. Patrick banished all snakes from Ireland with his shaft. Funny, at this party there's plenty of shafts being swung at snakes, too!" 10pm-2am, $5 benefits Transgender Law Center. Powerhouse, SF. More info here.  
SUN/18 DISCO DADDY SYLVESTER TRIBUTE DJ Bus Station John knows how disco divas inside and out, and his legendary Sylvester tribute nights bring out not just the familiar bangers but rare grooves our #1 hometown soul sister gifted us before his departure. 7pm-2am, $5-$7. Eagle, SF. More info here.
SUN/18 DAYTIME REALNESS Air out your wig, let your makeup dry naturally, and get a little flush in those cheeks, as our daytime drag party returns, with DJs Stanley Frank, Siobhan Alovalot, and Vin Sol. 2pm-8pm, $10. El Rio, SF. More info here.  
SUN/18 BRUNCH WITH NIC FANCIULLI AND SKREAM Not sure who will be eating, but this Midway daytime party with one of techno's big names and post-dubstep poster-boy Skream should be banging. 11am, $15-$25. Midway, SF. More info here.