SCREEN GRABS Cinephiles might want to spend their entire weekend at the Roxie, which is offering the awesome revival series "Dark Side of the Dream" as a collaborative effort between former Roxie programmer Elliot Lavine's I Wake Up Dreaming and current one Don Malcolm's Midcentury Productions. But not everybody likes that sort of thing (PS what's wrong with you?!), so here are some other delectable choices in what's quite a rich week for movie lovers. Which judgment includes the arrival of Isle of Dogs, a new animated film by nearly the only American director (Wes Anderson) we allow to be a weirdo on a major-studio budget, and whose last venture into this particular form (The Fantastic Mr. Fox) was absolute gold. 
PAPER MOON & BARRY LYNDON 
Were the 1970s great for movies? Damn straight, as exemplified by this one-night Castro double bill of two incredible films that were popular successes at the time, though they're both far too idiosyncratic to attract a wide audience now. Peter Bogdanovich's 1973 Paper Moon was an outright hit, despite being a B&W Great Depression seriocomedy about a dubious alliance between a con man (Ryan O'Neal) and the child he "adopts" primarily as a business partner (Tatum O'Neal). It would prove Bogdanovich's (The Last Picture Show, What's Up Doc?) last hit for over a decade, until Mask (1985). 
There was a more mixed response to Stanley Kubrick's much more costly 1975 Barry Lyndon, with Ryan O'Neal as the titular early 19th century rogue who charms his way from humble beginnings to marital wealth. Nonetheless, it was a relative box-office success—an near-unthinkable result now for a three-hour period epic of glacial pace and emotional remoteness. One of Kubrick's more divisive efforts, it remains a thing of extraordinary, hypnotic beauty to some, a flaccid indulgence to others. No one has ever doubted the extraordinary effects achieved by director of photography John Alcott. Even those who found the Thackeray-based saga a stilted bore had to admit it was a ravishing one. Sun/25, Castro. More info here. 
FILMS BY SALLY CRUIKSHANK
I guess there's still some hippie weirdness left in Berkeley: Where else would a public institution program a retrospective of films by the marvelous Cruikshank as a kiddie matinee? Not that the wee ones won't enjoy it… but you may have to explain the concept of "head film" afterward. Her antic, insanely colorful, humorously surreal sensibility proved adaptable to such mainstream outlets as Sesame Street and several big feature assignments, contributing animation elements to films like Twilight Zone: The Movie and Top Secret! But she will always be the idol of High Times readers for her very trippy 'toons starring quarrelsome critter couple Quasi and Anita: Quasi at the Quackadero (which is in the National Film Registry!) and Make Me Psychic. Fear not for your children's herbal wellness: Even a pot-o-phobe like me can't get enough Cruikshank. Sat/24, PFA. More info here. 
QUE VIVA MEXICO!
If you stick around at the PFA after the hour of Cruikshank madness, you can tally a double bill arguably even higher-contrast than Paper Moon and Barry Lyndon. Que Viva Mexico! was genius Russian filmmaker Sergei Eisenstein's attempt to make a six-part, semi-documentary epic about Mexican history and peasant struggle. But the funding ran out, among other problems, leaving him with fifty hours of footage that were only exhibited in fragmentary form during his lifetime. 
Decades later, surviving collaborator Grigori Alexandrov edited that raw footage into a feature based as closely on Eisenstein's intended structure as possible. The result naturally isn't entirely complete, or cohesive. But it's full of stark, stunning B&W images like nothing anybody else was creating in 1931. They suggest what a phenomenal career the Soviet maker might've had abroad if politics and commerce hadn't conspired to hobble his genius—and place him at the fickle mercy of Stalin's cultural watchdogs. This "Film to Table" screening is followed by a "four-course, prix-fixe meal in a convivial, dinner-party atmosphere" at the PFA's cafe Babette. There's a reprise screening (without attached dinner) on April 4. Sat/24, PFA. More info here. 
RAMEN HEADS
If like me you more or less abandoned Italian pasta for various Asian noodles some time ago—were udon always hiding in the supermarket? How could they have eluded notice for so long?!?—you will probably drool at the very thought of this new documentary. It lets Japan's "Ramen King" Osamu Tomita take us on a "tasting tour" of the slurpable starch's master chefs, while also filling us in on its history and fanatical fans. In a word (well, sort of a word): Mmmmmm. Opens Fri/23, Opera Plaza and Shattack Cinemas. More info here.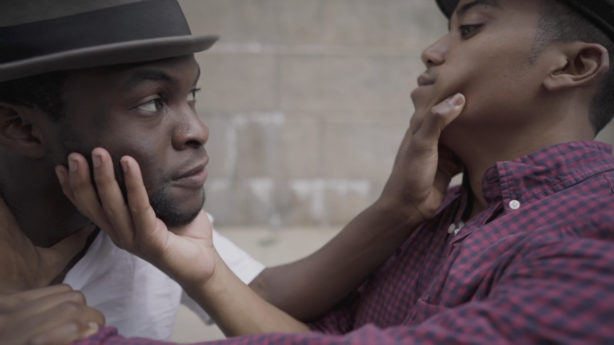 TINY DANCE FILM FESTIVAL
The fourth annum of this dance-oriented mini-festival reminds me of a great line by rock critic Robert Christgau, reviewing the album in which Elton John's hit "Tiny Dancer" first appeared: "Just how small is she?" But there will be no Elton (as far as we know) in this showcase for "the complicated relationship between body and lens—and the choreographers who traverse both forms." The three distinct programs, all comprised of shorts under ten minutes' length, encompass work by not just American talents but ones from as far afield as Norway, Slovenia, Singapore and Italy. Sat/24-Sun/25, Roxie. More info here. 
FLOWER 
One of the most flummoxing critical and audience failures of recent years to my mind was Max Winkler's directorial debut Ceremony (2011), a wickedly astute sort of latterday screwball comedy in which a neurotic loser (Michael Angarano) pulls every dirty trick in the book to win back the woman (Uma Thurman) he's obsessed with. So there's hope for this new black comedy in which an already edgy teen leaps off the cliff of irresponsible behavior once her mom's boyfriend's crazy son renders home life untenable. It's co-written by Matt Spicer, whose own directorial debut Ingrid Goes West was one of last year's more adventuresome American movies. Opens Fri/23, Embarcadero and Shattuck Cinemas. More info here. 
THE KING OF KINGS
For decades a staple in church basements and revival tents, Cecil B. DeMille's 1927 Biblical epic is rarely seen today. San Francisco Silent Festival very special screening of this newly restored Biblical epic, partly shot in two-tone Technicolor, features David Briggs playing live accompaniment on Grace Cathedral's 7,466-pipe (!) organ. This reverent depiction of New Testament events, with H.B. Warner as Jesus, is no Passion of the Christ—you won't risk vomiting from all the torture. Sat/24, 7 pm, Grace Cathedral. More info here.