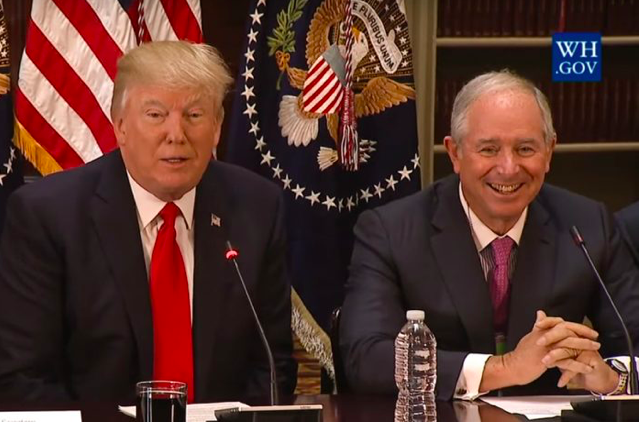 A giant New York real estate group with ties to Donald Trump hads dumped $100,000 into opposing Sup. Jane Kim's universal child-care measure.
The No on C and D committee, called (ironically) the Committee for an Affordable San Francisco, has focused much of its advertising efforts on defeating C, which would raise the city's tax on commercial real estate. Prop. D would also raise that tax, but not by as much – and needs two-thirds of the vote to pass.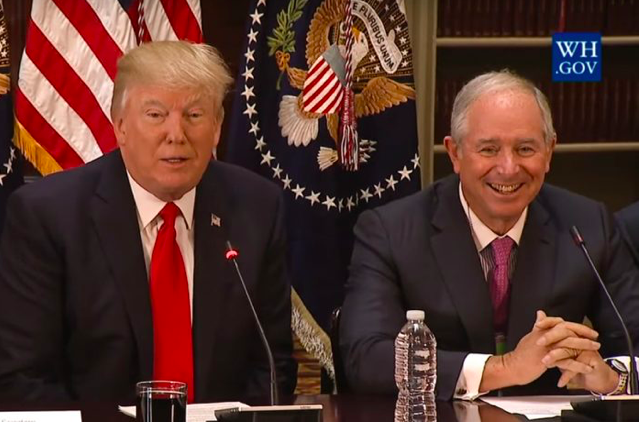 The committee has already raised more than $1million, much of it from local owners of commercial real estate.
But the donations from Blackstone and its affiliates are interesting because that giant operation has close ties to Trump.
In fact, Blackstone has partnered on deals with the family real-estate business of Jared Kushner, Trump's son in law and close adviser. The company has become one of the biggest sources of investment capital for the Kushner companies.
There's even a weird spooky connection between Blackstone, Trump, and Blackwater– the secretive private security firm founded by Erik Prince, whose sister, Betsy DeVos, is Trump's education secretary.
Oh and Blackstone was part of the deal that transferred ownership of One Market Plaza without paying transfer taxes.
So that's who is trying to derail universal child care in San Francisco.
The San Francisco Democratic Party is responding to a recent mailing from the London Breed for Mayor campaign that states that "Democrats all agree vote London Breed for mayor."
In fact, the local Democratic Party endorsed Mark Leno and Jane Kim, and Breed withdrew her name from consideration for endorsement.
In a statement posted tonight, the party's executive committee says:
As with any contentious election cycle, San Francisco voters are being inundated with information about candidates and campaigns. We find ourselves, much like you, wading through mailers, deciphering political action committee (PAC) groups and who's funding them, and matching up campaign rhetoric with actual record.

This volume of information can be confusing to voters, which is why the San Francisco Democratic Party wants to be clear about who we are supporting for Mayor of San Francisco — Mark Leno (#1) and Jane Kim (#2).

These two received the endorsement of the San Francisco Democratic Party because we believe they both represent a new direction for San Francisco — a direction that will help address some of our city's toughest challenges.

At a time when the Trump administration continues to spew divisive rhetoric and promote corrosive policies, San Francisco Democrats are standing true to our values -a sanctuary city for all, healthcare for all, and opportunity for all. We must do the work of engaging and growing our Democratic base. Not feed into the rhetoric or pander to the fears of Donald Trump's Republican Party.

San Francisco Democrats, let's make our voices heard on June 5th. You can find a list of our official endorsements at www.sfdemocrats.org. However you feel, whatever you do, please vote. The future of our city depends on it."
David Campos, who chairs the Democratic County Central Committee, told me that the Breed mailer is "very misleading.
"It's not the case that all Democrats support this candidate," he said. "The Democratic Party did not support her."
The Breed campaign has not yet responded to my request for comment.