ONSTAGE Waiting after school for his mother to pick him up after a high school French club meeting, Rotimi Agbabiaka—whose new show Manifesto plays at the African American Arts and Culture Complex Fri/21—ended up in an audition. He got cast as a hotel clerk, and for the rest of high school, performed in all the shows the theater department put on. Agbabiaka and his family had moved to Texas from Lagos, Nigeria, a few months before that, and theater seemed like a welcoming place for him.
"It was a way to play out roles and try on personas and find a place in a new society," he said. "Going to high school in suburban Texas, theater was a place that celebrated the strange and different, and I felt different as a foreign student."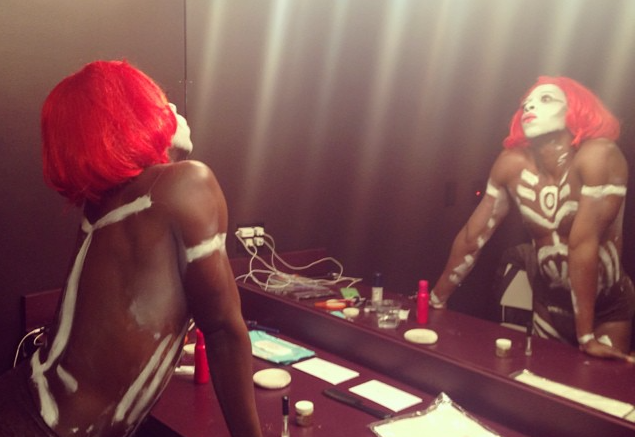 Agbabiaka majored in journalism in college with plans to go to law school. But the draw of acting was too much. A wonderful experience with a program called Shakespeare at Winedale sealed his desire to act for a living.
"We spent three months in the Texas countryside doing theater in what felt like the middle of nowhere," he said. "We were creating these worlds and made our own costumes and performed in a 19th century barn. There was this purity and simplicity that I found moving and exciting and made me want to pursue acting as a career."
And that's what he's done. Agbabiaka appeared Off Broadway in If Pretty Hurts Ugly Must Be a Muhfucka and has performed with the Magic Theatre, American Conservatory Theatre, Brava Theater, Shotgun Players, and the California Shakespeare Theatre. He's a collective member of the San Francisco Mime Troupe and his solo shows include Homeless, and Type/Caste.
He also teaches theater at a variety of places including the Performing Arts Workshop, Cal Shakes, the San Francisco Mime Troupe's Youth Theatre Project, and Middlebury College. June 21 his latest solo show, Manifesto, appears at the African American Arts and Culture Complex as part of the Queer Arts Festival. It will examine what theater means to him now.
"I think Type/Caste was about an artist on the outside looking in," Agbabiaka said. "Manifesto is about someone who's gotten in a little, but is not totally fulfilled or sure there's been progress in theater. Now usually there is sort of diverse programming, but there's still a lot of dissatisfaction and you still hear stories of people who feel marginalized and feel voices aren't being heard."
As the show notes put it, "As the entertainment industry extends a welcoming hand to this previously excluded queer, black actor, he must decide whether to pursue the trappings of mainstream success or remain an outsider artist on the road less traveled. 'Manifesto' speaks, sings, and screams its way to an art form capable of taking on the unhinged forces of racist, fascist, capitalistic foolishness … and winning."
In the show, some artists appear to help guide Agbabiaka to his vision of a manifesto, a "spectacular reckoning" with his situation. These artists—like writer James Baldwin, singer Nina Simone, and musician Fela Kuti—mean a lot to Agbabiaka because of their revolutionary spirit and the way they challenged power structures, he says. Baldwin said the purpose of art to lay bare the questions that have been hidden by the answers, and Agbabiaka says in Manifesto that's what he's trying to do: ask questions about theater and art.
Agbabiaka is working with the same director on this piece that he worked with on Type/Caste, Edris Cooper-Anifowoshe, and he says it's invaluable to him to have her perspective and her eye. The two have co-directed show for the Mime Troupe and Cooper-Anifowoshe calls them artistic twins.
"I did my show Traveling While Black at Brava and Rotimi came, and I could see him almost falling off his chair," she said. "We laugh at the same kinds of things and kind of snarl at the same kinds of things." Cooper-Anifowoshe says she appreciates Agbabiaka's willingness in solo shows to do as many characters as he needs.
"Rotimi is an amazing performer," she said. "I come in to be on the outside and make sure transitions are clean from one character into another. I want to keep that sharpness. That's why you need a director for a solo show. You need an eye to make sure everything is making sense from a visual point of view. The pleasure is in helping to develop it. He throws a lot on the table, and I like messing with it and flipping it upside down."
MANIFESTO
African American Arts and Culture Complex
June 21
For tickets and more information