SCREEN GRABS The big news in Bay Area moviegoing this week is the annual arrival of the Frameline LGBTQ film fest, which we previewed here. But that aside, there's so much opening that we were only able to catch a few new titles. Among those we didn't catch are The Quiet One (at the Clay), about lower-profile Rolling Stone Bill Wyman; another documentary, Ghost Fleet (Opera Plaza), which examines the phenomenon of modern slavery in the Far Eastern fishing industry; and a third, This One's for the Ladies (theater TBA), about a primarily African-American "male exotic dance" scene in Baltimore and New Jersey, and their avid female fans.
Being Frank (Embarcadero) is a comedy with Jim Gaffigan as a closet polygamist whose two separate families find out about each other. Then there's the big new animation feature of Toy Story 4 (at area theaters), and a small one in the form of critically acclaimed French feature Funan (at the Roxie), which is about the very non-Pixar subject of Cambodia's brutal Khmer Rouge regime.
Elsewhere (all opening Friday unless otherwise noted):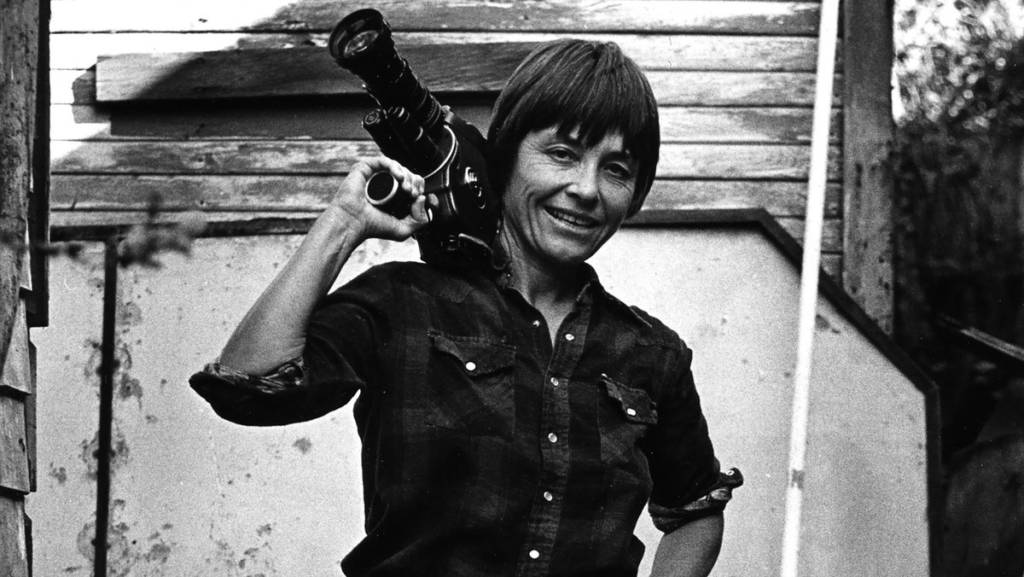 Remembering Barbara Hammer
After a very long battle with cancer, Bay Area favorite Hammer passed away three months ago, bringing to an end a prodigious and trailblazing body of screenwork that—despite the diversity of her subjects—was very much from a lesbian perspective. Indeed, early films like 1974's Dyketactics, as well as later features such as Nitrate Kisses and History Lessons, often broke new ground in covering hitherto underrepresented communities and material, not least the graphically sexual. Program details on this co-presentation by SF Cinematheque and Canyon Cinema weren't yet available at presstime, but you can expect the "special memorial screening" to offer a representative sampling of Hammer's work over a nearly fifty-year course. Thurs/27, Yerba Buena Center for the Arts. More info here. 
Be Natural: The Untold Story of Alice Guy-Blache
In its early days, filmmaking was considered a rather lowbrow pursuit, scorned even by many in working in the legitimate theater. This had the unintended effect of providing real opportunities for advancement for women, who might have found the door closed to them in other, more boys-clubby artistic pursuits.
Thus one of the leading directors of was Guy-Blache, an innovative and prolific figure who made films as early as 1896, and as late as 1920—but while she lived for another half-century, her career never revived in what was by then a "man's business." Pamela B. Green's documentary excavates this under-appreciated pioneer's path from France to the US and back again, en route building her own production company and studio. While many of her films are now lost, The Untold Story uses surviving excerpts and interviews with Guy-Blache herself (much later in life) to reconstruct an absorbing biogaphical appreciation. Starts Sat/22, Roxie. More info here. 
Fritz Lang's America
Another filmmaker who successfully crossed the Atlantic was Lang, who fled Nazi Germany (his wife was Jewish) in the mid-30s. But the films he made in the US were not at all like the often epic and spectacular ones he'd done in Germany's silent era—though 1931's M did offer some hint of his future direction. Instead, he started out making hard-hitting social justice dramas (Fury, You Only Live Once), then gradually drifted towards cynical noir melodramas (The Big Heat, Scarlet Street, et al.) that remain among the best of their type. Fri/21-Sun/August 11, Pacific Film Archive. More info here. 
Cine Manifest: A Radical 1970s Film Collective
This shorter PFA series documents the output of seven Bay Area filmmakers who decided to pool efforts in order to put their politics onscreen in a non-didactic way. Their one breakout success was John Hanson and Rob Nilsson's 1978 Northern Lights, a Cannes prize-winner about a movement against corporate exploitation of farmers in 1915 rural North Dakota. That B&W drama was a significant precursor of the "American independent" cinema that would explode in the next decade.
Much lesser-seen have been the same directors' The Prairie Trilogy, a series of related documentary shorts, and Eugene Corr, Steve Wax and Peter Gessner's 1977 Over-Under, Sideways-Down, about a working-class couple who find the deck stacked against them amidst hard times in East Bay. Lastly, there's Judy Irola's 2006 Cine Manifest, a fond, funny if not always flattering look back at the group's heady run by its sole female member. Surviving filmmakers will be in attendance at all screenings. Thurs/20-Sun/30, Pacific Film Archive. More info here. 
The Raft
Of course, not everybody spent the 70s trying to solve economic inequality. Some people spent much of the Me Decade having sex, thinking about sex, or even traveling across the Atlantic on a "sex raft" designed as a social experiment by Mexican anthropologist Santiago Genoves. It was supposed to explore "aggression" amongst people in a cramped setting sans privacy—although given that the multi-national six female and five male participants were chosen partly for their photogenic youth and beauty, this seems more like an early version of Big Brother than, you know, science.
What was expected to be a bacchanal turned into something else, as the "cast members" (also interviewed here decades later) eventually turned against their dictatorial "director," bonding with each other in opposition to Genoves. It's an absorbing real-life tale of alleged research run amuck. Alamo Drafthouse. More info here. 
Asako I & II
One of the films that excited the most interest at Cannes last year (and SFFILM this year) was fast-rising Japanese director Ryusuke Hamaguchi's latest. It's a cryptic, lightly comedic romance in which young Osaka resident Asako (Erika Karata) falls in love with Baku (Masahiro Higashide). But he simply vanishes one day, and the mystery deepens when two years later she meets his exact doppelganger, with another name, in another city. Don't expect any clear narrative answers in this methodically paced whimsy. 4-Star. More info here.