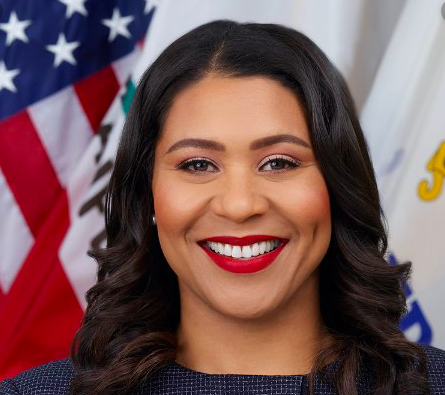 A press release from the Mayor's Office arrived in my inbox two days ago, to wit:
Mayor London N. Breed today joined City officials and community partners to launch the inaugural Love Our City Holiday Eco Blitz in downtown San Francisco. San Francisco Public Works and partnering City agencies are collaborating with community and business improvement districts on the Holiday Eco Blitz as part of the City's Love Our City campaign. Leading up to and during the holiday season, the Love Our City team will increase efforts to keep the City's busiest downtown and waterfront corridors clean for residents and visitors.

"I take great pride in San Francisco, and I want to make sure that we all do our part to keep the City clean and beautiful," said Mayor Breed. "We want everyone to have a safe and pleasant experience in our city. The Holiday Eco Blitz will help us keep our busy downtown corridors safe, clean, and welcoming during the holiday season. When we all work together, we can make San Francisco shine even more."

The 2019 Love Our City Holiday Eco Blitz begins today and continues until the end of the year. Crews will be on the job every day of the week focusing on popular commercial corridors and adjacent alleyways, boosting the regularly scheduled cleaning services in those areas.

Mayor Breed kicked off the program at Hallidie Plaza in front of the famed cable car turnaround along with San Francisco Public Works, San Francisco Municipal Transportation Agency, San Francisco Public Utilities Commission, the City Administrator's Office, San Francisco Recreation and Park Department, San Francisco Police Department, the Port of San Francisco, and the Office of Economic and Workforce Development. They were joined by their nonprofit partners, the Yerba Buena Community Benefit District (CBD), South Beach/Rincon Hill/Mission Bay CBD, East Cut CBD, Fisherman's Wharf CBD, and the Union Square Business Improvement District.

This program builds on the existing partnerships in the year-round Love Our City campaign. Community and business partners worked with Public Works to identify the Holiday Eco Blitz scope of work, which includes sweeping and steam cleaning sidewalks, clearing leaves and litter from catch basins, and removing illegal postings from poles. The program also includes pruning street trees and weeding basins, cleaning public trashcans and street furniture, sprucing up around bus stops, painting over graffiti, power washing roadways, and educating merchants and property owners about their responsibility to keep sidewalks clean.
This sounds to some people like a recipe for sweeping homeless people off the streets – similar to what the late Mayor Ed Lee did during the Super Bowl. "Sweeping and steam-cleaning sidewalks" often means removing people who are sleeping on the streets.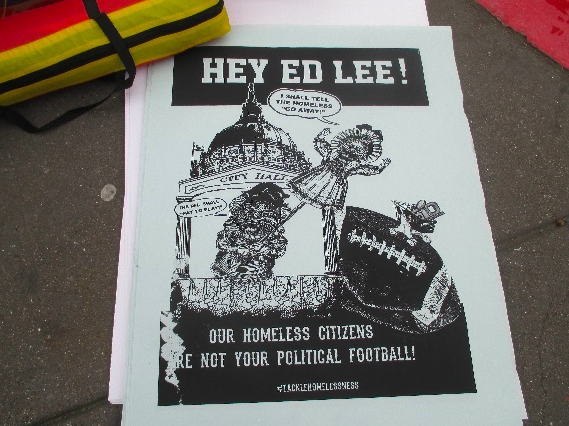 Here's what Paul Boden, director of the Western Regional Advocacy Project, had to say:
It is ironic as hell for the Mayor's Office to refer to BIDs/CBDs as "community partners" and "nonprofit partners" when in fact the Mayor's Office knows damn well, since they fund the start-up process and has a whole program "with a plethora of services" to support them, that BIDs and CBDs are one and the same  — with a different name. Corporate entities created by, run by and accountable to the largest property owners in "their" district (many, and in some case most, of which are corporations). The vast majority of people whose day-to-day lives are affected by BIDs are renters who have no control over the creation, funding, or decision-making of the district. This is problematic because BIDs narrow the range of activities permitted in public spaces to those directly conducive to consumption. All else becomes criminalized–especially the activities of poor and homeless people.

If the Mayor and these eight city departments wanted to join with true community partners and work to improve the lives of SF residents I seriously doubt the number one priority for a 24 hour, two-month, eight-city-agency campaign would be ridding downtown of poor and unhoused people so that shoppers will even further enrich the bottom lines of corporate SF.
From Jennifer Friedenbach, director of the Coalition on Homelessness:
Everyone enjoys clean sidewalks, especially the thousands of people who are forced to live on them because housing prices are out of their reach.  The flip side is that often cleaning streets is a cover for more homeless sweeps — but not always. We are hoping this effort to love San Francisco includes spreading love to unhoused San Franciscans, who are asking Santa Breed for a warm place to live this year.
Let's hope so. But I'm dubious.