I'm old enough to remember rappers on Fillmore corners and TURF dancers in Oakland intersections. The homeboys gathered on my stoop throughout the day passed blunts and cutty bangs, kept me up-to-date on the latest Divisadero news and looks. Most of that seems gone now. Thankfully, I've held on in Lower Haight, although I spend more time these days dodging double-prams rather than breaking out moves passing cars blaring Messy Marv.
But the spirit of hip-hop still remains in the Bay Area, even as it's gone hyper-global, with dance champion Micaya's kinetic, extraordinary SF International Hip-Hop Dance Fest (Fri/22-Sun/24 at Palace of Fine Arts Theatre, SF) going on its 21st edition this weekend. Just as the festival has expanded geographically, it's also taken on some timely themes: This year includes "religion, feminism, politics, technology, and the meaning of 'home.'"
"Under the umbrella of hip hop, this year's festival showcases work that draws variously from b-boying, breaking, popping, freestyle, locking, clubbing, housing, voguing, and urban choreography. The 2019 festival welcomes international artists from Paris, Norway, Austria, Montreal, Chicago, New York, San Mateo, and San Francisco. Nearly a dozen groups will take the stage at the Palace of Fine Arts Theatre mixing skillfulness with artistry and storytelling." Check it out, and bop along in your seat. There's even an after-party! Check out more info here.
MORE UPCOMING ARTS EVENTS
THU/21 FILM THROUGH THE WINDOWS: DOCUMENTING TWIN PEAKS TAVERN "With its plate-glass windows looking out on the corner of Castro and Market Streets, the landmark San Francisco gay bar Twin Peaks Tavern is not only one of the Castro's most beloved establishments, but also a living testament to the revolutionary idea that LGBTQ people should be seen and celebrated rather than hide in the darkness of alleys and behind blacked-out windows. Filmmakers Petey Barna and Bret Parker will present their new documentary about the history of Twin Peaks, featuring deeply personal interviews that illuminate the history of the bar." 7pm, $5. GLBT History Museum, SF. More info here.
FRI/22 NIGHTLIFE LIL LOUIE VEGA As one half of Masters at Work, he revolutionized house music in the 1990s with the Nuyorican sound. Don't miss this dance floor maestro and get ready to throw down. 9pm-2am, $25. The New Parish, SF. More info here.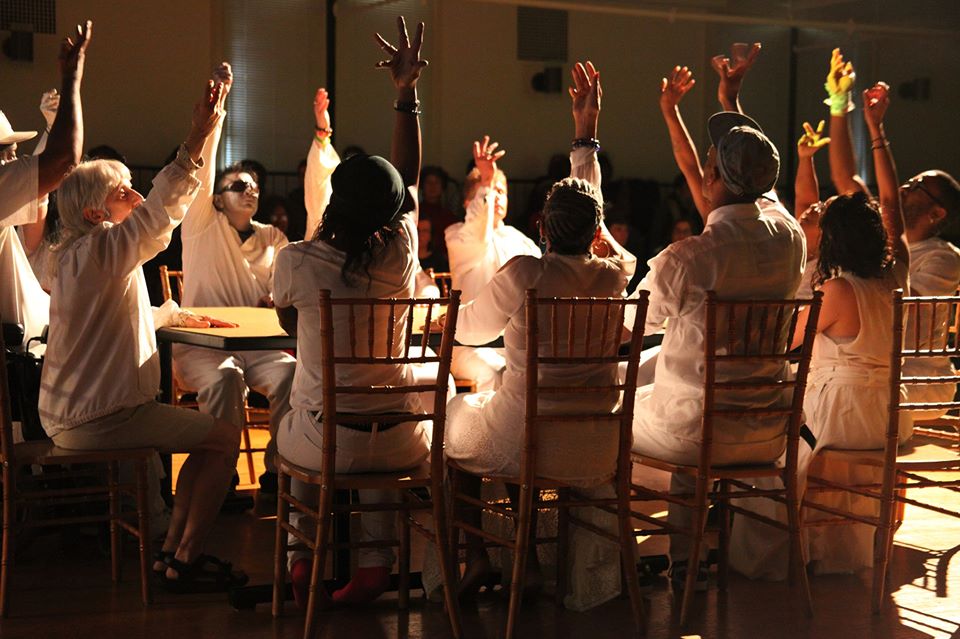 FRI/22-SUN/24 STAGE CAME HERE TO LIVE: RESILIENCE AND RESISTANCE IN THE CONTAINMENT ZONE "Created and performed by the Skywatchers Ensemble—an intergenerational, mixed-ability collaborative arts ensemble of Tenderloin residents and ABD artists—Came Here to Live is rooted in the stories, dreams, and challenges of its participants. Creating sublime theater that's equal parts protest and mourning, the Skywatchers Ensemble weaves personal stories—often illuminating stark truths—with visions of a revolution that will be led by those historically excluded from shaping culture and policy. Came Here to Live offers a vision of what is possible when we build new models for an inclusive and just society, embrace our intrinsic interdependence, and see our futures as interconnected." $15-$35. CounterPulse, SF. More info here. 
SAT/23 NIGHTLIFE FRANKIE FEST When the Godfather of House, Frankie Knuckles, left us a few years back, he left more than one dance floor's worth of tears in his wake. This party celebrates his Chicago house legacy, with DJs Eric Kupper, Hector Romero, and Kenny Summit. 9pm-4am, $20. F8, SF. More info here. 
SAT/23-DECEMBER 22 FESTIVAL GREAT DICKENS FAIR Ren Faire meets Burning Man meets burlesque meets Hallmark Channel at this sprawling event, which I originally approached with a skeptical, atheist's eye—but was immediately won over with hot hard cider, fencing lessons, and a stunning recreation of an old London pier. This thing is pretty magical and campy fun. Cow Palace, SF. More info here. 
SAT/23 MUSIC AGENT ORANGE YES! And our own Middle-Aged Queers will be opening. "The original Southern California punk/surf power trio, Agent Orange is one of only a handful of bands who have been continually active since the earliest days of the West Coast Punk Scene. A small circle of musical rebels who came together to form a movement, they took their place front and center to experience and participate in the explosion of now legendary underground music that was created during the golden era of American Punk Rock." 7pm, $20. Slim's, SF. More info here.
SAT/23 NIGHTLIFE MOTHER: DOLLY NIGHT Welp, drag doyenne Heklina may have announced her semi-retirement, but she's not going out without a big bang—two big bangs if you count her heroine Dolly Parton's, er, more noticeable assets. There is nothing better than a room full of drag Dolly Partons, folks, and this tribute night will been for the books. 10pm, $10. Oasis, SF. More info here. 
SAT/23 SHOPPING/MUSIC BAY AREA RECORD FEST You know you gotta B.A.R.F.! Six Live Acts, 14 record labels, DJs, record shopping, food, drinks, arcade games! Lineup: Sonny & the Sunsets, Tia Nomore, The Gonks, Tyler Holmes and more. Noon-7pm, free with RSVP. 7th West, Oakland. More info here. 
SAT/23 NIGHTLIFE MR. BRIGHTSIDE INDIE BALL "Dance onto the iconic set of The Killers – Mr. Brightside video for the Indie Rock Alternative Pop 2000s party of your dreams! Anthemic 2000s indie music all night by artists such as The Killers, Robyn, The Strokes, M83, LCD Soundsystem, Yeah Yeah Yeahs, Phoenix, Empire of the Sun, Passion Pit, Franz Ferdinand, Arcade Fire, Cut Copy, Bag Raiders, MGMT, Daft Punk, The White Stripes and much much more…" 9pm-2am, $15-$25. Great Northern, SF. More info here. 
WED/27 EVENT 41: 2019 Milk-Moscone Vigil The Harvey Milk Democratic Club presents its annual vigil in remembrance of the slain leaders. "We invite our fellow San Franciscans to join us in our vigil of reflection and to reaffirm our commitment to the vision these men had.A short audio visual program will be followed by a procession to the site of Castro Camera (575 Castro Street) where those who knew them will say a few words. Participants are encouraged to bring candles and flowers as San Franciscans did that night in November of 1978 Through the generosity of Dan Nicoletta, photographs of Harvey Milk and George Moscone will also be available for print on the club's website for printing so that attendees may bring those photos to carry in memoriam." 7pm-9pm, free. Harvey Milk Plaza at 18th and Castro, SF. More info here.