The next stage of the ongoing protests against the corporate greed represented by the Super Bowl deal that is gouging San Francisco erupts Saturday/6 with a moving block party against displacement starting at Civic Center at 1pm.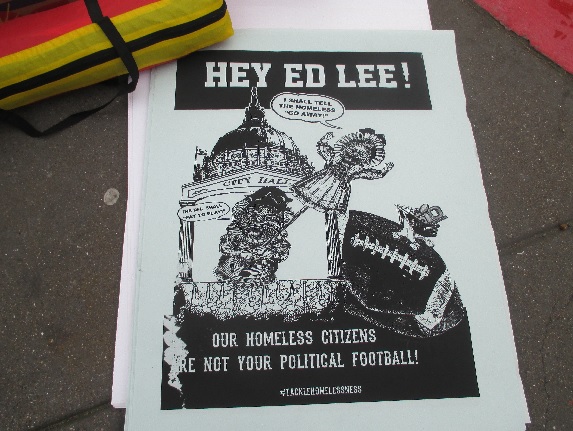 From the press release:
This procession is a celebration of our community in the face of the corporate takeover of the city, and a demand to develop deeply affordable housing, protect and secure spaces for artists and blue-collar jobs, end the widespread evictions, and house our homeless neighbors.

Super Bowl City was forced on the people of San Francisco through inept back-room dealing. This corporate event has caused the one-month eviction of hard-working waterfront street vendors without compensation; turned the city over to billionaire corporate interests; and asked San Francisco taxpayers, already facing a $100 million deficit, to foot the $5 million bill. Making good on Mayor Ed Lee's threat, the homeless were swept from the Super Bowl area before tourists arrived.
At 1pm, SEIU/USWW will present the "People's Red Carpet Awards" to protest the NFL's awards dinner:
The Superbowl's "party for billionaires" is not only draining $5.3 million from public coffers, but also there are also big problems for workers at the big game. Levi's Stadium is the only professional sports stadium in California that uses exclusively non-union security. It's a shining example of what is wrong with the 49ers. They have left the working-class people of San Francisco behind for a shiny new home that none of us can afford to go to. According to Forbes, the value of the 49ers franchise increased by $1.86 billion when they moved to Santa Clara, yet they continue to use low-road contractors Elite and Landmark who pay their employees less than industry standards.
There will be a large, loud, rowdy march around the city after that, and the national media, here in droves to cover the Super Bowl (and desperately looking for news) will no doubt be on hand.
Here's how insane things have gotten in the past few days:
The Planning Commission shut down early Thursday, since City Hall was essentially taken over for a fancy party. Commission President Rodney Fong advised the members that any item not finished by 5pm would be continued to another date – so that the NFL owners and their acolytes could move into the Rotunda, which was decorated with carpets, overstuffed armchairs, and other finery.
Sup. Aaron Peskin said that was a problem: "The business of the people should not be shut down because of a party for billionaires," he told me.
There are parties in the Rotunda all the time – but they don't shut down the normal workings of government. Boards and commissions continue to meet. City workers continue to do their jobs.
But apparently not when the Super Bowl comes to town.
The City of Berkeley, which is getting almost nothing from the Super Bowl, is paying some of its officers to come to SF to help out with security. I noted this a few days ago, and Berkeley City Council Member Jesse Arreguin immediately asked the city's police chief, Michael Meehan, what exactly was going on:
If it is true that our police have been deployed to provide security for a multi-billion dollar corporate fair then that is a problem. I would hope that if our officers are there that we are being reimbursed for their time. To not be adequately reimbursed means that our taxpayers are subsidizing this private event. We certainly were not consulted on this if it were the case.
Meehan's response:
First, BPD is solely providing Bomb Squad (EOD) support and no other personnel, activity or security. Our officers are not on site at the Super Bowl and are not working on Sunday.

Our four trained EOD team members are working a total of 12 shifts to support a request from the regional EOD operations group. I don't believe this was requested via the County Mutual Aid system, as I understand it.  Our people are flexing their shifts to minimize OT costs, though we will incur some costs from travel and set-up time in SF prior to and after their shifts. I expect the total overtime will be in line with what it costs for a training day or two in our normal training program.

Their tasks will vary but include working with the SFPD's bomb squad on their "normal" calls for service in SF. Additionally, they will be exposed to technical equipment they may not otherwise have the opportunity to use and test. This represents a unique opportunity for experience and training for our EOD.
I saw one of the Berkeley cops. I talked to him. He wasn't in a Bomb Squad truck, or anywhere near one. He was, to all appearances, on patrol in Super Bowl City, along with federal agents, SF cops, and now (I am told) cops from LA. At some point when this is all over, the supes ought to ask for a breakdown on what the city spent, and what other cities spent, providing the vast security operation for this really stupid and worthless corporate theme park.
There have been dozens of street artists, shoe-shine folks, food vendors, and other small, independent businesses displaced from downtown, and that means they get no income for 12 days. The vast riches that are supposed to flow into the city don't help these folks, who were already in many cases living close to the edge.
The Host Committee, according to the mayor, is all about charity – but none of the displaced are getting any money or benefit. Why couldn't they be allowed into Super Bowl City, which desperately needs a little local energy and something other than the Bud Light booth?
The game is on Sunday. Don't go near Market St. or 101, which will be clogged with buses taking 40,000 people south to Santa Clara. They say it's not going to rain.
Oh, and if you want a little theme music, check this out.