While the stampede of sexual harassment and assault accusations unleashed by the #MeToo movement may make it seem the entertainment industry is a sexist cesspool beyond redemption, in fact there's been a lot of progress recently. That's particularly evident in the realm of who makes movies (and TV)—gone are the not-long-distant days when a woman's directorial credit could still qualify as a novelty.
Nor is the shift evident just in specialized forums like film festivals, where there's long been a concerted effort to reach some kind of gender parity in programming choices. It's also impacted the realms of commercial product and distribution, such that this week it just fell into place that without any particular premeditation, enough new releases (and a majority of the good ones) were from women filmmakers to comprise this entire column. Fear not: The boy movies we left out will be examined after the weekend.
The following roundup does not include probably the most high-profile release, Radioactive, with Rosamund Pike and Sam Riley as turn-of-the-last-century physicists Marie and Pierre Curie. And that is because this latest from expat Iranian Marjane Satrapi (of the estimable animated Persepolis and underrated black comedy The Voices) is a well-appointed but disappointing biopic whose flat-footed screenplay caves to all the cliched ways such movies pander to audiences that supposedly can't accept complicated ideas or another era's norms unless they're spoon-fed in pureed form. Oh well. On the plus side in terms of more mainstream entertainment, the month's Big Kahuna of superhero-ish action, Netflix's The Old Guard from director Gina Prince-Bythewood (Love & Basketball, The Secret Life of Bees), is said to be very good of its type.
Unless otherwise noted, all the releases covered below are available from various streaming sources as of Fri/24:
Yes, God, Yes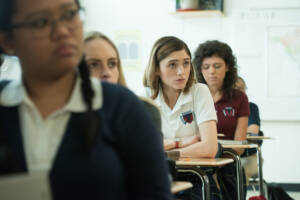 I'll admit to being a little underwhelmed by the two most acclaimed female-centric teen flicks of recent vintage, Lady Bird and Booksmart, perhaps in part because their reception seemed so out of proportion to their very familiar virtues. Just as good, but not getting a fraction of the attention, is this first feature by writer-director Karen Maine, an expansion of her same-named prior short. It has the additional virtue of taking place in a milieu under-explored by movies—mainstream Christian communities—without resorting to undue caricature.
Alice (Natalia Dyer from Stranger Things) is an average 16-year-old student at a Catholic High School somewhere in the heartland around the turn of the millennium. It's pretty much like any other school, except for eternal damnation dangled as reward for any sexual thought or deed outside the martial child-production process being a part of everyday curricula.
Alice is as naive as they come, yet somehow a rumor gets around that she's performed an act whose slang terminology ("tossed his salad") she doesn't even know the meaning of. As if this wasn't already enough to ruin her life, she's also feeling guilty over actual, albeit very tentative and secret, sexual activity: A semi-accidental cybersex exchange in an AOL chatroom has led her to the kind of self-discovery that involves sticking one's hand down one's pants.
Feeling left out of some born-again in-crowd, she and bestie Laura (Francesca Reale) attend a school-sponsored religious retreat, where Alice's hunky football-star group leader (Wolfgang Novogratz) is practically a walking masturbation aid. But she continues to be slut-shamed for things she hasn't done even as she increasingly wishes she had done something. Worse, she keeps discovering hypocritical behavior amongst those all too happy to condemn her own imaginary sins.
More serious than you initially expect, yet too light of touch and forgiving in nature to belabor its well-made points, this plaintive comedy of hormonal yearning and moralistic finger-waggling should probably be required viewing for teenagers in any religious-institutional circumstance. It opens in virtual cinemas and drive-ins this Friday, with digital and VOD release next Tuesday.
Carmilla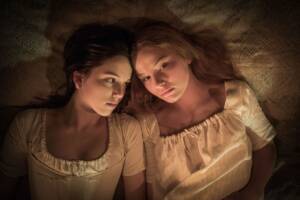 Also about forbidden adolescent desire—and also in a setting where pretty much all desire is forbidden—is this latest, more-faithful-than-usual screen version of Sheridan Le Fanu's same-named 1872 Gothic novella, which is pretty much the mother of every "lesbian vampire" tale in all media since. Teenage protagonist Lara (Hannah Rae) lives in an aristocratic but isolated, rather joyless mid-19th century rural English home where even her few modest pleasures seem to be judged sinful. As her widowed father often seems to be absent, overly strict governess Miss Fontaine (Jessica Raine) is primarily in charge. She is such a prude that even our heroine's left-handedness is viewed as a serious character flaw dangling on the precipice of some moral quagmire.
Disappointed when a rare promised visit by a peer falls through, Lara is thrilled when chance in the form of a carriage accident lands someone else on her doorstep. Physically unharmed but seemingly amnesiac, the young woman she names Carmilla (Devrim Lingnau) is an ideal if mysterious companion, an immediate BFF who pushes at the boundaries of Lara's constrained life more than she'd ever dare herself.
Writer-director Emily Harris keeps the supernatural aspects to the realm of suggestion and possibility, with horror content primarily limited to our heroine's suddenly profligate nightmares. But despite its lack of the more explicitly bloody (as well as Sapphic) content in umpteen cheesier Carmilla derivations, this elegantly small-scale costume piece nonetheless generates a powerful, poetical sense of repression. When the governess cautions Lara not to "make the same mistakes" which apparently nearly destroyed her own life, she seems pretty clearly to mean that "love which dare not speak its name"—and which, needless to say, stays unnamed here.
Those expecting a standard genre exercise may be frustrated by the film's restraint. But on its own terms, it's a sufficiently haunting portrait of the dangers inherent in stifling nature, whether via wooden stake or scalding Victorian virtuousness.
Amulet
Less reluctant to embrace horror tropes, if still very ambiguous and low-key by mainstream standards, is this striking directorial bow by actress Romola Garai (Atonement, Suffragette). Her protagonist Tomaz (Alec Secareanu from God's Own Country) is a PTSD-afflicted refugee from conflict, barely scraping by in London. He's such a wreck, he binds himself with duct tape to prevent self-harm during night terrors. When his immigrant squat is torched, he is "saved" by Sister Claire (Imelda Staunton), who arm-twists him into accepting room and board in exchange for handiwork in the dilapidated home of Magda (Carla Juri). The latter seems pretty shell-shocked herself, kept a virtual house prisoner by the needs of an ailing mother upstairs that he hears but never sees.
Eventually it seems not just that "invisible" woman but the house itself is a malevolent force may consume Tomaz whole. Already disoriented at the start, his gradual disintegration becomes inseparable from the richly atmospheric film's style, in which beauty and decay grow ever more surreally engulfing. Again, this sinister tale may not provide enough straight-up monster mash to satisfy some, but the vagueness of the narrative is more than compensated by Garai's distinctive, refined aesthetic. It's in limited theaters and On Demand.
Sundance Film Festival Shorts Tour 2020
Mostly if not entirely directed by women are the six works in this diverse best-of package culled from the Park City event's latest January edition. They run a gamut in genre (from documentary to narrative to 'toon) and geography (from Malaysia to Morocco, plus lots from North America). Highlights include Thea Hollatz's animation Hot Flash, in which the coldest Canadian winter is no match for a menopausal TV weatherwoman's titular problem; Matt McCormick's nonfiction The Deepest Hole, about a phenomenal hoax played upon the public by a Christian TV network; Keisa Rae Witherspoon's category-defying T, which mixes nonfiction and staged elements to amplify the creative messaging of an annual commemoratory Miami ball.
Finally there's Sofia Alaoui's So What If The Goats Die?, a beautifully shot widescreen tale whose North African protagonist travels from rural isolation to town, only to discover something major has befallen all humanity. That nearly half-hour drama finds a vivid yet subtle way of asking a very big question: What if existence is larger than our individual religious beliefs allow? The Sundance program is available through Roxie Virtual Cinema. Also playing there July 23-30 is another shorts showcase, the community-solicited, two-part Roxie Mixtape-In-Place, which is separately previewed here.
Days of the Whale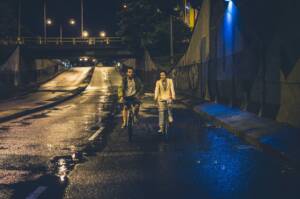 Another Roxie addition this week is Catalina Arroyave Restrepo's debut feature, a Colombian drama set in Medellin. Unhappy at home, with her mother having moved to Spain (we eventually learn she's a journalist forced to flee death threats) and her father now shacked up with a woman barely her senior, Cristina (Laura Tobon) spends most of her time slumming in the poorer neighborhoods where best friend and almost-boyfriend Simon (David Escallon) dwells. They're both regular participants at a local art center that's frequently shaken down for protection money by gangbangers Simon used to roll with. But now he prefers creating graffiti murals with Cristina.
Their relatively footloose lives depend on ignoring and/or avoiding the criminal peril that's never far away, however, and when the center is openly threatened, the two consider letting their art cross a dangerous line. Days of the Whale is nimble and breezy, light on plot yet never insubstantial. Keeping melodrama at bay, it balances its central characters' risky behavior against a sharp eye for details of city life and a propulsively excellent soundtrack by various artists. More info here.