Large, wild quantities of joy and a smattering of acute frustration were involved in writing my first book, the YA title She Represents: 44 Women Who Are Changing Politics … and the World, which comes out in September via Lerner Books. I'm thrilled to offer teens [and post teens] a much-needed mental shift when it comes to thinking about today's politics, a re-focus onto the worldwide trend of more equal gender representation when it comes to our elected officials. In the midst of my feminist frenzy, I'll admit I wasn't expecting quite so many questions about Betsy DeVos.
Indeed, DeVos is among the book's 45 global women political leaders, and how not? The current final authority on United States education's insistence that kids return to school this fall despite COVID — which caused Massachusetts Representative Ayanna Pressley to remark that she "wouldn't trust [DeVos] to care for a house plant, let alone my child" — makes her one of the biggest threats to She Represents' very readers.
She Represents is a collection of mini-biographies that are meant to give teens an idea of the women who lead us today, and the paths they had to walk to get their current position. I'm not sure how you do that by leaving out people like DeVos.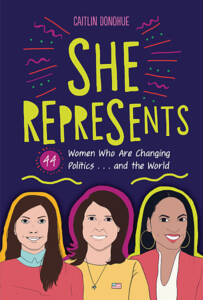 One can't learn about women's role in politics by only learning about the elected officials one likes. As I assert in She Represents' introduction, "I did not write it for fangirls." People who do take the time to read the book, even adults, will find that it is not a collection of paper dolls or trading cards, no girl power paean to "rad" politicians. Rather, it's a guide to understanding which women get to be elected leaders in our current societal configuration. Pick your reason — I'll share mine later — why this is so important in 2020.
To provide another example of subjects whose presence in the pages of She Represents has thrown certain adult readers: Sarah Palin. The hockey mom's folksy populism and assertion that lipstick was the only thing differentiating her from a pitbull basically gave Donald Trump the playbook he used to scam the presidency. It's no exaggeration to say that Palin laid the groundwork for an entire renegade contingent within the Republican Party hellbent on governing through juicy Fox News soundbites.
The book is about the road to power. As She Represents' title implies, it explores the ways that our women elected officials represent the segment of society from which they hail. It talks about their victories, their limitations as public servants, the upbringing and life events that shaped their beliefs.
Given the media's frothing obsession with their pratfalls, I understand peoples' demand for a book that neatly removes anyone from the Trump camp from our consideration. Personally, I use an internet browser plug-in that changes all photos of the president to images of kittens. But the assertion that young people can receive a political education learning only about progressives seems misguided, a certain "prom queen" approach to politics. You do not have to — maybe even, you definitely should not — like your elected officials. You pick the least horrible one, and buckle down to hold them accountable throughout their term.
Indeed, through She Represents I posit that it would be much better if we could all err on learning more about our elected officials in place of revering them.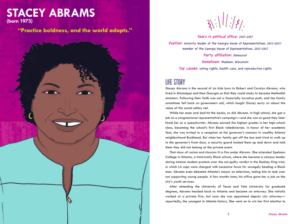 The book does include genuine heroines. Among them are Marielle Franco, the openly queer, assassinated city councillor from Rio de Janeiro whose fight against police violence in the capital's favelas all but certainly led to her death. Andrea Jenkins, the first trans woman of color to be elected to public office in the United States (a feat that sadly, was not accomplished until 2018, the year that she stepped onto the Minneapolis city council.)
But if its scope had been limited to radical changemakers, the readers of She Represents wouldn't learn the story of Mia Love, a Black woman who represented Utah in US Congress from 2015 to 2019 before her critiques of Trump angered the man-child in chief, arguably costing her re-election. She subsequently leveled a salient critique against the Republican Party over its non-support of politicians of color, delivering a critical lesson about the way the United States' two-party system fails us all.
There is excellent reason for teens to be examining the role women play in today's politics. Jenkins' council, which is also home to Councilmember Phillipe Cunningham, the first trans man elected to public office in the US, recently proved just why we need more trans BIPOC women in office. After George Floyd's death at the hands of Minneapolis Police Department officers, and the global Black Lives Matter protest movement his murder helped to ignite, the council voted unanimously to replace the city's cops with a "department of community safety and violence prevention". The move placed Jenkins and her peers at the forefront of the revolutionary police abolition movement currently gaining steam.
The COVID era has brought ample proof that it is time for more women to be stepping into office. There is no denying that many of the countries that have managed to navigate the pandemic successfully are led by women who eschew the anti-science posturing of COVID failures like Trump, Mexican president Andrés Manuel López Obrador, and Brazilian president Jair Bolsonaro.
Conversely, women who have led the way include the president of Taiwan Tsai Ing-wen, German chancellor Angela Merkel, and Finnish prime minister Katrin Jakobsdóttir. New Zealand's prime minister Jacinda Ardern announced back in early June that the island nation was free of Covid (though that assertion has since been called into question.) You can learn how the lives of nearly all of these women led them to become their nation's leaders in She Represents.
Given that the world is probably only headed for more disaster in the years to come (ask Kenya, Somalia and Ethiopia about 2020's record-breaking locust storms if you need proof that things can always get worse), we need to start thinking about political solutions. That will require taking a hard look at our representation, and assessing whether the leaders we've put our faith in have the capacity to lead us through what promises to be some pretty challenging times.
Teens are the ones who are going to have to fix this mess, and I'd be proud if they used She Represents to analyze the paths of today's women leaders. They need to know about successes, failures, and tragedies that must be averted when their generation comes of voting age — of the DeVoses of the world, just as much as the Stacey Abramses and the AOCs.