For Milo Richards, the din of traffic crossing the I-80 overpass above his tent, located in a parking lot at 450 Fifth Street, was a soothing lullaby, one of his favorite things about living there among roughly 30 other unhoused people.
"I thought it would be hard to hear, with all the cars overhead…but I like it because at night it gets kind of lonely. I sleep pretty good with the car noise," said Richards.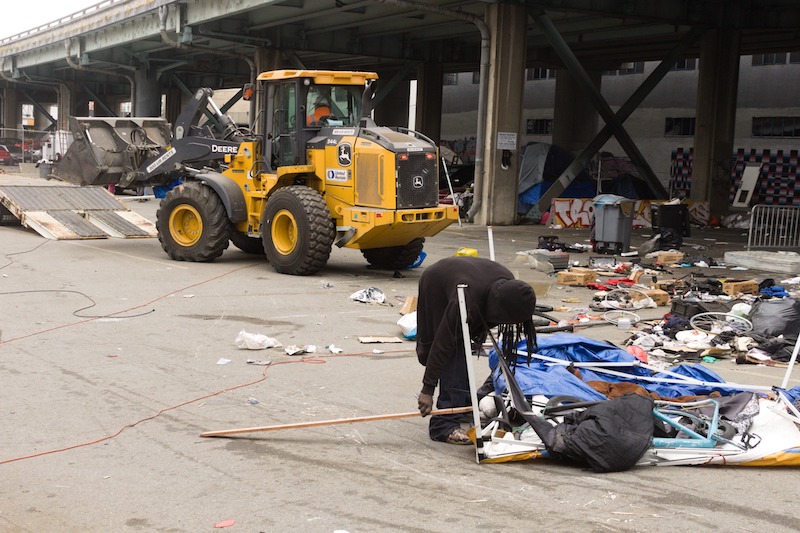 Richards, 62, has been living in that encampment for several months as had many of his neighbors. Unlike many encampments in San Francisco, which are fleeting as homeless folks are frequently relocated by police, many people living in the parking lot under the I-80 overpass in Soma, have been living continuously in the parking lot for months or even years.
But not anymore. Today, the California Highway Patrol and Caltrans arrived with cops and bulldozers and forced the residents out.
The sweep is particularly contentious because it represents not only a loss of a place for unhoused people to stay, but also a loss of community.
"What's unique about this [encampment] is the long-term status of it, you don't see people who have been in an encampment for six months, like this one," said Carlos Wadkins, a human rights organizer with the Coalition on Homelessness, a San Francisco organization that advocates for affordable housing and solutions to homelessness.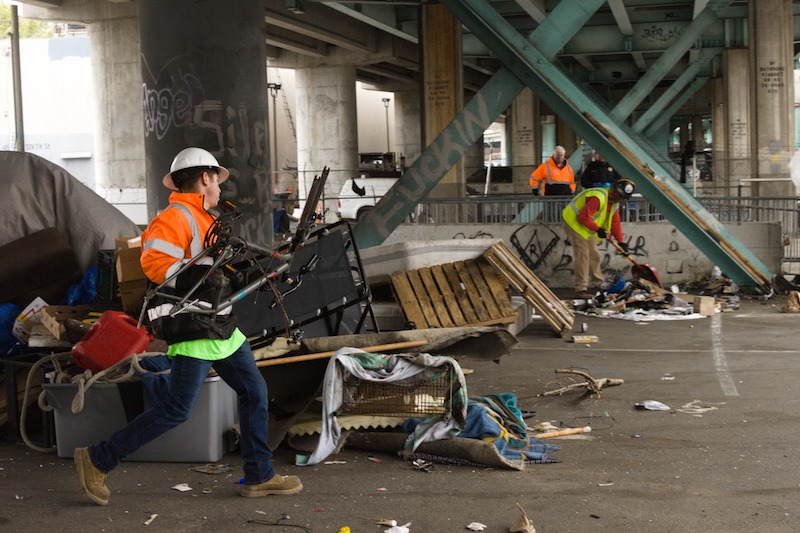 "There's a lot more stability built here, which means that when people come in and sweep it, it's all that much more destructive…they've built some community and they don't want to see that taken away."
Several of the parking lot's residents lived in their vehicles or in tow-able homes, like Greg Smith, who has lived in the parking lot for five years and rented a parking space until the person who leased the lot from Caltrans lost the lease in the pandemic.
Another is Dominic Russo, who built a small wooden shelter he called a "tiny home" on top of a towable trailer.
Some longtime residents of the encampment, like Smith, who have either paid rent for their space or received mail listing the parking lot as their home address, may have a case for tenancy rights, which would then require eviction proceedings in court to remove them from the premises, rather than simply being ordered to break down their tents and move along, according to Ora Prochovnick, director of litigation and policy at the Eviction Defense Collaborative.
"California law clearly provides that it is illegal to remove a tenant without first providing proper written notice and a court process," she said.
Prochovnick added that it is likely that most encampment residents have been at the encampment for less than one year, and therefore may not have the same tenancy protections, but said that she believes that regardless of this, the fact that the encampment residents were being displaced during San Francisco's eviction moratorium goes against the intentions of that ordinance.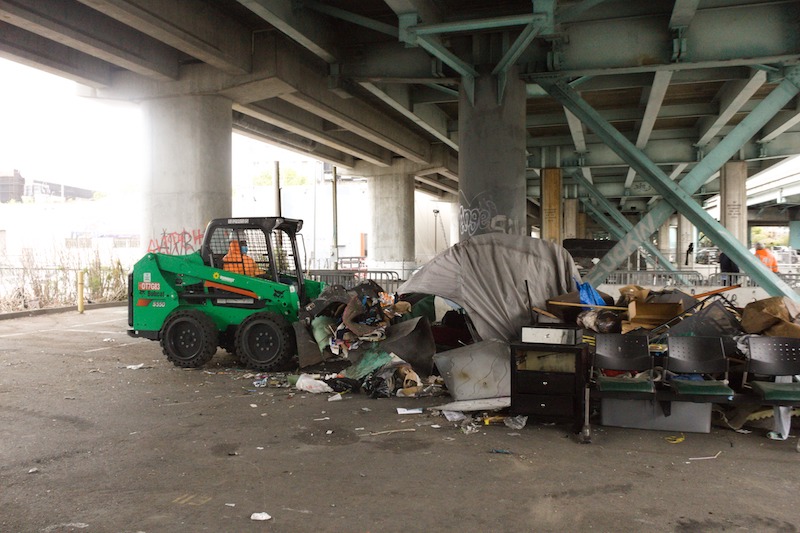 "The legal rights are not the same for those individuals, but we are still in a pandemic, and even though we are coming out of it, the shocking inequity of throwing people out of their homes, whether its proper housing or a parking lot, during an eviction moratorium is completely inappropriate," said Prochovnick. "We have a moratorium in place because we recognize its unsafe for the individuals who are unhoused and the greater community to have people outside…even if the technicalities may not apply, certainly the legal rationale and the need for human dignity and respect applies to them."
The sweep was ordered California Department of Transportation, or Caltrans, which owns all right-of-way under freeways in California. The lot was originally leased from Caltrans by a private operator, but since that owner lost their lease during the pandemic, it has operated without a contractor more than a year.
Now Caltrans wants the lot emptied, after which they will seek a new lessee for the parking lot, according to Jeff Weiss, public information officer for Caltrans District 4, which includes San Francisco.
When asked about why Caltrans ordered the sweep, Weiss issued a written statement on behalf of Caltrans saying that they are "proceeding with encampment cleanups if there is an immediate safety concern or threat to critical infrastructure. We continue to work with the city and service providers to move people into safer situations as available," with the main "threat" being fires at the site, according to Weiss. Both the overpasses' supporting posts and the highway itself are made of concrete.
The San Francisco Department of Homelessness and Supportive Housing said that they have been doing outreach for roughly a month before the sweep, primarily to transition residents to shelter beds, although they did not say how many they have set aside in advance of the sweep.
But securing shelter beds for the parking lot's residents may not be so simple.
According to Kelley Cutler, an organizer with the Coalition on Homelessness, the city's shelter wait list has been closed since the beginning of the pandemic as congregate shelters either restricted capacity or closed due to social distancing concerns, creating a shortage of shelter placements that continues today.
"At this point, it's tough to even get a shelter bed…There are people who I talk to on a regular basis who say that the city comes and takes their name and birthday but they don't come back or they don't have any [beds]…they could be getting one to two shelter beds a day," said Cutler.
However, there were a lucky few who were able to get an alternative shelter option after the sweep.
James Aughinbaugh, who had been living in a tent in the Fifth Street parking lot, said that he was connected to a safe sleeping site on Market and Gough by the HSH's SF Homeless Outreach Team, but said he was unsure why the encampment had to be cleared from the parking lot in the first place.
"If they're not going to use it, I don't see why they won't just let us use it, let the tent people use it if they aren't going to use it. If they are going to use it to park their fleet of cars, I understand that. But they're just booting everybody to boot everybody, if in a month there's nothing here, that's cold-blooded," said Aughinbaugh. "I guess we'll see."