Maria Ribera arrived in San Francisco eight years ago, an immigrant from El Salvador who spoke no English.
This spring, she is going to graduate from UC Berkeley, with a degree in math and a minor in education. She wants to be a math teacher.
This all became possible, she said today, because of the English as a Second Language program at City College.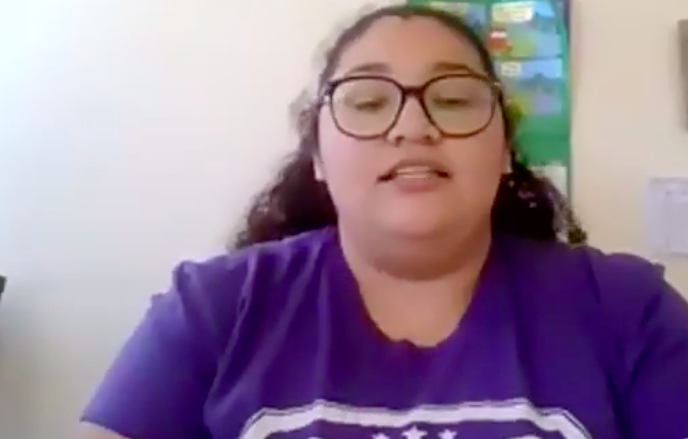 At a press conference sponsored by the teacher's union, Ribera described the affordability of the program, the value of what she learned – and the mentorship and encouragement she found there. The teachers and counselors helped her get a high-school degree, and take for-credit classes, and transfer to Berkeley (although, she said, "I got accepted at every college that I applied to.")
Now her parents are taking ESL classes at City College.
But for a lot of immigrants, that may no longer be possible. Brutal cuts at the school could eliminate half of the ESL sections. City College is also facing the loss of a program that trains San Franciscans in computer technology – and thus for good-paying jobs. Tamika Jones, who is a graduate of that program and now teaches, said she is one of four instructors who just got a pink slip – "and that means 23 classes" won't be available in the fall.
The same goes for nursing. And airplane mechanics. And so many other critical classes. (The journalism program at City College has trained hundreds of top-level reporters in this city and country and is desperately underfunded.)
Layoff notices were sent to almost two-thirds of the faculty, including part-time and full-time teachers, who may not be employed in the fall.
It's a strange and terrible situation: Just as the Biden Administration is talking about the critical role community colleges play in this country, and moving to make that education free, San Francisco is poised to radically cut City College.
"It's a huge contradiction to what we need right now," Shaw-San Liu, executive director of the Chinese Progressive Association, said. "In a city with so many billionaires, we should be expanding City College."
The union, AFT Local 2121, is furious at the Board of Trustees (many of whom in the past had the union's endorsement) for going along with this plan. The trustees say they have no choice: The school is facing a $33 million budget deficit. And if the budget isn't balanced, the state is threatening to take over.
The last thing City College needs, I think everyone agrees, is another situation where the state appoints a special trustee with absolute control over every aspect of the school, including its budget. We've been there before; it was a disaster.
But what's really going on here is a three-factor crisis that the city needs to address:
One: The state of California has been moving aggressively to phase out the kind of lifelong education and skills training that makes up a large part of City College's mission. The state wants City College to be a traditional junior college, aimed at getting high school graduates an AA degree so they can transfer to a Cal State or UC school. Thus the state is radically underfunding City College of San Francisco. (And the utterly bogus and predatory attempt to eliminate the school's accreditation led to massive decreases in enrollment.)
Two: Everyone in higher education has been hit hard by the pandemic, a trend that may change next year as the economy recovers. (In a recession, people tend to go back to school. And as the cost of a four-year education continues to soar, a lot of students may see two years at City College, where all the credits can be transferred to most four-year schools, as the bargain of the century. But we don't know for sure.)
Three – and most important in this case: There's a huge disconnect between the City College Administration (and for the most part, the board) and the union (and much of the community) over the meaning of the words "temporary," "short-term," and "structural reform."
The administration sees the problems of City College as long-term and structural: The for-credit class enrollment (which drives state funding) isn't high enough to pay for the number of classes and teachers that the school currently has. So: Cuts. Deep cuts.
The union (and much of the community) sees this as a different situation: The accreditation attack followed by a global pandemic is not a long-term issue. Eventually, City College can and will recover. But not if it's cut so deeply that there's nothing left.
"They are trying to cut their way out of the problem," Mary Bravewoman, a union leader and math professor at City College, told me.
We're walking a fine line here. The state is ready and willing to make all of the decisions of the Community College Board moot and downsize City College to its (misguided) mission. (BTW: Gavin Newsom could do something about this. If he wanted.)
But Bravewoman offers a little perspective. "We are responsible for adult education in San Francisco," she said. "In other counties, they have an adult education program."
Which leads to the key question: Should San Francisco, the city and the community, fund City College at the level it needs, even if the state won't? And can that be both a short-term fix (don't ruin the school now) and a long-term strategy?
What we are talking about is $30 million this year and about $40 million a year in the future. The long-term future.
If the city could find a source for that money, the deficit would be gone, the state might mind its own business, and City College could be preserved as what it is and should be.
A year ago, before the pandemic, most of the supes were on board with looking for some long-term solution. If the state won't fund the kind of education we need, the city could.
In fact, the supes passed a Workforce Education and Recovery Fund in 2020 to provide financial support to City College – but it doesn't have a lot of money in it, and no source of long-term, stable funding.
City College is going to get emergency money from the feds this year – by some estimates, almost $30 million. But the administration doesn't want to spend that protecting existing jobs and programs – because that money might not be there next year. Again: The looming issue of the state trustee who will seize control if the long-term budget issues aren't settled.
But folks: We are in a global pandemic. Nothing like this has happened in a very long time. The federal money is supposed to prevent job losses, now, and I would argue save institutions like City College. Now. We can worry about the long-term future next year.
And that will require, it appears, some sort of local money.
The $40 million a year it would take to preserve City College is less than 6 percent of the budget of the San Francisco Police Department (and I think the data is pretty clear that education stops crime better than cops). Just a tiny bit of defunding the police would solve this entire crisis.
The city is absolutely strapped for cash – right now. And we have no idea what the budget will look like in the future. I know that if the supes set aside $40 million for City College, that would likely be money that the mayor would take not from the cops but from other pressing priorities.
But let's look at the long term. City College will need a dedicated local source of money. Maybe that's another parcel tax. Maybe it's another hike in the high end of the gross receipts tax. Maybe there's another solution that taxes those who can pay the most.
Maybe at some point the governor and the state Legislature will come to their senses about the importance of community college education – for all — and change the funding formula.
But once City College is cut so badly that there aren't enough classes to attract students, and the faculty are gone and take jobs somewhere else, and the whole institution is hollowed out, we're in a loop of doom and it will be very difficult and expensive to bring the school back.
If we even can.
That's what's at stake here.