San Francisco is a unique place, and artist Anthony Holdsworth is here to remind us of that fact. Painting on the streets of the city, he captures the vibrant urban landscape and its denizens in a chronicle of our shared time and place.
Born in England, Holdsworth's family emigrated to Canada when he was six, and moved to Massachusetts when he was 13. He was introduced to oil painting in high school by teacher and artist Loring Coleman, but it wasn't until he made it to university that he realized painting was his one true passion.
Holdsworth journeyed to Italy in 1966, arriving in Florence shortly after the catastrophic flood that killed 101 people and damaged or destroyed millions of masterpieces of art and rare books. By chance, he landed a job as head of outdoor restoration for the Uffizi Gallery, staying on for nearly two years.
Returning to England to study at Bournemouth College of Art, he landed in California in 1970, discovering a lively, non-conformist art scene and securing a scholarship to the graduate program of the San Francisco Art Institute. Inspired by Piero della Francesca, Brueghel the Elder, J.M.W. Turner, and Vincent Van Gogh, Holdsworth encountered the work of Bay Area artists Elmer Bischoff and Richard Diebenkorn and was drawn to their work, which railed against the prevailing establishment.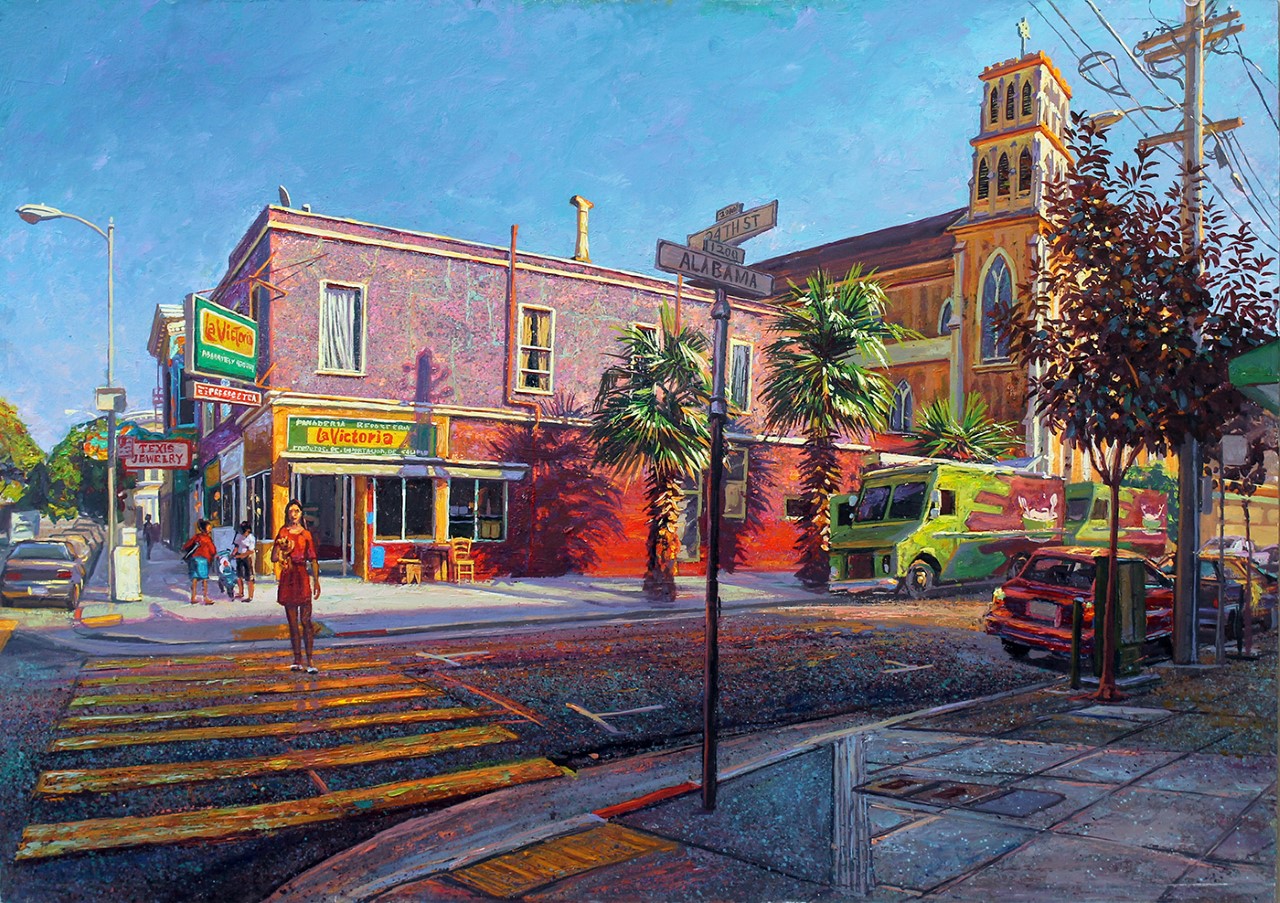 Holdsworth's work reveals him as a delightful colorist who embraces perceptionism. Working in oils on double primed canvas or wood panel, he transports his easel and supplies by bike and trailer to his painting location, returning over several days to complete a canvas.
The artist holds the belief that society has become alienated from any deep connection to place.
"Channeling the spirit of a place is completely absorbing and conversations with locals contribute to my process," he told 48hills.
As such, Holdsworth's purest intention is to convey the spirit of community. Preserving scenes of urban life as it unfolds before him, Holdsworth connects us to place, just as he hopes. We recognize what we see daily, or forget to see as habitués, awakening to his reminder that we are still part of a thriving city, right now in this moment.
San Francisco is not his only muse. In the mid-'80s, Holdsworth joined the Nicaraguan solidarity movement, leading a group of artists on a month-long tour of the country with his wife, painter Beryl Landau. He organized an exhibition at Southern Exposure Gallery to share the experience with a larger audience.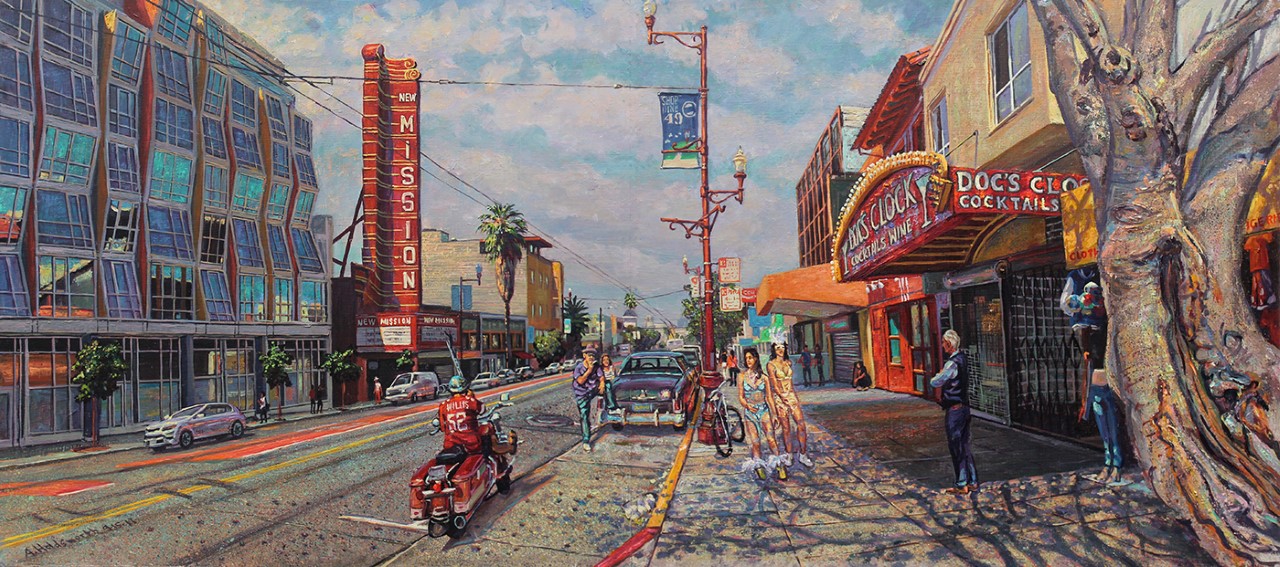 "I wrestled with communicating to an uninformed public what we had learned about the Sandinista revolution and America's cruel Latin American policy," he said.
In 2011, when Occupy burst onto the scene in Oakland, he was painting on the street and decided to head to City Hall. To his surprise, there were two younger artists, John Paul Marcelo and Jessica Joy Jirsa, already painting there. They joined forces to document the movement, holding a show of their works at the Joyce Gordon Gallery in Oakland.
Turning his attention to the Mission District in 2013, as the movement against gentrification intensified, Holdsworth, a Bernal Heights resident, remains focused on the Mission's rich cultural dimensions.
"It's a window on Latin America, whose vibrant colors have entered my palette," he said.
In 2016, his exhibition, "De las Calles de Mexico a las Calles de la Misión," was held in the Gallery of Acción Latina on 24th Street, home to the newspaper El Tecolote. In his art studio, he keeps the dial set to KPFA 94.1 FM as an integral tool of his trade. "This community-based network, with its eclectic mix of music, literature, independent news, and radical politics, is my lifeline and feeds my art," he said.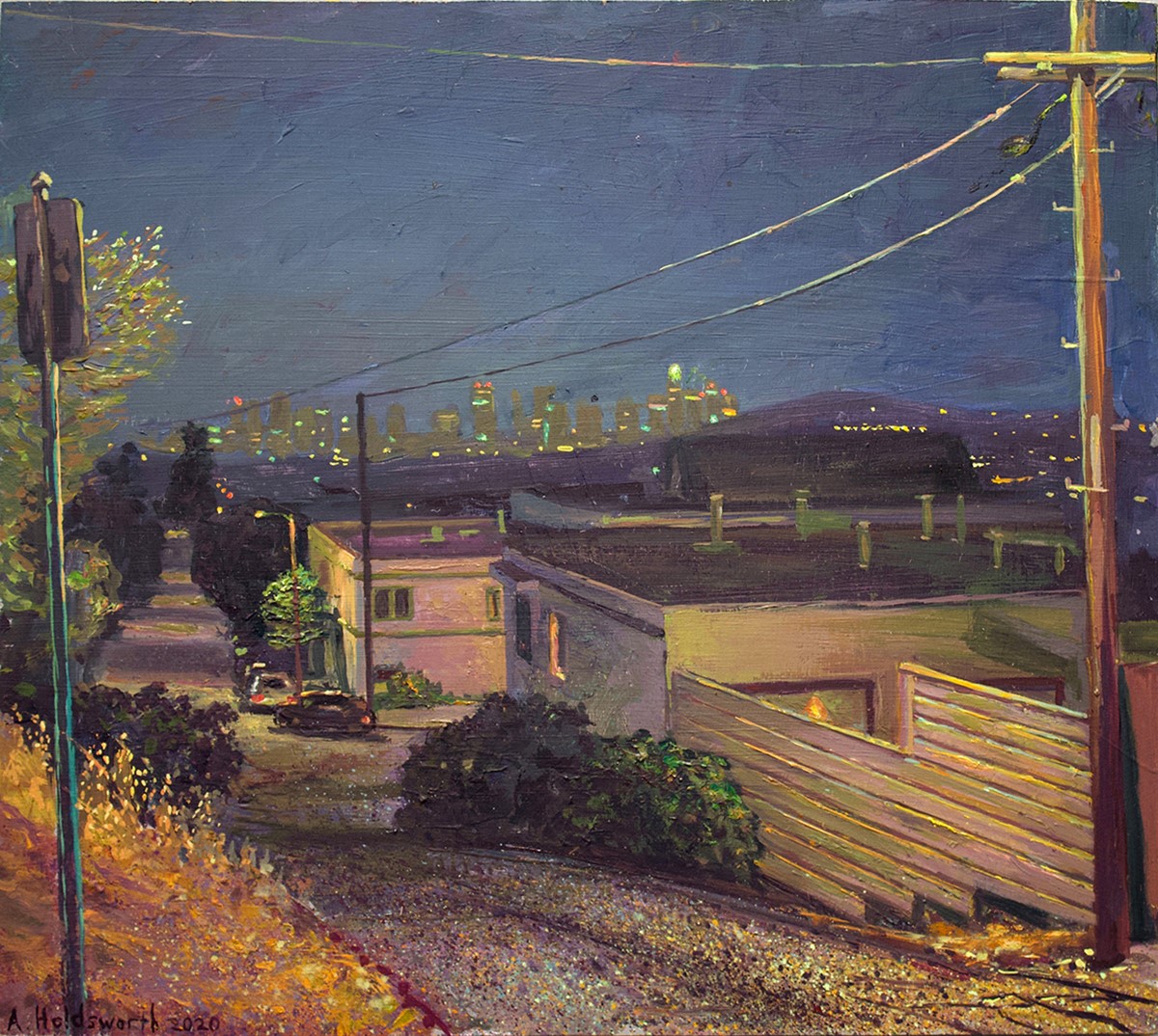 In the early months of the pandemic, Holdsworth painted on quiet streets near his home in Bernal Heights near Precita Park, often working at night. He missed working in the heart of the Mission, but knew that he would draw an audience, some of whom would not be wearing masks. But he returned eventually, drawing in a small sketchbook with pen and ink and color washes. Back in his studio, he references those sketches for larger works, recording a historic time in our lives that we won't soon forget.
Keeping busy with the vegetable garden, fruit trees, and a pond on his property, Holdsworth finds balance. He teaches painting to students in his Oakland studio, and at a space in the Mission District.
Holdsworth is represented by Luna Rienne Gallery, where he will exhibit in a two-personshow with his wife Beryl Landau, Oct. 9-30. International Art Gallery, also in the Mission, showcases high quality prints of his work created at Magnolia Editions in Oakland. Gray Loft Gallery in Oakland will include his work in an upcoming pop-up exhibition. His painting, New Mission #2, was selected for the de Young Open this year.
For more information, visit anthonyholdsworth.com.