On August 7 and August 10, the five members of the California Public Utilities Commission will take up the proposal to permit an unlimited number of autonomous Cruise and Waymo vehicles to charge for rides 24/7 anywhere in San Francisco. A protest at the CPUC on Van Ness at McAllister is now planned for Monday, August 7—and for good reasons. (A second protest may be held on August 10 also.)
So far, the California Department of Motor Vehicles has issued about 60 permits to companies to test the operation of AVs, including permits to four companies to carry passengers. The CPUC is responsible for deciding whether those AVs approved by the DMV can transport passengers for a charge. It now looks as if Cruise (General Motors) and Waymo (Alphabet/Google) AVs will be the first ones out of the gate, at least in San Francisco.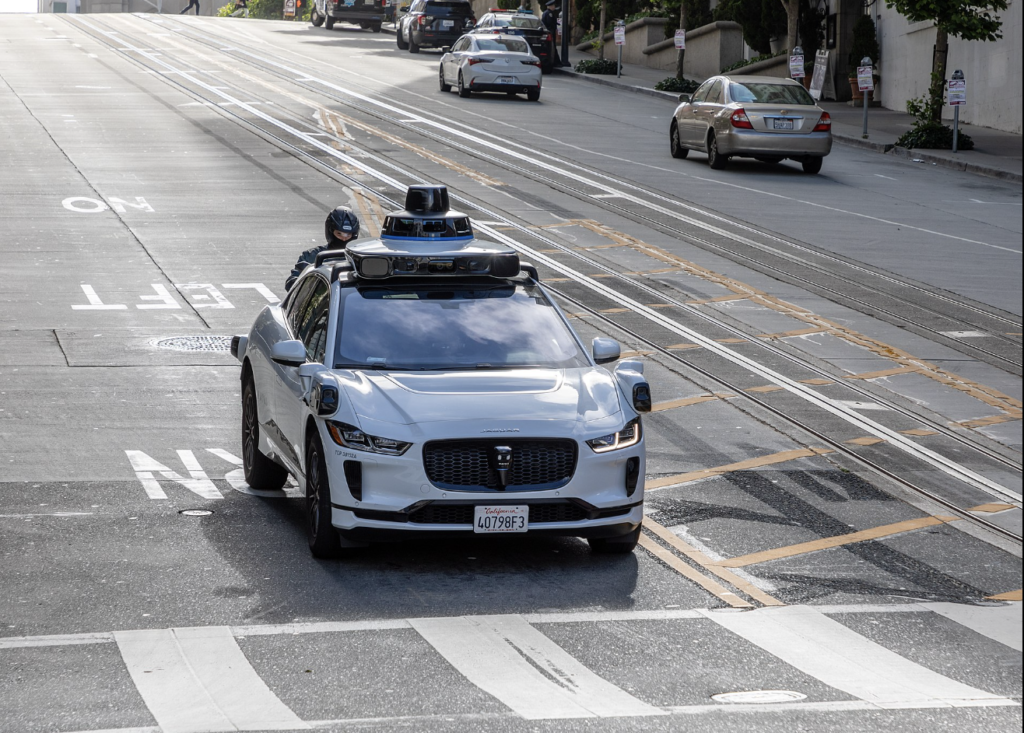 Do not be fooled by the issue of whether human or robot drivers are safer. Ordinary San Franciscans have been documenting AV incidents for many months, and local agencies have done a valiant job of trying to catalog these incidents in order to forestall CPUC approval in favor of a more incremental approach, with better data reporting and much more transparency.
Additionally, the Los Angeles Department of Transportation (LADOT) has pointed out that AVs "regularly engage in illegal behavior by picking up and dropping off passengers in travel lanes." The CPUC has responded to these concerns in part by deferring to the industry—"Waymo further asserts that municipalities such as San Francisco and Los Angeles are well equipped to address traffic disruptions or potential violations through existing traffic enforcement mechanisms and authority." Further: "We [the CPUC] place no additional limits in passenger service on operating hours, geography, or fleet size, but we encourage Waymo to be thoughtful in how it chooses to operate and proactive in its engagement with local stakeholders."
We should not be surprised. The CPUC is the agency that appeared to collude with Uber and Lyft to obscure data on collisions. It is the agency that had as its head the disgraced Michael Peevy, who was president of the commission during the deadly 2010 PG&E explosion in San Bruno. It is the agency that recently adopted new net-metering rates that has slowed down the rooftop solar industry—to the benefit of California's three major utilities. And one of its current commissioners, John Reynolds, was previously the Managing Counsel for Cruise LLC!
The CPUC appears to be a captured regulatory agency, and the safety issue is, therefore, a smokescreen.
The real intent? Venture capitalists have pumped billions of dollars into this technology, and the race is on for companies to secure lucrative opportunities for those billionaires to get returns on their investments by charging for rides without the costs of drivers, and by avoiding fees, taxes, and other regulations.
All cars sold in California by 2035 are mandated to be zero emission, which Waymo and Cruise AVs are. But mass transit depends on receiving a portion of the federal gasoline tax, set at 18.4 cents per gallon since the early 1990s. As of yet, no taxes—such as vehicle-miles-traveled taxes—have been adopted to replace the gasoline tax, and transit agencies (and roads and bridges) are suffering. You can be sure greedy AV investors are also hoping to help bring on, and then capitalize on, the potential collapse of mass transit. Ridership on Muni is at about 400,000 daily boardings, down from 700,000 pre-pandemic, and a recent measure signed into law by the governor to fund transit merely postpones a looming "fiscal cliff" for a few years.
But we are in a climate emergency, and our best local tool for fighting climate change is our public transportation—Muni, BART, Caltrain, SamTrans, Golden Gate Transit, and AC Transit, all of which operate in the City. AV vehicles, even electric ones, come with their own environmental impacts from the mining, their manufacture, and toxic tire runoff to their disposal at the end of their operational lives—aside from luring people off of transit and further adding to congestion. And yet, no environmental review has been conducted prior to the issuance of permits—and the CPUC is resisting pressure to conduct environmental review prior to approval of the current proposal.
Additionally, eliminating that driver behind the wheel—or at least a person in the car—creates all kinds of equity issues for the disabled. I write from experience. Having suffered serious injuries in 2018 and had surgeries every year since then except for 2021, I know how important taxis and their drivers are. Taxis fill a need when you cannot get around the corner to the bus stop and when Paratransit—which requires booking ahead of time—is not convenient.
When you are using crutches, you need someone to open a door, hold your crutches, carry your bag, and maybe even help you into your building lobby. If you have been recuperating inside for many days or weeks, you also need human interaction. And you certainly cannot walk out safely into oncoming traffic to get to your ride. (I have never taken an Uber or a Lyft, and I never will.)
There are now about 1,000 taxis in operation in San Francisco. Before the advent of Uber and Lyft, there were about double that. And taxis, per state law, are locally regulated. Our city charter grants the San Francisco Municipal Transportation Agency the power to set meter rates through a public process. In 2010, the SFMTA began charging $250,000 per medallion (a permit to operate a taxi), just a couple of years before Uber and Lyft arrived on the scene. Uber and Lyft now offer taxi-like services—but without having to pay the $250,000 per permit and without having their fares subject to local regulation.
We now have AVs arriving on the scene. It seems that since AVs are offering taxi services that they should be subject to local regulation, but the CPUC offers no good reasons for blocking such an option—and does not share other information either.
We do not know how many AVs currently operate on city streets. We do not know how many people are monitoring AVs in real time. We do not know how traffic police ticket for violations. We do not know how many AVs Waymo and Cruise would like to deploy on our city streets. We do not know how many the CPUC may approve. We do not know how much Waymo and Cruise intend to charge for rides. We do not know the environmental impact of their operations—all because the CPUC is refusing to divulge this information or authorize an environmental review.
It's important to note that Waymo and Cruise AVs are still cars—and, in fact, they represent a transition from a vehicle with at least two people (the driver and the passenger) to a single occupancy vehicle—or zero, if there is no passenger. Many were fooled by the promise of Uber and Lyft to solve "last mile problems," reduce car ownership and congestion, and mitigate the climate crisis. Too late we learned that in fact it is the intent of Uber to lure passengers from transit to Uber vehicles. We should not be fooled again. Commissioner John Reynolds should recuse himself from the August 10 proceedings, and the other four commissioners should reject the August 10 proposal.
The CPUC will hold a status conference for Monday Aug. 7 from 1-5 pm. The CPUC will vote on the proposal on Thursday Aug. 10 at 11 am. Opponents of this sweeping authorization will protest on Monday Aug. 7 at 11:30 am, and possibly on Thursday Aug. 10 at 9:30 am at McAllister and Van Ness. Submit comments in to public.advisor@cpuc.ca.gov and/or here.