Before I attended my first ACT show since last February, I had two main concerns. The first was whether it would be worth the risk to attend a theatre that takes a YOLO approach to COVID safety. The second was whether playwright Dominique Morisseau would repeat the mistakes that sunk her Temptations musical Ain't Too Proud (the world premiere opener of which I saw at Berkeley Rep in 2017). I'll address the former concern soon enough, but my latter concern was spot-on, and then some. Hippest Trip: The Soul Train Musical (world premiere through October 8 at ACT's Toni Rembe Theater) is like Black history written by ChatGPT.
Before I go on, full disclosure: My family has a history with Don Cornelius' family, starting with my grandfather serving alongside him on the Chicago PD. (Like many-a-Cornelius/Soul Train retrospective, this play also leaves out Cornelius' CPD tenure.) Yet, lest you think my critique is colored by personal bias (I've never met any of the Corneliuses), I can assure you that this play's many flaws fall at the feet of a playwright who continues to be her own worst enemy.
For starters, Morisseau commits the cardinal sin of visual media: she chooses to tell rather than show. We're told Soul Train adds much-needed color to a lily-white landscape without actually seeing it; we're told that the show is ground breaking for hiring an all-Black production crew, but we never see any of them; we're told the show is a hit, but never see any of the fans. Morisseau spends half of the three-hour runtime telling us about things that would make amazing visuals and enrich the story, but neither she nor director Kamilah Forbes want to show them.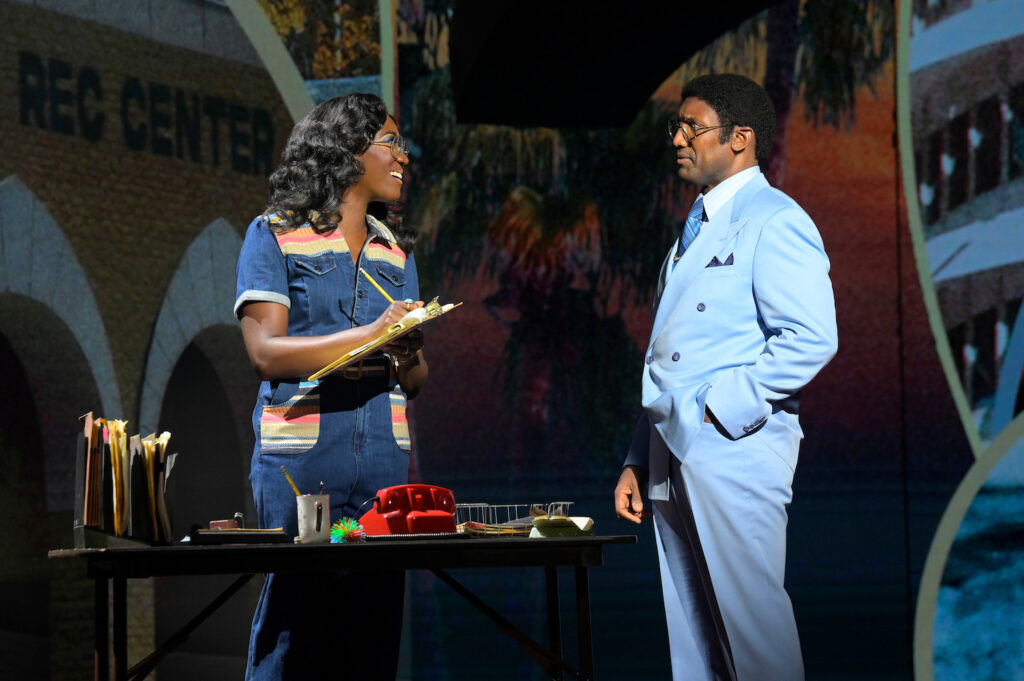 Instead, Morisseau embraces Ain't Too Proud's biggest flaw of shoving several decades of activities into a single compressed story, shortchanging every one of those events: Don Cornelius (Quentin Earl Darrington, who nails the "essence" of Cornelius, even if his demeanor is a bit too pronounced) fails to greenlight the show in one scene, only to have it up and running in the next; he creates the band Shalamar, only for them to break up in the very next scene; Don hates disco, then embraces it; Don hates hip-hop, then embraces it—rinse and repeat for three hours. Events that took place over years are reduced to single sentences, robbing them of any weight. Had Morisseau focused the entire story on just a few periods in time (or just one, like the '70s), it would have provided some much-needed focus. Instead, everything is a bullet point.
So, too, is every piece of music an excerpt instead of a song (the worst of which may be a truncated, watered-down version of Public Enemy's "Fight the Power") and every person is a cypher instead of a character. Rosie Perez (Mayte Natalio, who bears a striking resemblance to Tisha Campbell) is given a narrative prominence that only makes sense if you already know who Rosie Perez is. Otherwise, she's just shown here as just some random dancer who shouted at Don one time.
Other choices by Morisseau and Forbes are just head-scratching, like the choice to cast a Black man as American Bandstand creator Dick Clark. True, Clark's infamous attempt to subvert Soul Train is a story that deserves to be told. Also true is that a Soul Train bio only benefits from a primarily-Black cast. But Forbes shows Clark's actor in full light on stage, even having him literally face-to-face with Don. This isn't a case of casting a Black man as Iago in Othello, wherein questions of Black self-hatred suddenly come into play. No, this is Forbes taking the story of Cornelius vs. Clark—a Black man versus a white man—and giving us the visual of two Black men fighting one another, which completely undercuts the point of recounting this piece of history.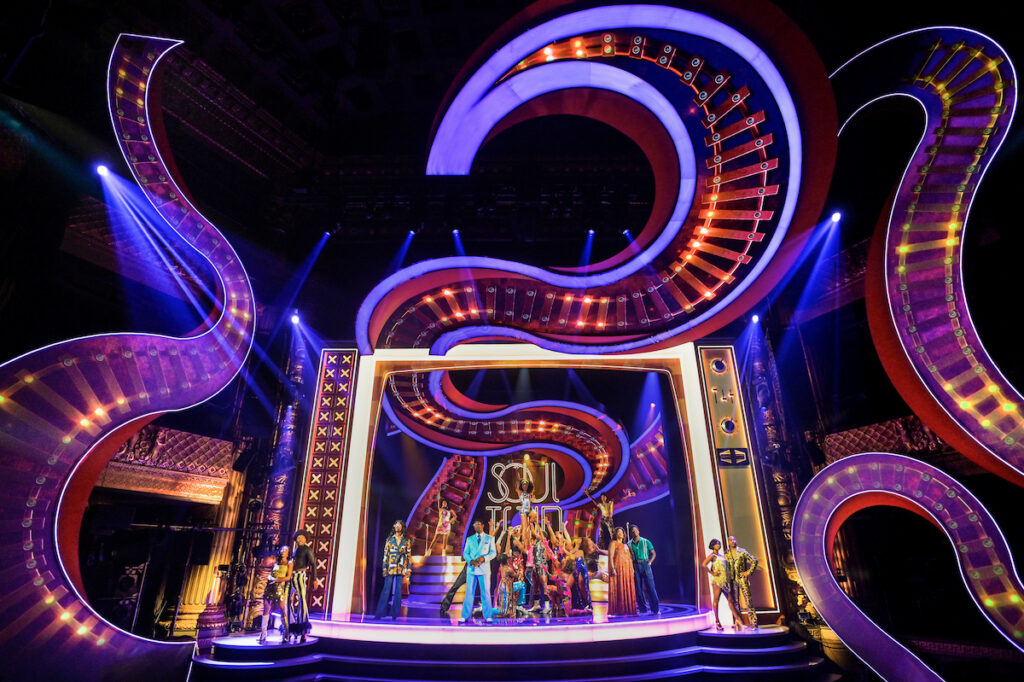 Then there's Morisseau's infamous tin ear for dialogue, such as in a scene where Cornelius' Gal Friday, Pam Brown (Amber Iman), tries to explain to him that times change and music styles evolve. One is reminded of Liz Taylor's "We are the older generation!" scene from Giant, but with Black people. Worse yet, Morisseau, a Black woman playwright, continues her very disturbing trend of diminishing portrayals of Black women, again making them overly accommodating to toxic Black men: Cornelius' decades-long trend of spousal abuse is given a quick brush-off; his first wife is the stereotypical "lonely, at-home" mom seen in every clichéd biography; and any given scene will feature Pam arguing with Don for about two lines before she eventually goes along with whatever he wants.
True, these genre tropes are found in everything from Jersey Boys to Bohemian Rhapsody, but there's a reason they're now often mocked. This play is like an all-Black version of Walk Hard: The Dewey Cox Story, but played as straight drama.
Speaking of shortchanging, it's bad enough that Morisseau reduces the elements of Soul Train to such a degree that both Cornelius' famous sign-off ("Love, peace, and soul!") and the Soul Train dance line are relegated to epilogue status (the latter of which isn't even shown then). But what's worse is… y'know what, readers? Let's play a guessing game.
This musical features truncated, ill-conceived uses of songs like the "Theme from Shaft," "Funky Town," and "Rapper's Delight." But can you guess which piece of music never shows up once in this three-hour piece? Go ahead, guess. I guarantee you won't get it.
Give up? It's the Soul Train theme music.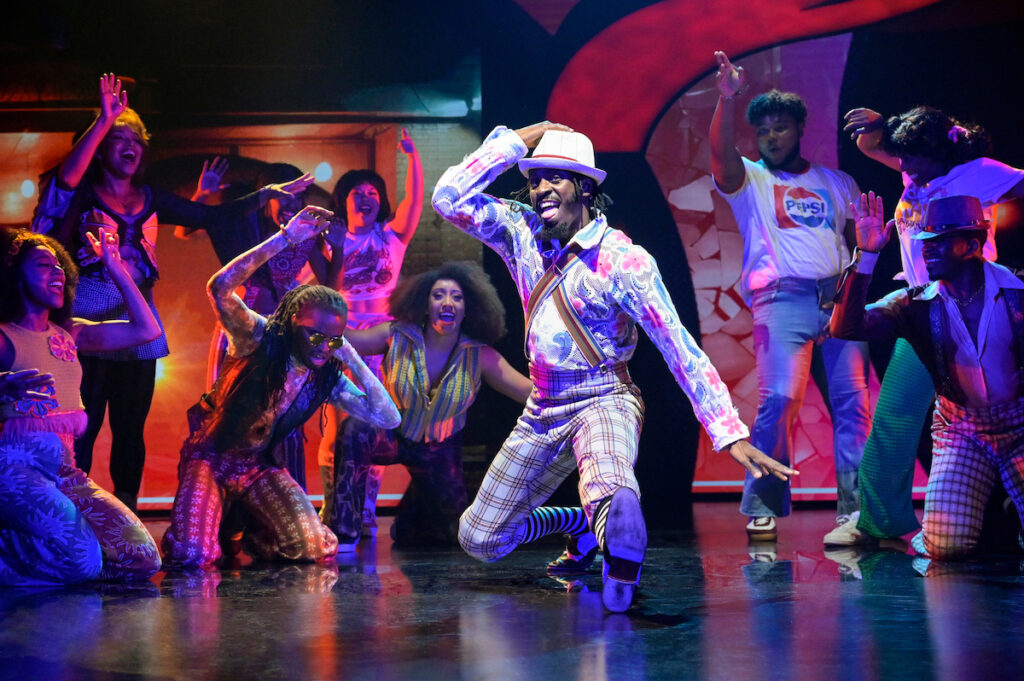 I am not kidding. The instantly-recognizable opening tune for the ground-breaking TV show is never once played in this supposed tribute to said show; not in its proper form, nor as the radio-friendly remix, "TSOP: The Sound of Philadelphia" (the naming of which is an entertaining story unto itself). This is a play made by people who have no idea how to cover the topic they've chosen, which does a great disservice to the importance of said topic.
Then, there's ACT's lax COVID safety. I'd hoped that picking a matinee show would at least decrease my chances for exposure, but the audience count was just-shy-of-a-full-house. Aside from myself, there were barely any other maskers (maybe 15%?) and the unimpressive HVAC in the Toni Rembe Theater (with a gorgeous CRT TV-looking set design by Jason Sherwood) shot my Aranet4's CO² levels up to 1731ppm throughout the show. Even intermission only dropped to 1044ppm before climbing back to 1370ppm before the second act even started.
There's a scene in this show where James Brown—in a well-known and much-beloved piece of Soul Train lore (recounted in documentaries by Cornelius)—is incredulous to the very idea that the show is truly an all-Black production. Personally, I wouldn't be surprised if the Godfather of Soul became Morisseau's next subject, as she seems to believe his most condescending lyrics: "It's a man's world/ But it means nothing without a woman or a girl." Both the story of Soul Train and the life of Don Cornelius are complex tales about changing the world just by showing positive images for (Black) kids to absorb. It's a story that deserves to be told in a way that embraces that complexity whilst acknowledging its entertainment value.
This is not that story. This is Cliff's Notes, at most.
HIPPEST TRIP: THE SOUL TRAIN MUSICAL's world premiere runs through October 8 at ACT's Toni Rembe Theater. Tickets and further info here.