Tanya Wischerath is an artist who wants to make things all of the time. She is a painter and printmaker and creates public art installations. She writes songs for people's birthdays, she makes stationery to send to friends, she quilts and sews. You may have encountered her tattoos on many musicians, artists, and other creators around town.
"Artwork is just one arm of the offspring of the compulsive need to make, and the urgent expression of complex desires and feelings that can't be described any other way than visually," she told 48hills. 
Wischerath sustains an active art practice as an expression of love for her community. She paints biographical portraits because she does not have faith that the future will remember how vibrant and beautiful we were. In her own words, her work is a celebration of gender fluidity, performative sexuality, and the creation and sustainability of fantastic realities outside of heteronormativity. 
 "In order to be resilient a thing must also be changeable and adaptable, so the aesthetic of queerness is constantly changing as it grows new worlds out of the refuse of convention."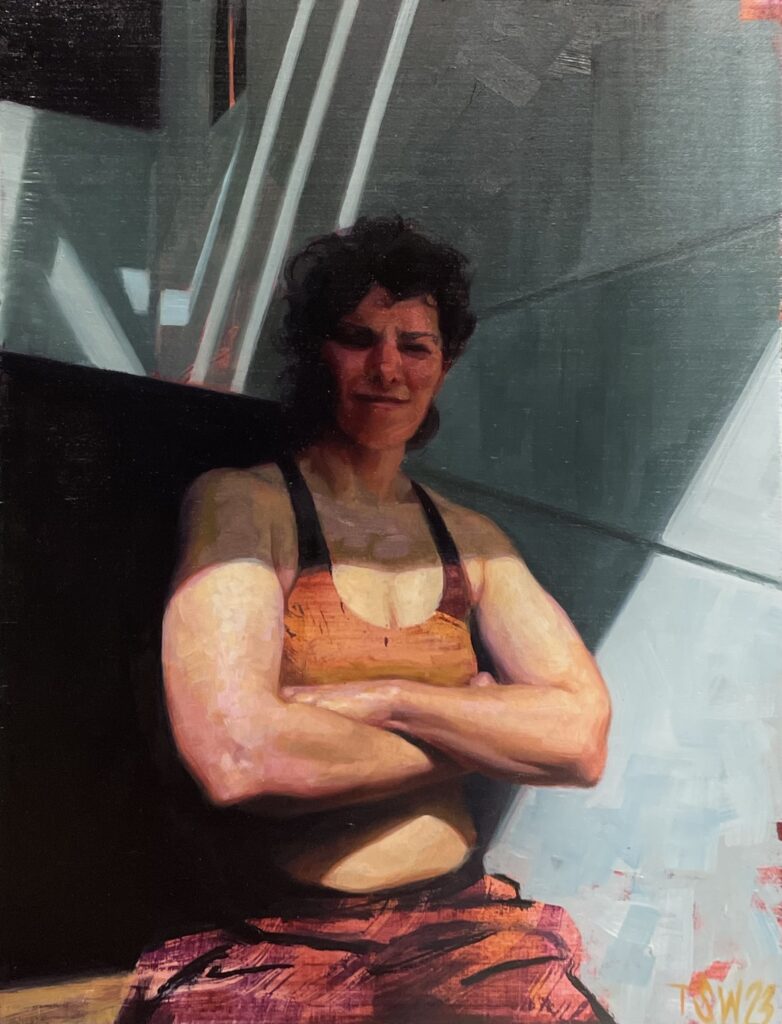 Wischerath was born in San Francisco, and while she moved around from Denmark to Brazil, her adolescent and teen years were spent in San Francisco. She studied painting at Moore College in Philadelphia, then later transferred to California College of the Arts (2005-07) when it was based in Oakland.
She also spent three years at the Angel Academy of Art in Florence, Italy because technical mastery seemed like "the right way to be a serious artist." Bouguereau was a big influence, as were the Romantics, particularly Waterhouse and Rossetti. In 2018, Wischerath moved back to her childhood neighborhood of Bernal Heights.
"I've moved away from San Francisco many times, but I can't stop loving this city and inevitably find my way back to her," Wischerath said.
After such in-depth academic studies, she's become more excited by believability than realism, though she is trying to work out what parts of realism are relevant to the expression of an experience and culture. She looks toward abstraction and bold, visible brushwork from artists Lucian Freud, Colleen Barry, and Hollis Dunlap. Working mostly on paper, she uses large brush ink washes as the under painting, both as a "preciousness deterrent" and for the energy of the big marks.
"Philosopher John Dewey wrote, 'A sure thing does not arouse us emotionally.' I love that quote, and feel it is especially important to keep that in mind when doing representational work," she said.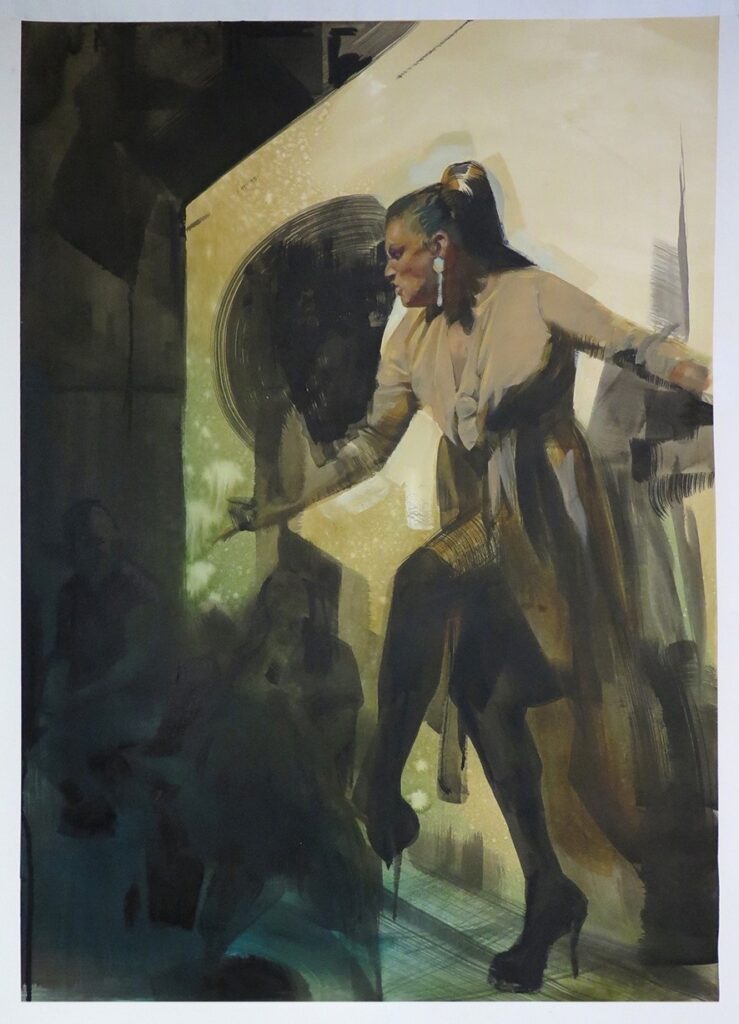 All of her work is autobiographical, all her models are friends, community members, and spaces that she frequents. Portraiture to her is more illumination than documentation, embellishing a story told by the sitter and affirmed by the artist.
"While deeply resilient, the queer community is amoebous, tidal almost, with communities forming, solidifying, peaking and then dispersing as laws change, bars close, rent rises, or a pandemic hits," she said.
Wischerath describes her work as adoring, urgent, and utopian and that having one very short human life is very motivating, production wise. Reading poetry is also a doorway to visual inspiration.
"I try and keep myself very receptive and sensitive to beauty, and in doing so it reveals itself more freely and frequently," she said.
If she could time travel, Wischerath says she would spend the day with American painter Romaine Brooks (1874 –1970), drawn to her gorgeously moody portraits, compressed color palette, and queer aesthetic. She imagines them drawing portraits of each other wearing mannish attire and expressions both romantic and melancholic.
"That day would look like cigarettes and absinthe in 1920s Paris, hanging out with her hot, andro-lesbian artist friends," Wischerath said. "Afterwards, we would find a windy cliff to stand on overlooking a turbulent sea, occasionally breaking the pregnant silence with vague mortality related platitudes."
In 2020 at the onset of the lockdown, Wischerath moved her studio into the garage adjacent to her apartment, partly as a desire to make larger work but also to preserve her partner's sanity.
"It was important that my studio be outside of our shared home space, seeing as how my impact on my immediate surroundings while working is not dissimilar to that of a ravenous gang of raccoons on a cluster of trash bins," she said.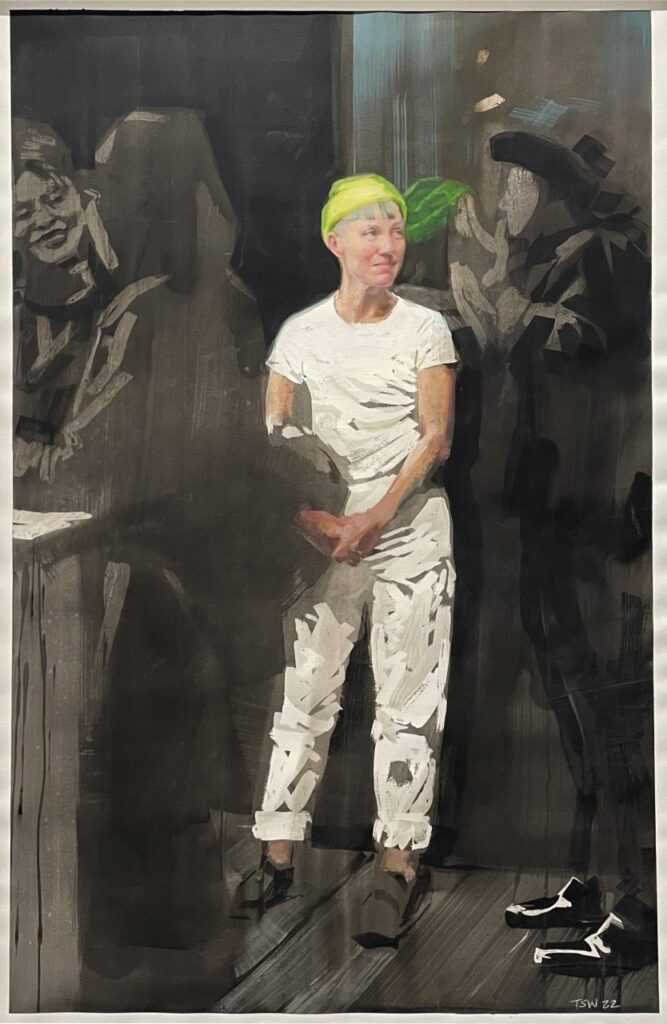 Prior to the pandemic, she painted on a hobbyist's schedule—Wischerath has made her living as a tattoo artist for 17 years—but with the sudden appearance of ample time, she found herself "swimming in ideas," experimenting, and taking bigger risks as a painter. The actual hours required for a serious commitment were duly noted and priorities have changed.
Despite her description of her studio being little more than "a concrete dungeon lit by a net of lamp wires" with no natural light, making the move completely changed the size and scope of her pieces from her previous small, table-top works.
"My work is so much more about value than color, so the lighting situation is not often too big of a problem. The thing that I love the most about the space is the ability to step away from the work to see it in its entirety," she said.
A typical day in the studio for Wischerath begins around 9am. She puts on the playlist for the day and begins prep work. The majority of her time is spent walking away from the canvas, looking at it for a while, walking back towards it, making a mark, and then repeating the process. 
"Whenever I have regrets looking over a completed piece, it often has to do with working on it too closely instead of from a distance," she said. It's important for her to get at least 10 feet away to really look at a piece, otherwise she is inclined to fixate on details that are pleasing to render but not essential. "The insidious villain of process is short term gratification," Wischerath said.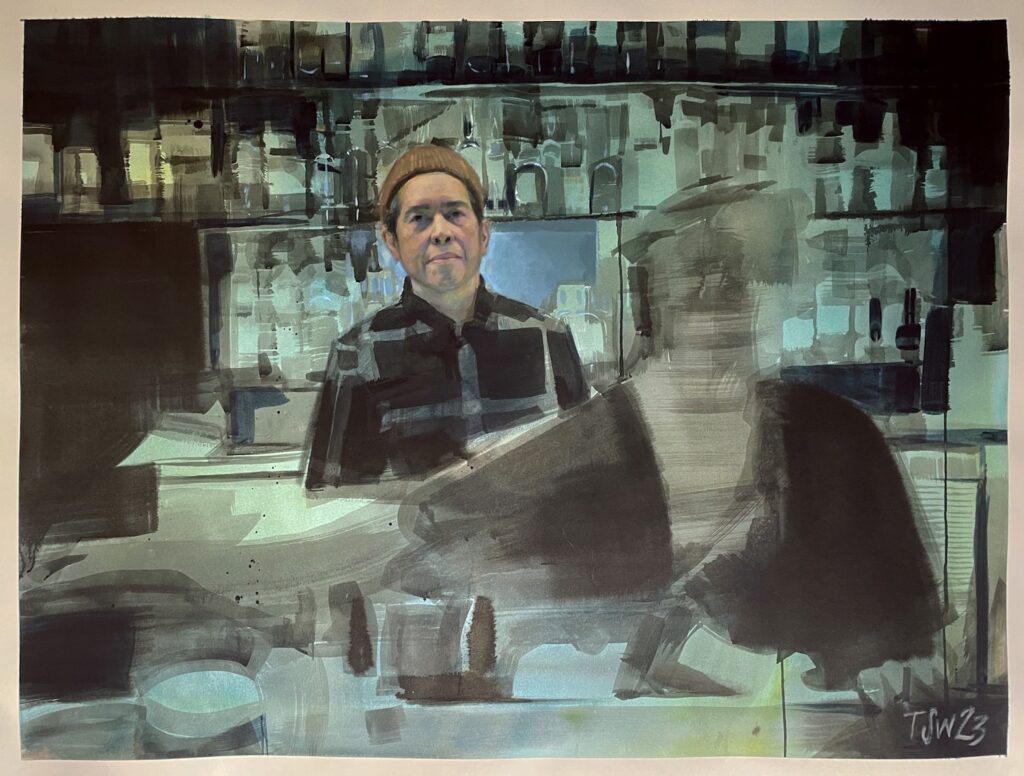 Knowing when a piece is complete is often determined by a deadline. She assigns a specific number of hours in order to make more immediate decisions about what's vital. She says that making a large quantity of work in a set amount of time always yields better outcomes than spending an unspecified amount of time meandering around a single painting. She does well with a mission to accomplish and compares it to a classic hero's journey—"think 'Lord of the Rings' or a 'Princess Bride' type of adventure"—and sees them as quite similar in process mentality.
"With no ultimate goal, who wouldn't give up in the face of danger or uncertainty? If you set out with no purpose, then you'll revert to what's familiar when things become difficult instead of working through the discomfort. And on the other side of discomfort is where all the treasure is kept," Wischerath said.
Wischerath grew up spending every summer and some consecutive years in her mother's hometown of Nakskov, Denmark where Norse myths were woven into the everyday cultural tapestry. With generous amounts of unstructured time to retreat into fantasy, the seedlings were planted for a lush interior world that has sustained her into adulthood.
"There is still an element of the fantastic in my paintings, but now it's a sparkling glorification of gender nonconformity and ambiguity. Gender fluidity was woven into so many Norse myth stories that even as an adult deeply involved in queer politics and community, gender performance and presentation still maintain a magical quality," Wischerath said.
All her paintings orbit queer themes, but in the past two years her central focus has been fixed on the social culture of San Francisco LGBTQ+ spaces, noting how her comprehension of its importance to the fabric of queer community peaked when everything closed down.
"Being denied such a mundane everyday pleasure made me see it objectively, made me see bars very clearly as facilitators of connectivity," she said.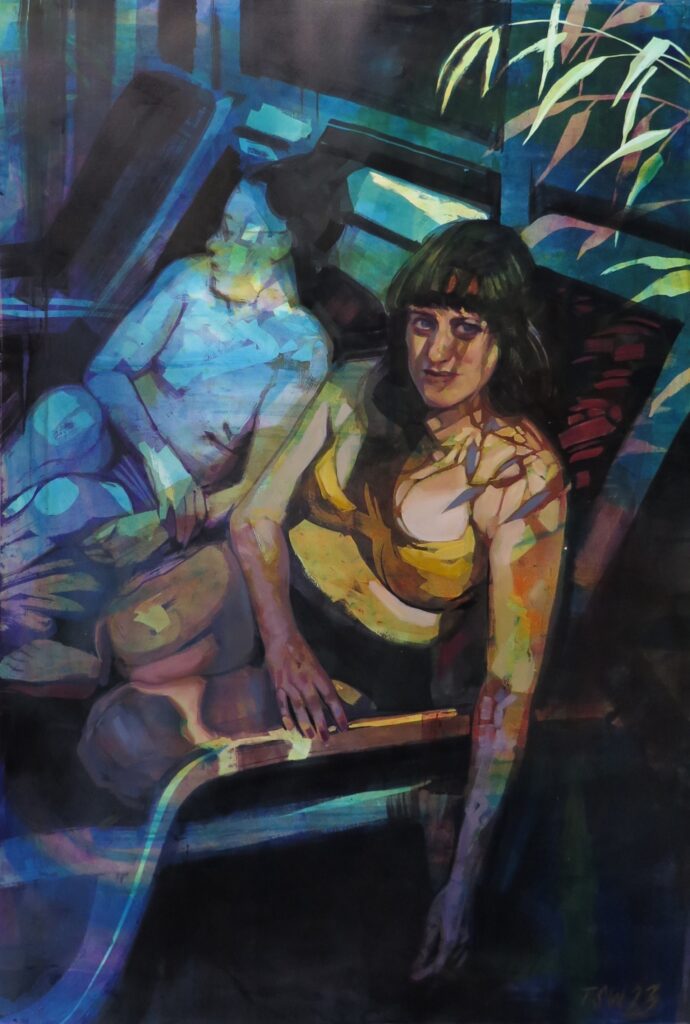 As a former bartender at the Lexington Club, before its closure in 2015, and as a current patron of queer bars, she takes the decline of lesbian venues across the city as a personal loss.
"As historical gathering points for queer and trans folks, places where their bodies and desires are not policed by heteronormative culture, they are historical sites of living and mostly unrecorded or unrecognized histories," she said.
A recent body of work, "Empyrean Dive," is a collection of large mixed-media paintings on paper depicting the cultural landscape of queer spaces in the Mission District. She describes it as "funneling the memory of queer spaces past into the depictions of the ones that remain," culminating in a group of works that are both personal memoir and testimonies to the energy and atmosphere of the queer bar.
Wischerath feels a possessive preciousness when she is painting her own community, an existence she describes as one that is "still at the mercy of laws that are increasingly hostile to trans people, friendly to fascism, and whose ultimate aim for those outside the norm seems to be oblivion."
In November 2022, she was included in the Trans Aware art exhibit at the San Francisco office of Senator Scott Weiner. In July, she had a solo show at STRUT on Castro. Wischerath's painting, "Surface Tension" was chosen for inclusion in the upcoming de Young Open, which runs from September 30 to January 7, 2024. Her work will also be included in a group show with friends at the Wave Collective at 440 Haight Street in January 2024. Regardless of subject, over the last 20 years, Tanya Wischerath's work has progressively gotten physically bigger, more expressive, and more confidently autobiographical.
"I would like to continue on that track until looking at my paintings feels like the rush of walking into a party, everyone you know is there, and you're about to fall in love," she said. "What heaven we have, we make."
For more information, visit her website at tanyawischerath.com and her account on Instagram.